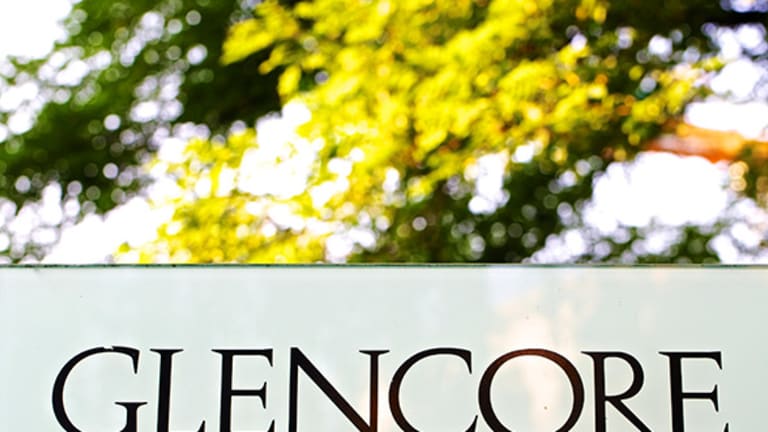 Glencore Shares Fall After First-Half Income Tumbles 66%
Asset sales and the promise of deeper debt reduction failed to reassure investors as the world's No.3 miner delivered predictably dire EPS.
Glencore (GLNCY) , the world's No.3 mining company by market value, posted first-half earnings per share of $0.02, down from $0.07 year-on-year as weak commodity prices led to a 66% decline in first half income.
The results were largely in line with analyst expectations but failed to impress the market despite. Glencore shares fell in early trading on Wednesday to 184.8 pence ($2.44), down 5 pence or 2.6%.
Income before exceptional items for the six months to June 30 was $300 million, down from $882 million, while adjusted Ebitda for the period was $4.02 billion, down 13%.
The results squared with analysts expectations, which had been adjusted downward after Glencore reported weaker than expected production figures earlier this month. Analysts had tipped EPS of $0.01 to $0.02, and Ebitda of $3.8 billion, according to forecasts collated by FactSet.
Glencore's mining operations, which it calls industrial assets, posted first-half Ebitda of $2.74 billion, down 20% from $3.43 billion. The price of almost all of Glencore's major mine outputs were lower in the first-half compared to a year earlier, with zinc down 16%, nickel off 37% and iron ore down 13%.
Glencore's commodity trading operation, or marketing business, bucked the earnings decline, posting Ebitda of just under $1.29 billion, up 9% from $1.18 billion a year earlier.
"Our industrial assets are demonstrating industry leading cost and cash flow performance, while the resilience of our marketing business has again been demonstrated," said Glencore's billionaire CEO Ivan Glasenberg in a statement.
Glencore's funds from operation fell 21% to $2.8 billion over the first half but were more than offset by a 51% reduction in capital expenditure, which fell to $1.6 billion.
The Swiss company also provided an update on efforts to ease its onerous debt burden, announcing it had trimmed net debt by $2.3 billion during the first half to $23.58 billion. The company now expects to end the year with between $16.5 billion and $17.5 billion of net debt, down from an earlier target of $17 billion to $18 billion.
"Overall, we expect the stock to outperform today (despite financials being inline) on better than expected performance on net debt," noted Goldman Sachs analysts Euegene King and Abhinandan Agarwal.
Glencore's debt reduction efforts are being led by a disposals program that aims to raise between $4 billion and $5 billion by the end of the year. The company said Wednesday it had agreed to offload a 30% stake in Australian copper mine Ernest Henry Mine to Evolution Mining forA$880 million ($671 million). Under the terms of the deal, Evolution will secure 100% of the mine's gold output and be entitled to cash payments from Glencore equivalent to the value of 30% of the mine's copper and silver output.
The latest sale builds on April's $2.5 billion disposal of a 40% stake in Glencore's agricultural business to Canada Pension Plan Investment board, taking total disposals this year to $3.9 billion.
"We have already largely achieved our asset disposal target...with a diverse material pool of asset sales' processes also on-going," said Glasenberg.
Glencore is thought to be in talks to sell its Cobar copper mine in Australia, which is expected to bring in about $400 million. It may also be seeking to sell Chilean copper assets and Australian rail operations according to analysts.