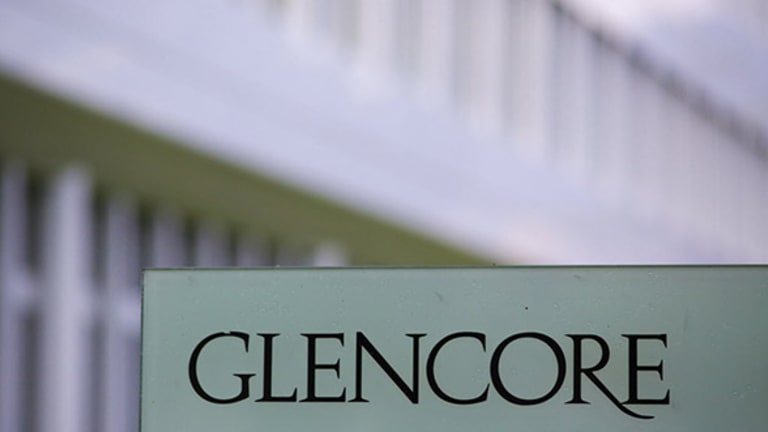 Glencore Investors Should Expect Sharp Drop in Earnings And Debt Update
Here's what to expect when the world's No.3 mining company reports half-year results on Wednesday.
Glencore (GLNCY) , the world's No.3 mining company by market capitalization, is expected to report a fall in first-half earnings on Wednesday as lower commodity prices continue to bite, while investors will also be keen for guidance on asset sales and its continued efforts to cut an onerous debt burden.
The Switzerland-based mining and commodities trading group is expected to report earnings per share of $0.01 for the first six months, down from $0.07 for the same period last year, according to analyst forecasts collated by FactSet.
First-half revenue is tipped to fall 13% to just below $75 billion, while earnings before exceptional items is expected to come in at about $3.8 billion, down 18% on the same period last year.
Glencore shares traded Tuesday at 188.5 pence ($2.49), up 4.2 pence or 2.3%. Glencore's value has more than doubled since the start of the year, leaving the company with a market capitalization of £27 billion.
Glencore earlier this month reported a mixed set of second quarter production figures, with copper production up 10% quarter-on-quarter and about 10% higher than analysts expectations, while coal production slipped 2% missing analyst forecasts by about 12%. Goldman Sachs described the production results as "slightly negative" and left its price target unchanged at 140 pence in a note published August 19.
Much of the interest on Wednesday will focus on Glencore's debt, which it has promised to cut to between $17 billion and $18 billion by the end of the year, down from almost $26 billion at the end of 2015.
To that end, investors will also be hoping for an update on the company's plans to sell $4 billion to $5 billion of assets before the end of the year, including copper mines in Australia and Chile as well as rail assets in Australia and a gold mine in Kazakhstan. Glencore in April struck a $2.5 billion deal to sell a 40% stake in its agricultural business to Canada Pension Plan Investment Board but has otherwise made slow progress in securing promised disposals.
Commodity traders will also keenly anticipate an update on Glencore's plans for its shuttered zinc mines. Glencore is the world's largest zinc producer and had been hit hard by a decline in the metals price over 2015. CEO Ivan Glasenberg responded by cutting zinc production to bolster the price of the metal. Glencore's output was down by a third in the second quarter, compared to a year earlier.
The tactic appears to have worked as zinc prices have risen 42% this year, prompting Morgan Stanley to, this week, issue a note headlined "Glencore: vindicated." Indications that Glencore could boost production to take advantage of the price increase would put pressure on zinc prices.