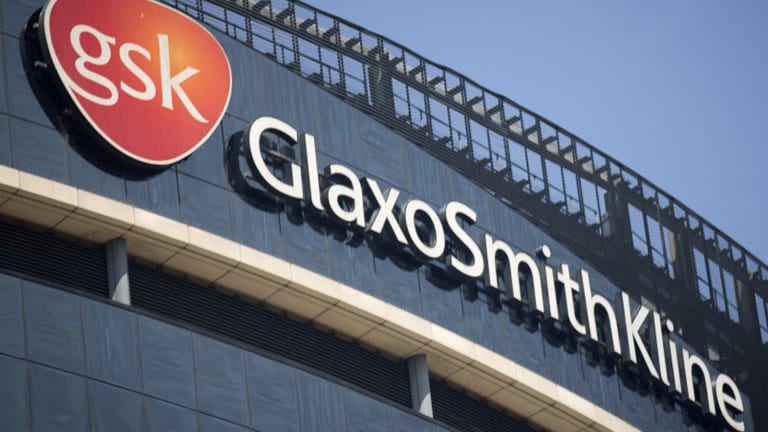 Publish date:
GlaxoSmithKline Beats Estimates in Strong Third Quarter
Britain's largest pharmaceuticals company reports growth in its HIV medicines business as it submits a shingles vaccine for FDA approval.
Britain's largest pharmaceuticals company reports growth in its HIV medicines business as it submits a shingles vaccine for FDA approval.
The U.K.'s GlaxoSmithKline (GSK) - Get Report   announced strong third-quarter earnings on Wednesday, with sales of £7.54 billion ($9.2 billion), up 8% on the previous year and well ahead of expectations. Core earnings per share rose 12% to 32 pence
Analysts' had expected sales of about £7.26 billion and core earnings per share of 29 pence, according to FactSet.
The drug maker's total earnings per share - - which are calculated differently from core EPS - were down 1% at 16.6 pence, impacted by charges related to changed valuations in its consumer healthcare and HIV businesses.
The beat didn't prevent the market cutting its price. After an initial surge following the announcement, the shares were recently trading below Tuesday's close, down 0.31% at 1,624.50 pence.
"Our third quarter results reflect strong performances across the group and the sustained progress we have made over the course of 2016 to deliver sales growth of new products, maintain effective cost control and execute on our restructuring and integration plans. With this positive momentum, we are confident in achieving our earnings guidance for the year for core EPS growth of 11-12% on a constant exchange rate basis," said CEO Andrew Witty, in a statement.
The results come shortly after GSK announced that long-serving Witty will step down as CEO next March to be replaced by Emma Walmsley, the current chief executive of GSK's consumer healthcare division.
GS, said it registered continued growth across all it three businesses. Pharmaceuticals revenue was up 6% at £4.1 billion, including 32% growth in HIV drug sales; vaccines were up 20% at £1.6 billion and consumer healthcare sales rose 5% at £1.9 billion.
Sales from the HIV medicines division rose to £940 million, with the U.S. up 37% and Europe up 28%, GSK said. The growth was driven primarily by continued strong performances from both Triumeq and Tivicay, with sales of £468 million and £250 million, respectively. Epzicom/Kivexa sales declined 30% to £143 million, reflecting the start of generic competition.
The results come less than a year after GSK completed a deal with Novartis (NVS) - Get Report   in which it sold its oncology unit to its Swiss rival for up to $16 billion. At the same time, GSK bought most of Novartis' vaccines business for an initial $5.25 billion and the companies forged a consumer healthcare joint venture. Separately, Britain's biggest drug maker opted retain its HIV unit, whose co-shareholders include Pfizer (PFE) - Get Report ,  instead of spinning it off and listing the business separately.
In the first nine months, pharmaceuticals sales totaled  £11.52 billion, up 2% on last year, but up 4% on a pro-forma basis. Vaccines sales were £3.46 billion, up 18% in actual terms but 16% pro-forma and consumer healthcare sales came in at £5.32 billion, up 12% but just 5% higher on a pro-forma basis.
Earlier this week GSK submitted its Shingrix anti-shingles vaccine for  FDA approval and expects to follow up with submissions in Europe and Canada by the end of the year and in Japan during 2017.
The company declared a dividend of 19 pence for the quarter and expects to pay a full-year dividend of 80 pence for both 2016 and 2017. The company maintained its guidance for the full year of core EPS growth of between 11% and 12% at constant exchange rates.