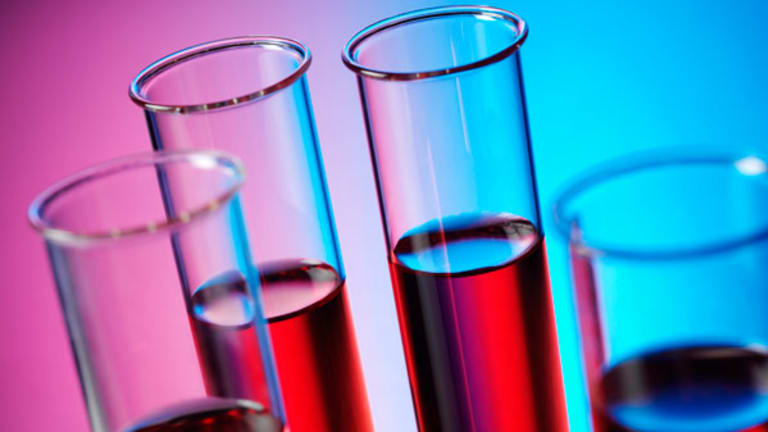 Glaxo DMD Drug Tied to Serious Side Effects, Hospitalizations
If Glaxo's drug causes significant toxicity, it may fall behind competing DMD therapies such as Sarepta Therapeutics' eteplirsen.
BRENTFORD, UK (
) -- Duchenne muscular dystrophy patients treated with
GlaxoSmithKline's
(GSK) - Get Free Report
experimental drug drisapersen have been hospitalized due to kidney toxicity and low platelet counts, according to a Glaxo scientist who spoke at a research meeting in Rome last Sunday.
Glaxo has disclosed some safety data from early-stage drisapersen clinical trials previously, mainly related to moderate cases of proteinuria (excess protein in the urine) and decreased thrombocytes, which play a role in blood clotting. However, the significance of the adverse events attributed to drisapersen, also known as GSK-2402968, escalated with Sunday's disclosure of hospitalized patients.
Dr. Rohit Batta, global medical leader in Glaxo's neuromuscular rare disease unit, said four Duchenne muscular dystrophy (DMD) patients treated with drisapersen required hospitalization due to thrombocytopenia and that "several" patients with "severe proteinuria" also required hospitalization.
Batta's remarks were made during a presentation on Sunday, Feb. 24 at The XI International Conference on Duchenne Muscular Dystrophy. The conference was held in Rome and organized by Duchenne Parent Project Onlus, an Italian DMD advocacy group.
Batta provided no other information about the hospitalized drisapersen patients during his presentation. A Glaxo spokesperson contacted Wednesday confirmed Batta's remarks and added the DMD patients hospitalized were all enrolled in the ongoing phase II and phase III clinical trials of drisapersen. The hospitalizations had occurred "over the last two years" and had been discussed at previous medical meetings.
Thrombocytopenia is a condition caused by a significant decrease in the number of platelets, which control blood clotting. Patients with thrombocytopenia are at increased risk for uncontrolled bleeding. Proteinuria is the presence of excess protein in urine. Severe proteinuria can be a sign of kidney damage.
The hospitalizations due to serious adverse events attributed to drisapersen need to be evaluated in the context of the severity of DMD -- a rare, progressive, muscle-wasting disease that forces patients into wheelchairs in their teens and dead soon after. But if drisapersen is found to cause significant toxicity, the drug may fall behind competing DMD therapies with cleaner safety records and equal or better efficacy.
Sarepta Therapeutics
(SRPT) - Get Free Report
is meeting with U.S. Food and Drug Administration officials this quarter to discuss the possibility of an accelerated approval filing for its DMD drug eteplirsen based on a completed phase II study. Eteplirsen's adverse event reports have been relatively unblemished to date, with only a single patient reporting transient, non-recurrent proteinuria that did not cause any complications or require treatment to be discontinued.
Drisapersen's role in treating DMD is being investigated in two randomized, placebo-controlled clinical trials. A six-month, phase II study of 54 patients is complete. A one-year, phase III study of 180 patients is expected to have results ready for release in the fourth quarter. The Glaxo spokesperson said results from the phase II study are being withheld until the third quarter in order to preserve the data integrity of the larger, phase III study.
Prosensa
, a Dutch drug firm, is co-developing drisapersen in partnership with Glaxo.
Both Sarepta's eteplirsen and Glaxo's drisapersen are designed to "skip over" a section of damaged gene in DMD patients and restore the gene's ability to produce partially functioning dystrophin, a protein involved with muscle repair. The absence of functional dystrophin is the hallmark of DMD and causes the progressive loss of muscle function in patients.
The respective drugs from Sarepta and Glaxo differ in their chemical makeup,
explained
Nate Sadeghi, an institutional healthcare investor and former contributor to TheStreet:
Glaxo and Prosensa's compound belongs to an older class of molecule -- it's a 2'-O-methyl phosphorothioate antisense oligonucleotide, or 2'OMe AO, for you nerds out there -- which has the advantage of having been studied extensively in preclinical and clinical studies. The disadvantages are a relatively narrow therapeutic index and apparent uptake of filtered oligonucleotide by the proximal tubules in the kidney. This latter observation does not appear linked to kidney toxicity, although it's something to watch.Sarepta uses newer, so-called morpholino chemistry for the design of eteplirsen. This chemistry affords eteplirsen a wide therapeutic window, good stability in vivo, and no obvious toxicity signal. The downside is the unknown, since morpholino chemistry has limited preclinical and clinical data.
-- Reported by Adam Feuerstein in Boston.
Adam Feuerstein writes regularly for TheStreet. In keeping with company editorial policy, he doesn't own or short individual stocks, although he owns stock in TheStreet. He also doesn't invest in hedge funds or other private investment partnerships. Feuerstein appreciates your feedback;
to send him an email.