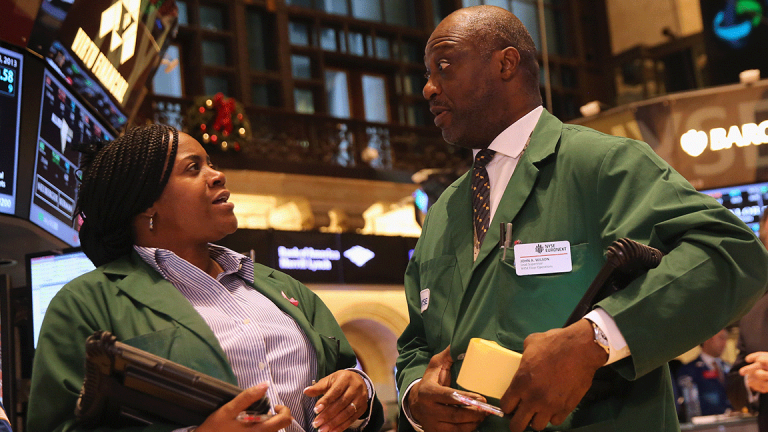 Giving Stocks as a Gift Could Be New Holiday Tradition
Some apps allow investors to buy fractional shares of stocks since many stocks, especially ones in the tech sector are expensive.
Some apps allow investors to buy fractional shares of stocks since many stocks, especially ones in the tech sector are expensive.
Investing in the stock market has become easier with a click on your smartphone or tablet as more apps that allow young investors to buy fractional shares of stocks are launched.
Individual shares of stocks can be expensive, especially ones in the tech sector, which also makes buying fractional shares that lower the risk to an investor's portfolio appealing.
In addition to apps such as Robinhood, a Palo Alto, Calif.-based mobile-only stock brokerage, Stockpile, also based in Palo Alto., gives investors the option to purchase gift cards for stocks and ETFs. Stockpile is available on mobile devices and desktops.
Stockpile sells gift cards in denominations starting at $25 in 14,000 retail and grocery locations including as Target, Kroger and Safeway. 
"If you want to invest in Amazon (AMZN) - Get Report at a traditional brokerage, you'd have to buy one share, which costs $1,174 right now," said Avi Lele, co-founder and CEO of Stockpile and a former attorney for the law firms Kirkland & Ellis and Ropes & Gray. "That's a pretty steep price tag for most of us, so you end up having to bottom fish for cheap stocks, which can be poor investments."
Since its launch two years ago, the company says 65% of its clients are under the age of 35 and 30% are under 18. That adds up to a big advantage: The earlier you start saving, the more you can reap the benefits of compound investing by the time you retire.
"You've got to plan for retirement yourself, because no one has a pension and Social Security might not be around by then either," said Lele.
Trading fractional shares on Stockpile gives newer retail traders a glimpse into how the market works, he explained, by being able to invest only $120 in Amazon, about one-tenth of a share. "Being able to buy fractional shares, even as low as $5, lets people get started on building a portfolio of quality stocks early on and add onto their investments over time to build wealth."
The most popular stock purchased by Millennials in 2017 was Amazon, followed by Bitcoin ETF (GBTC) - Get Report . Snapchat was the fifth most-purchased stock, while Advanced Micro Devices (AMD) - Get Report took ninth place. Twitter (TWTR) - Get Report , Coca-Cola (COKE) - Get Report  and Nike (NKE) - Get Report fell off the top 10 most purchased stocks.
To date, Stockpile has raised a total of $45 million, after receiving $30 million in Series B funding in September 2017. The second round of financing was led by Fidelity-backed Eight Roads Ventures, along with Mayfield, Arbor Ventures, Hanna Ventures, Wang Ventures and others. Mayfield led Stockpile's $15 million Series A financing in October with Arbor Ventures, Stanford University and actor Ashton Kutcher.
Giving stocks is a "great way to throw a person into the stock market and force their curiosity," said Jason Spatafora, co-founder of Marijuanastocks.com and a Miami-based trader and investor.
"I had a friend get a share of Home Depot (HD) - Get Reportstock for Christmas when I was a teen and that gave me the realization that the barrier for entry you saw on TV wasn't something as dramatic as you would believe."
Giving stocks as gifts for children and teenagers can leave a lasting impression on the importance of saving money and how interest works long-term.
Instead of giving a toy or video game that has less educational value, learning about how the stock market functions can be more valuable, said Michael Solari, principal of Solari Financial Planning in Bedford, N.H.
"I am all for getting more people involved in saving and the market has shown it's the best place for the long-term," he said. "This seems like a really cool idea, especially giving gifts to people younger than Millennials. Teaching children to save early on can make such an impact on their lives later in life."
"These purchases are a great way for people to start learning about the market," added Michael Berger, founder of Technical420, a Miami-based company that conducts research on cannabis stocks. "Typically, we see blue-chip income producing stocks like Disney (DIS) - Get Report or Apple given out as gifts since these have brand recognition and are proven winners." Starting at a younger age can take the fear of investing in stocks by making smaller investments."