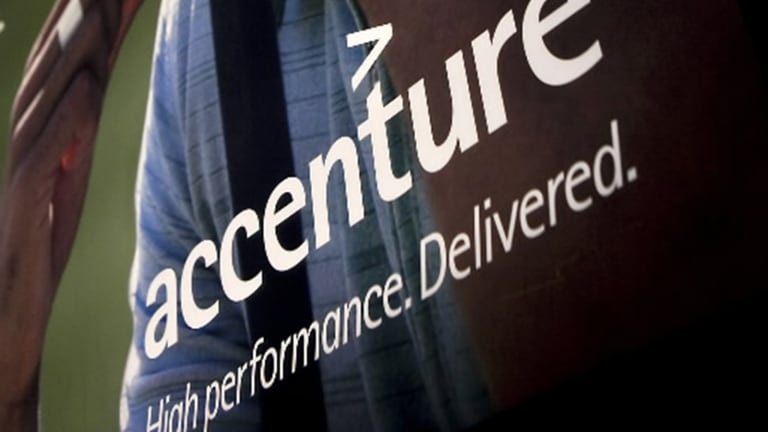 Given Its Earnings Results, Buy Accenture on the Recent Pullback
This IT services leader has grown steadily in terms of capability, delivery quality and reach over the years.
IBM was once considered the de facto leader in information technology, but it seems to have passed that mantle to the more than $70 billion Accenture (ACN) - Get Report .
Accenture has grown steadily in terms of capability, delivery quality and reach over the years, capturing a substantial segment of the market in business, consulting and IT services, making its stock a great growth opportunity. The dip in Accenture's shares after it reported fiscal first-quarter results on Wednesday provide a new opportunity to buy.
At a time when rivals such as Hewlett Packard Enterprise and IBM offer single-digit quarterly earnings growth, Accenture for the quarter ended Nov. 30 delivered 23% growth in earnings at $1.58 a share, beating estimates by 9 cents a share. Revenue rose 6.4% to $8.515 billion, just missing estimates of $8.57 billion.
Among the biggest IT services pure-play companies, Accenture has built its reputation on robust profit growth, with its bottom line growing 3.3 times in the past decade, reliable free cash flows and rock-solid operating margins.
Just a handful of companies such as Cognizant Technology Solutions come close to matching Accenture's stellar record, but the fact remains that high-margin consulting is an Accenture stronghold.
Cognizant Technology Solutions has sacrificed operating margins over the past decade, but Accenture hasn't. Smaller peers such as Infosys and Wipro have attempted to withstand the Accenture onslaught but with only intermittent success.
Accenture seems to have gained market share not only against U.S.-based peers, but also against many Tier-1 Indian companies.
The company expects its North American banking and capital markets segment to deliver positive growth in fiscal 2017, indicating that the worst is possibly behind it.
Cognizant Technology Solutions will probably report an earnings upswing of 8.7% for fourth the quarter. IBM's earnings are expected to rise 1.2%, while earnings at Infosys and Wipro are projected to be about flat.
Accenture's secret arsenal is its key strategic blueprint: deep relationships with hardware and software companies. This month, it landed a seven-year contract with Microsoft.
Additionally, Accenture has also strengthened its consulting abilities with a strong focus on digitization.
Acquisitions have happened across the world, and this year, Accenture bought companies in Germany, Israel and Italy. The company also struck partnerships with companies such as General Electric.
Hewlett Packard Enterprise and General Electric are holdings in Jim Cramer's Action Alerts PLUS Charitable Trust Portfolio. See how Cramer rates the stocks here. Want to be alerted before Cramer buys or sells HPE and GE? Learn more now.
Accenture Chief Executive Pierre Nanterme, who is recovering from colon cancer, has helped shape the company into one that thrives on a strong franchise model with distinct competitive advantages. He sounded bullish about Accenture when he spoke at length to analysts during the post-earnings conference call.
The company has delivered capacity in cost efficiency, growth and pricing power, with steady operating margins.
Meanwhile, new bookings for the fiscal first quarter were $8.3 billion, with consulting making up $4.9 billion of that and outsourcing accounting for the other $3.4 billion. The total figure is up from $7.7 billion a year earlier.
Accenture expects fiscal second-quarter revenue to be in the range of $8.15 billion to $8.40 billion, which means 5% to 8% growth in local currency. That is a tad lower than analysts' estimates, due to foreign-exchange challenges.
The growth-hungry company plans to invest $1 billion in fiscal 2017, especially in new technologies through the mergers & acquisitions route.
Buying into the Accenture stock pullback is a quick way to earn a possible 10% profit.
---
As an investor facing what promises to be a volatile 2017, you want to be in control of your own destiny. That means being able to predict in advance how much money your investment portfolio will generate. Think it can't be done? Our top analyst has a system that can ensure you will make a profit on more than 80% of your trades. To find out the secret, just click here!
The author is an independent contributor who at the time of publication owned none of the stocks mentioned.