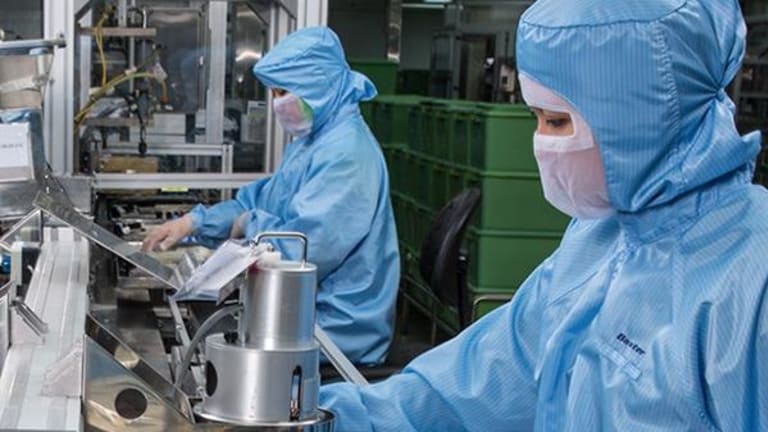 Gilead Sciences Leads Biotech Movers -- Plus Jim Cramer's Comments
Cramer points to Gilead's pipeline for its problems.
Cramer points to Gilead's pipeline for its problems.
Updates from 9:10 a.m. EST with Jim Cramer comments, updated stock prices.
Gilead Sciences (GILD) - Get Report  stock dropped nearly 10% Wednesday morning.
The biotech's shares hit $67.75 in premarket trading and are now at $65.85 after Gilead reported poor fourth-quarter earnings and 2017 guidance after the market close on Tuesday. Gilead expects to see sales drop by 22% in fiscal year 2017. This is mostly thanks to declining sales of the company's hepatitis C drug.
Investors were expecting more guidance on M&A from Gilead, which has excess cash and few drugs in its pipeline. The company, while providing some information, did not discuss specific deals in the works.
The lack of M&A has been what's hurt Gilead the most, TheStreet's Jim Cramer, co-manager of the Action Alerts PLUS portfolio, said on CNBC's"Mad Dash" segment. The stock is now down 10% Tuesday, 22% over the past year and 35% since late April.
Without an exciting pipeline, investors are not encouraged to buy the stock. It doesn't help that analysts had expected $10 billion to $12 billion in sales from its Hep. C drug, at a time when the company now expects it to do just $7.5 billion to $9 billion in sales this year, Cramer noted.
Unfortunately, Wall Street likes maintenance drugs, or ones that need to be taken over a long period of time or lifetime. What Gilead offers with Hep. C is a cure, Cramer said.
The stock has become a definitive value trap, he added.
Meanwhile, Myriad Genetics (MYGN) - Get Report , a Salt Lake City-based biotech, saw a boost on better-than-expected earnings, which it reported after the market close on Tuesday.
The company's shares were up 10% to $17 Wednesday. Myriad beat consensus estimates for earnings by 2 cents per share. The company reported 26 cents per share for the second quarter. 
Galena Biopharma (GALE) tanked ahead of the market open on Wednesday, falling nearly 40% since the close Tuesday. Shares are now down 39.5%. The small-cap biotech went from trading at $1.40 per share Tuesday to 85 cents ahead of the opening bell, likely thanks to the pricing of more shares of its common stock. 
Additionally, Galena announced Tuesday that its breast cancer combination drug NeuVax was deemed safe in two different trials.