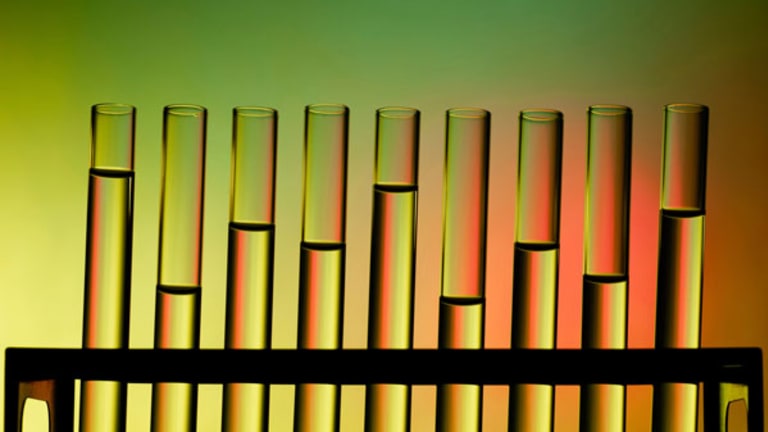 Gilead Sciences Firing On All Cylinders
Gilead posted strong second-quarter earnings and is moving ahead aggressively with its new hepatitis C drugs.
NEW YORK (
) --A year ago, investors were griping that
Gilead Sciences
(GILD) - Get Free Report
faced an enormous drug patent "cliff," wasn't returning adequate cash to shareholders and suffered from a lackluster research pipeline. What a difference one year can make. Gilead Sciences' HIV cash cow still produces a lot of milk and I wish management would pay a dividend, but the pipeline has advanced with astonishing speed.
Last week, the company reported second-quarter earnings of $767 million, or 99 cents per share -- topping the Street's consensus estimate. As an investor, I like to focus on free cashflow (FCF) -- the cash generated from operations less any capital expenditures -- as the most important measure of a company's health. Gilead reported $1.3 billion in operating cash flow during the quarter. (The company's capital expenditures are usually modest, but haven't been released yet.) Even after adjusting for the collection of $460 million in accounts receivable from Spain and increased R&D expenses, Gilead's business remains solid.
Wall Street has three primary concerns with Gilead's HIV franchise. First is the question of whether weak economic conditions will erode the company's dominance, through reduced governmental purchases, increased pricing pressure or a shift towards generics.
On its investor conference call, Gilead management reported improved purchases by the state-managed AIDS Drug Assistance Program (ADAP), a government-funded program that provides antiretroviral drugs to qualified low-income patients. Wait times for access to therapy -- a measure of funding adequacy -- have declined substantially from levels reached during the global financial crisis. ADAP purchases are often lumpy, so this could be a double-edged sword in the second half of the year, but there is no indication that the government has any interest in de-prioritizing this important program.
Pricing will continue to be an issue, particularly outside the U.S., but Gilead has faced no major cuts recently. Nonetheless, investors should probably expect flat pricing globally over the intermediate-term. However, since Gilead's drugs are relatively inexpensive and dramatically effective, drastic price cuts are unlikely.
My checks with physicians and payors continue to suggest limited interest in moving away from fixed dose combination (FDC) therapies. Reducing the pill burden in HIV meaningfully improves compliance, which results in less disease resistance and a reduced public health threat. I don't think the medical community would tolerate a return to multiple pills, even once per day.
Second, investors worry about competition. Gilead continues to aggressively develop novel HIV therapies. In late August, the company will likely receive final FDA approval for the Quad, a once-daily combination therapy that incorporates the integrase inhibitor elvitegravir with cobicistat -- a drug that "boosts" drug blood levels -- with Truvada (itself a combination of two drugs that forms the "backbone" of nearly all HIV regimens.) Although widely expected, the Quad approval and launch will be an incremental positive that accelerates the shift away from dependence on the lower margin Atripla, Gilead's current flagship HIV therapy.
Gilead's primary competitor is dolutegravir, an integrase inhibitor developed by
ViiV Healthcare
-- a partnership between
GlaxoSmithKline
(GSK) - Get Free Report
and
Pfizer
(PFE) - Get Free Report
-- that doesn't require boosting and has a very high barrier to developing resistance mutations. Although dolutegravir itself looks promising and likely slightly superior to elvitegravir, ViiV must combine the drug with Epzicom, a two-drug regimen rarely used by physicians due to concerns about long-term side effects. I don't consider dolutegravir a major threat unless the companies can find a better treatment backbone with which to pair the drug.
Importantly for the franchise, Gilead has quietly advanced a next generation version of tenofovir, encoded GS-7340, into Phase II trials. Management believes GS-7340 is more potent and may have fewer side effects than tenofovir, which the company sells both as Viread and as part of Truvada. Regardless of the incremental clinical improvements, GS-7340's key characteristic is its long patent life (Viread's patent expires in 2018.) Investors should keep a close eye on this drug.
Judging by the questions from analysts on Gilead's conference call, Wall Street remains obsessed with the hepatitis C. As I have said before, I'm skeptical the hepatitis C market will develop into the massive growth opportunity forecast by the bulls. Nonetheless, Gilead's R&D progress has been impressive.
I expect the company will be first-to-market with an all-oral regimen, an accomplishment few people, myself included, would have predicted two years ago. In fact, it's hard to believe that Gilead finalized the $11 billion Pharmasset purchase just six months ago.
As I
, Gilead appears to have effectively shut
Bristol-Myers Squibb
(BMY) - Get Free Report
out of the hepatitis C race. The company has initiated Phase III trials of GS-7977, the nucleotide inhibitor acquired with Pharmasset, in combination with the antiviral drug ribavirin for treatment naive (FISSION), interferon-intolerant (POSITRON), and treatment-experienced (FUSION) genotype 2/3 hepatitis C patients. Data from those studies should be available by early 2013.
As an aside, we still haven't heard much about BMS-094,
Bristol-Myers' seemingly troubled nucleoside polymerase inhibitor
acquired through the Inhibitex deal.
Gilead has also finalized the design for a pivotal trial of single-pill combination of GS-7977 and GS-5885, the wholly owned NS5A inhibitor that has supplanted Bristol-Myers' daclatasvir, in the difficult-to-treat genotype 1 hepatitis C subgroup. This study will explore several variations, including 12- and 24-week treatment duration and dosing with or without ribavirin. I would be surprised if the company can eliminate ribavirin from the combination regimen entirely and still generate high cure rates, but it probably doesn't make much difference to the drug's commercial prospects either way.
My final comment on Gilead's hepatitis C pipeline has to do with Wall Street analysts' focus on seemingly conflicting data reported in genotype 1 patients from two studies: The Phase II QUANTUM trial and one conducted by the National Institute of Allergy and Infectious Disease (NIAID.) In QUANTUM, Gilead reported a 53% SVR4 -- an early indicator of cure -- among 19 treatment-naive patients across all genotypes. In a much smaller group of nine treatment-naive patients with genotype 1 HCV, the NIAID study showed a 100% SVR4 rate.
On the call, management admitted that it didn't know for sure what caused the divergent results. I'm not sure either, but I'm not that concerned. QUANTUM seems to have more lenient patient follow-up than did the NIAID study or ELECTRON, another Gilead-led trial that reported an 88% SVR4 rate. Further, several arms of QUANTUM that contained another drug candidate were discontinued, which may have furthered patient compliance issues. Those factors can make a big difference. I suspect Gilead's Phase III trials of will show a cure rate in the 75-85% range, which would be more than sufficient for FDA approval.
Overall, the second quarter was clearly a good one. I'm not a huge fan of chasing stocks, so if you don't have Gilead in your portfolio, I would wait for a pullback to the low $50s per share. Eventually, some global economic anxiety will likely proffer a buying opportunity. If you're already an owner and donâ¿¿t consider yourself a trading wiz, stay put. Gilead has a reasonable multiple, solid growth prospects, and a rapidly developing pipeline across both HIV and HCV. Despite my frustration with management's refusal to pay a dividend, Gilead should be a core holding for any biotech portfolio.
Disclosure: Sadeghi has no positions in any of the stocks mentioned in this article.
Follow Nathan Sadeghi-Nejad on
.
Nathan Sadeghi-Nejad has 15 years experience as a professional health-care investor, most recently as a sector head for Highside Capital. He has worked on the sell side (with independent research boutiques Sturza's Medical Research and Avalon Research) and the buyside (at Kilkenny Capital prior to Highside). Sadeghi-Nejad is a graduate of Columbia University and lives in New York. You can follow him on Twitter @natesadeghi.