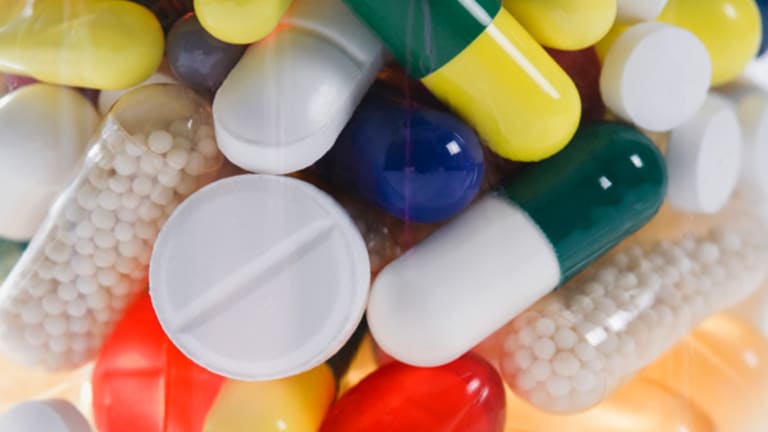 Publish date:
Gilead Sciences: A Preview of Important HIV Drug Study Results
Gilead's goal is to create new versions of its blockbuster HIV combination therapies, replacing Viread with TAF.
Gilead's goal is to create new versions of its blockbuster HIV combination therapies, replacing Viread with TAF.
FOSTER CITY, Calif. (TheStreet) -- Gilead Sciences (GILD) - Get Gilead Sciences, Inc. (GILD) Report has been on an incredible stock-flying run because of its hepatitis C drugs, but now you're telling me investors are swinging their attention back to the company's HIV franchise. Why? 

Hepatitis C is undoubtedly the spark for Gilead's recent run, but none of this would have happened without the strong foundation provided by the company's dominant HIV drug business. From a short-term perspective, Gilead's HIV business has receded into the background, and understandably so, but phase III results from a new HIV drug will be announced imminently -- probably before the end of September. This new HIV drug, if successful, will allow Gilead to continue growing its dominant HIV business even with looming patent expirations of some of its older HIV drugs. This is why investors do (and should) care a lot about the upcoming phase III study results. 
Understood. Tell me more about this new Gilead HIV drug. 
It's called tenofovir alafenamide, but let's use its shortcut moniker, TAF. Technically, TAF isn't an entirely new HIV drug. It's actually an improved version of Viread (tenofovir disoproxil fumarate), the linchpin HIV drug used as the backbone in all of Gilead's combination therapies. Gilead designed TAF with a different chemical structure which makes it more potent at lower doses than Viread. TAF should deliver the same antiviral efficacy punch as Viread, but also reduce the incidence of kidney and bone side effects reported commonly by HIV patients treated long term with Viread-containing regimens.
Gilead wants TAF to replace Viread? 
Exactly. Viread is an essential component of combination HIV therapies like Atripla, Stribild and Complera which generated more than $9 billion in sales for Gilead last year (and still growing.) Generic versions of Viread are coming in 2018 as key patents expire, placing that revenue at risk. As a drug with a new chemical structure, TAF has its own patents extended into the late 2020s. Gilead's goal is to create new versions of its HIV combination therapies, replacing Viread with TAF.
Isn't this just a cynical ploy by Gilead to preserve revenue by preventing cheaper HIV therapies from reaching the market?
Let's be honest, the looming expiration of Viread patents is a big motivating factor behind's Gilead's development of TAF. Expect a lot of debate and controversy over TAF if approved and Gilead pushes the new drug over Viread (or its generic competition) for new and existing HIV patients. Gilead's argues TAF is not just a patent ploy but a meaningful clinical improvement over Viread. To prove its point, Gilead is running a lot of phase III studies comparing TAF to Viread. Gilead is trying to build a medical rationale to convince doctors and insurance companies to use TAF instead of Viread.
And this is why the TAF phase III studies are important?
Yup. The first two phase III studies are fairly straightforward. Both enrolled patients with newly diagnosed and untreated HIV, randomizing them to Stribild (four Gilead drugs combined into a single, once daily pill) or "Stribild-TAF" (replacing Viread with TAF but keeps all the other drugs the same.) The primary endpoint is statistical non-inferiority between Stribild and Stribild-TAF, measured by reduction in viral load out to 48 weeks. Gilead has already conducted and presented phase II studies demonstrating equivalent antiviral activity between Viread and TAF, so the new drug shouldn't have difficult achieving the primary endpoint in these first, two phase III studies. As I said above, results are expected before the end of September.
If TAF and Viread are statistically the same, how does Gilead make the case that TAF is better for patients than Viread? 
The secondary endpoints of the phase III studies compare TAF and Viread for kidney safety and the loss of bone density over time. Based on prior phase II studies, Gilead hopes (expects) treatment with TAF to result in a statistically significant reduction in kidney function impairment and improved bone mineral density compared to Viread. Investors will be focusing mostly on these secondary endpoints when Gilead announced results. 
Are there any other issues to watch for from these first TAF studies?
In previous studies, TAF was associated with a significant increase in LDL (bad) cholesterol compared to Viread, so watch for these data when the phase III studies report out. High cholesterol can be controlled with statins, so this safety knock may not be much of a worry, particularly if TAF proves to be safer for the kidneys and bone. 
What about the other TAF phase III studies?
Gilead is running nine phase III studies involving TAF, which reflects the importance of the drug to Gilead's future HIV business. The other studies examine TAF in different HIV drug combinations, including currently treated patients who switch to TAF regimens. All in, Gilead is collecting an enormous amount of clinical data in which to make the case that TAF should be a preferred backbone drug for new and existing HIV patients, as well as patients who cannot use Viread because of pre-existing kidney conditions.
Adam Feuerstein writes regularly for TheStreet. In keeping with company editorial policy, he doesn't own or short individual stocks, although he owns stock in TheStreet. He also doesn't invest in hedge funds or other private investment partnerships. Feuerstein appreciates your feedback;
to send him an email.