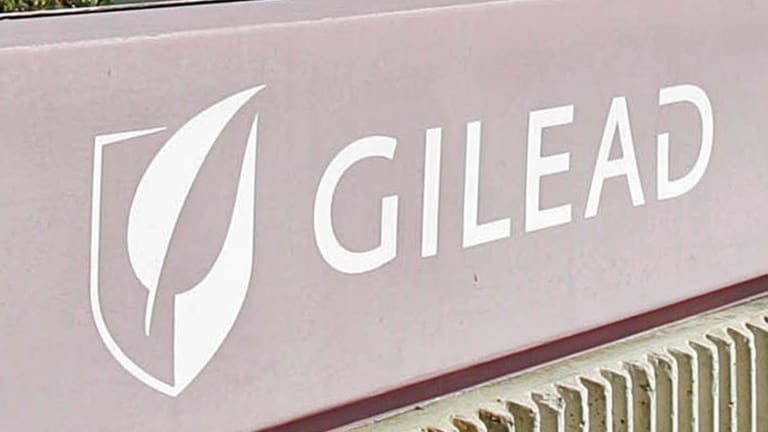 Gilead Proves Again Why It's the Best Biotech Company on the Planet
Gilead's hepatitis C drugs are probably the best example of the innovation in medicine we want the biotech industry to strive for when developing new products.
When Gilead Sciences (GILD) - Get Gilead Sciences, Inc. Report is cited by critics of drug pricing, they usually point out the $1,000-per-day or more price tag of the company's hepatitis C drugs (outrageous!) or the billions of dollars spent by the health care system in total to acquire the drugs (unsustainable!).
What you don't hear much about from critics is the positive impact of Gilead's hepatitis C drugs on patients. These numbers are remarkable.
Since Sovaldi, the first of Gilead's hepatitis C drugs, was approved in December 2013, approximately 330,000 patients in the U.S. have been treated, Gilead tells me. This number includes patients treated with Gilead's follow-on (and more effective) hepatitis C therapy Harvoni.
Let's assume, very conservatively, that 90% of the patients treated with Sovaldi and Harvoni are cured of their hepatitis C. That means since December 2013, Gilead's drugs have cured 297,000 hepatitis patients in the U.S. You can't emphasize "cured" enough. These patients had a serious liver disease which causes cirrhosis and death. They swallowed a single pill once a day for eight or 12 weeks. After that, they no longer had hepatitis C. The disease is gone.
Worldwide, 600,000 hepatitis C patients have been treated with Gilead's pills, the company told me. Again, assuming a 90% success rate, that equates to 540,000 cures.
In the "old' days before drugs like Sovaldi and Harvoni, half the treated hepatitis C patients were lucky to be cured. Achieving that cure meant enduring a year of weekly injections and daily pills which caused terrible side effects.
Gilead's hepatitis C drugs are probably the best example of the innovation in medicine we want the biotech industry to strive for when developing new products. The debate over drug pricing isn't going away. Critics will still argue that Sovaldi and Harvoni cost too much. But if you're going to make that argument, at least acknowledge these drugs provide a profound benefit for patients never seen before. If a 90%-plus cure rate isn't good enough to justify their price, what is?
I'll step off my soapbox now and discuss Gilead's third-quarter earnings announced Tuesday night. The numbers were pretty great: Another financial outperformance in a long string of revenue and earnings beats combined with a modest raise to 2015 guidance, the second time that's happened this year.
Worldwide hepatitis C sales totaled $4.8 billion in the third quarter. Year to date, Sovaldi and Harvoni have delivered $14.2 billion in sales for Gilead -- the most successful drug franchise in the history of the bio-pharma industry.
Investors are griping that Gilead's hepatitis C sales already have peaked, at least in the U.S. where prescriptions and sales are in a downtrend. Investors don't like slowing growth. That's understandable, but Gilead on Tuesday night made a solid case for the better-than-expected durability of its hepatitis C franchise.
Gilead has 90% market share in hepatitis C! Remember last year when everyone was worried Gilead would be seriously hurt by Express Scripts (ESRX) and its exclusive deal with AbbVie (ABBV) - Get AbbVie, Inc. Report ? Seems like a joke now, doesn't it? Next year, Merck (MRK) - Get Merck & Co., Inc. Report will enter the hepatitis C market with a drug of its own and investors are once again concerned about Gilead's market share erosion. A year from now, will you be surprised to learn that Merck, like AbbVie, is a tiny speck in the hepatitis C treatment market? I won't.
Gilead's core HIV business continues to perform well despite new competition from Viiv, the HIV joint venture of GlaxoSmithKline (GSK) - Get GlaxoSmithKline Plc Report and Pfizer (PFE) - Get Pfizer Inc. Report. The expiration of key Gilead HIV drug patents at the end of the decade have long been a overhang on the stock. Gilead is responding with an improved version of Truvada, the blockbuster backbone of HIV combination therapy. This next-generation backbone therapy is incorporated into Genvoya, which is expected to be approved next week and will then likely become the next standard-of-care, triple-drug (but single tablet) HIV regimen, replacing Stribild.
On Tuesday, Gilead said it was moving a non-boosted integrase inhibitor, GS-9883, into a phase III study. This drug will also be combined with the next generation backbone to form the first single-tablet, integrase-based HIV regimen.
Gilead's dominant HIV business is not going away.
One more observation: Gilead closed the third quarter with $25 billion in cash. Lots of people, myself included, want to see Gilead use that enormous pile of money to make another transformational acquisition along the lines of Pharmasset and Triangle Pharmaceuticals. These same people (again, I'm in this group) have grown impatient, even irritable, that Gilead hasn't pulled the trigger on a big deal yet, choosing instead to repurchase its own stock.
Maybe we need to chill. The big downturn in biotech stock valuations since this summer has shown waiting on M&A to be the smartest strategy. There is no smarter management team in biotech than Gilead. In Gilead, investors should trust.
Adam Feuerstein writes regularly for TheStreet. In keeping with company editorial policy, he doesn't own or short individual stocks, although he owns stock in TheStreet. He also doesn't invest in hedge funds or other private investment partnerships. Feuerstein appreciates your feedback; click here to send him an email.