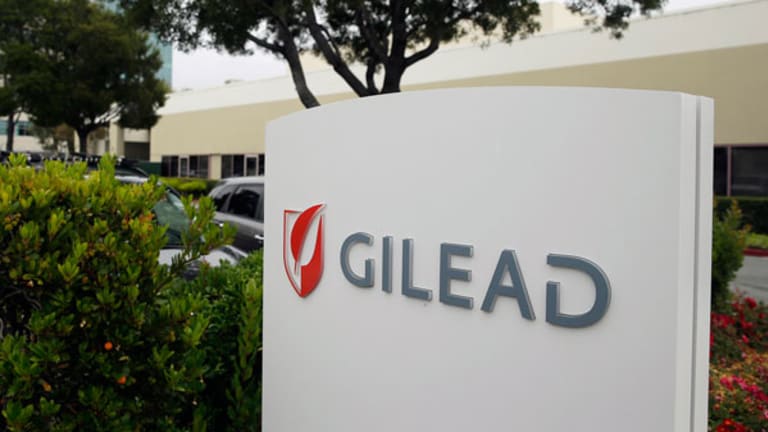 Gilead Falls on News that It Will Pay $2.54 Billion in Royalties to Merck
The pharmaceutical giant had an ongoing legal battle with Merck over its hepatitis C drug patent.
Gilead (GILD) - Get Report fell 1.8% in after hours trading Thursday on news that it will have to pay rival Merck (MRK) - Get Report $2.54 billion for a patent dispute over its hepatitis C drugs Sovaldi and Harvoni. 
The U.S. District Court for the District of Delaware handed down the decision Thursday, noting that Gilead infringed upon an Idenix Pharmaceuticals Inc. patent for methods used to develop drugs for hepatitis C. Merck acquired Idenix back in June 2014 for $3.9 billion.
Going forward, Merck is asking for 9% royalties on Gilead's sales of Sovaldi and Harvoni.
"The jury's verdict upholds patent protections that are essential to the development of new medical treatments," Merck officials wrote in a statement. "Given that it guarantees a period of return on investment, patent protection provides the research-based pharmaceutical and biotechnology industries with an incentive to invest in research and development."
The two have been sparring for months, trading appeals and arguments in court before Judge Leonard P. Stark in Delaware most recently. Gilead will likely appeal this most recent decision.
Gilead's stock hit $74.20 per share after hours, after falling slightly during intraday trading. The company has seen its share price fall 26% this year.
Gilead has been seen as a company in need of making acquisitions. It was flush with cash, and its R&D pipeline is lacking.
This payment, though, is worth what a company like Gilead would pay for a typical biotech acquisition target. This patent decision may put Gilead out of the acquisition game for some time. At the end of the third quarter, Gilead had $31.6 billion in cash.
Gilead has promised to appeal the decision, which is the largest patent dispute payout ever, according to reports.
Merck, meanwhile, saw shares boost 1.1% after hours. The company's shares hit $63.10 apiece after hours. Merck has done well in 2016, up 14% this year.
Gilead spokeswoman Michele Rest said the company "respectfully disagrees with the jury's verdict and damage award, and intends to vigorously challenge this outcome through the appeal process." Adding, "We remain steadfast in our opinion that Idenix's U.S. patent is invalid, and since they made no contribution and assumed none of the risk in the discovery and development of sofosbuvir and its metabolites, do not believe they are entitled to any level of damages."
 She noted that the ruling does not impact on Gilead's ability to continue to make sofosbuvir, and sofosbuvir-containing products available to patients in the U.S.