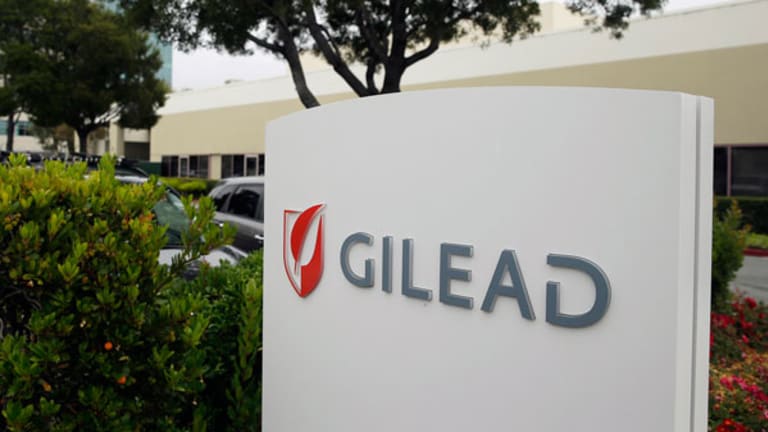 Gilead Cancer Business Loses Top Exec Prior to Study Halts
Gilead's cancer business, a hoped-for source of future earnings growth, has hit some turbulence.
Gilead's cancer business, a hoped-for source of future earnings growth, has hit some turbulence.
Gilead Sciences' (GILD) - Get Report cancer business, a hoped-for source of future earnings growth, has hit some turbulence.
Philippe Bishop, the former Genentech scientist recruited to lead clinical development of Gilead's cancer drug pipeline, left the company in February.
This week, Gilead halted six clinical trials involving its blood cancer drug, Zydelig, because of serious side effects. Some patients died.
The two events aren't related, Gilead said, but collectively they raise questions about the robustness and direction of the company's cancer business at a delicate time.
Gilead shares have declined 11% this year, which is actually tops among all the large-cap biotech companies. But Gilead also trades at the lowest forward P/E multiple of its peers because investors are worried that sales of the company's hepatitis C drugs have already peaked, yet a future source of robust earnings growth hasn't been identified.
Cancer may become Gilead's next big growth driver, but you can't fault investors today for having doubts.
Bishop was hired by Gilead with a fair amount of fanfare in December 2014. Bishop came from the Genentech arm of Swiss pharma giant Roche (RHHBY) , where he was involved in the clinical development of many of the company's most important cancer drugs. He didn't last long in the Gilead job.
"With Philippe, I can't get into the details but we, collectively, both of us, came to the conclusion that it was best that he depart," said Gilead Chief Scientific Officer Norbert Bischofberger, in an interview Wednesday.
The six clinical trials shut down this week were all testing Zydelig in combination with other cancer drugs in patients with newly diagnosed (previously untreated) leukemias and lymphomas.
As a result of the study halts, Bischofberger said Gilead will no longer pursue development of Zydelig in the frontline treatment setting of blood cancer. This means an important growth opportunity for the blood cancer drug is now off the table for Gilead. In almost all instances, front-line treatment in blood cancers involves combination therapies. The emerging data show Zydelig is too toxic to be safely combined with other drugs.
Zydelig remains on the market as a monotherapy treatment for patients with certain relapsed blood cancers, but sales to date -- $132 million in 2015 -- are modest and will remain so, said Bischofberger.
So where does Gilead go from here with its cancer business? Finding someone to run it would be a good start. John McHutchison, executive vice president of clinical research (Bishop's old boss), is now in charge of the cancer pipeline while the company looks for a replacement, said Gilead spokeswoman Amy Flood.
Bischofberger is optimistic about the six other targeted cancer drugs in Gilead's pipeline and said Zydelig's problems haven't forced a change in strategic direction.
Gilead has used two acquisitions in the past -- Triangle Pharmaceuticals and Pharmasset -- as launch pads to dominate HIV and hepatitis C drug markets, respectively. Can Gilead grow its cancer business through internal research only or must it make acquisitions and partnerships?
"The latter is true," said Bischofberger. "We do feel some urgency and interest in acquiring something or doing a partnership but if we don't find one where we're convinced the science and commercial business case are solid then we won't do a deal."
Bischofberger also said Gilead has made a "very conscious decision" to steer away from investing heavily in popular but undifferentiated immuno-oncology targets like the PD-1 checkpoint inhibitors. 
"Strategically, what we want to do, instead, is to ask the question: What is it about the 70% to 80% of people that don't have a response to anti-PD1 therapy," said Bischofberger. "We're absolutely very interested in immuno-oncology but only if it is a truly differentiated compound from what is on the market or in late-stage clinical studies."
Adam Feuerstein writes regularly for TheStreet. In keeping with company editorial policy, he doesn't own or short individual stocks, although he owns stock in TheStreet. He also doesn't invest in hedge funds or other private investment partnerships. Feuerstein appreciates your feedback; click here to send him an email.