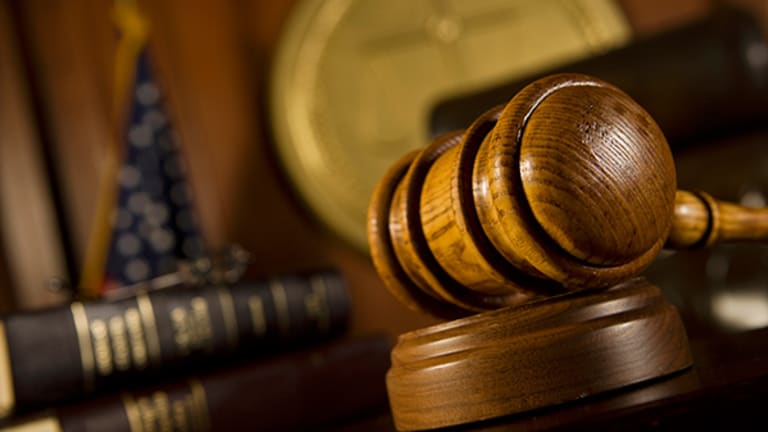 Gilead, Biogen Troubles Remind Investors Why Strong Drug Patents Are Vital
A flurry of patent infringement lawsuits and decisions are affecting some of the biotech sector's largest companies.
Editors' pick: Originally published March 23.
Ask most people to identify the lifeblood of the biotech industry, and they'd probably point to scientists conducting carefully calibrated experiments in a laboratory. That's only partially true. If your goal is for the biotech industry to be successful and profitable, those scientists need a phalanx of lawyers writing, filing and defending patent applications.
Scientists might invent drugs, but lawyers filing patents to protect those drugs from competition turn those drugs into billion-dollar revenue generators.
A flurry of patent infringement lawsuits and decisions in recent days, affecting some of the biotech sector's largest companies, underscores this point.
On Tuesday, a federal jury upheld the validity of two patents owned by Merck (MRK) in a lawsuit against Gilead Sciences (GILD) over highly profitable hepatitis C drugs. Next, the jury will decide damages. Gilead could ultimately be forced to pay billions of dollars to Merck in damages and royalties on future sales, although an appeal is inevitable.
Also Tuesday, hedge fund investor Kyle Bass scored a victory against Biogen (BIIB) when the U.S. Patent and Trademark Office granted Bass' request to conduct a trial to review the validity of a patent protecting the company's most important multiple sclerosis pill Tecfidera. It could be a year before the trial outcome is known, but Tecfidera sales were $2.9 billion in the U.S. last year ($3.6 billion worldwide), so a Biogen loss could cut significantly into the drug's growth.
Last week, Amgen (AMGN) scored a legal victory overRegeneron Pharmaceuticals (REGN) in a lawsuit over patents protecting Repatha, the company's newly launched cholesterol-lowering drug. The jury decision in Amgen's favor puts Regeneron's competing product Praluent at risk of being pulled off the market. At a minimum, Regeneron will be forced to pay sales royalties to Amgen.
Need one more? Editas Medicine (EDIT) , a newly public biotech startup, is embroiled in an ongoing, multi-party lawsuit over ownership to important patents covering the gene editing technology known as Crispr.
Biotech drug-patent conflicts are typically settled early, usually with discreet licensing deals, which is why all this courtroom drama is so notable. It's also a reminder to health care investors that the risk-factor sections devoted to intellectual property in Securities and Exchange Commission filings are just as important as paragraphs devoted to clinical trial data and regulatory strategies.
For now, none of these patent conflicts are fully resolved, which leaves the adversely affected companies in some limbo.
Gilead could be forced to pay Merck more than $2 billion in damages and a royalty of 10% on the sale of its hepatitis C drugs Sovaldi and Harvoni going forward. The latter penalty is the real stinger, considering the two hepatitis C drugs combined for $19 billion in sales last year and will continue to generate billions of dollars of sales into the future. (Ionys Pharmaceuticals (IONS) gets a portion of any damages granted to Merck.)
A Gilead appeal of Tuesday's decision could drag on for years, so analysts believe a settlement agreeable to both sides is likely. If Gilead and Merck split the difference and agree on a 5% royalty, the cash obligation for prior damages and the net present value of all future royalties amount to a combined hit on Gilead earnings of $1.18 a share, according to Leerink biotech analyst Geoff Porges. He calls this financial hit to Gilead "modest."
Still, losing to Merck in the Sovaldi/Harvoni patent case comes at an inopportune time for Gilead. New prescriptions written for hepatitis C drugs have been on the rise over the past two weeks, a promising sign that insurance companies were easing access restrictions and allowing more patients to be treated.
Gilead's stock price has enjoyed an almost 15% bounce since early February, in part due to the encouraging uptick in hepatitis C drug prescriptions. The prospect of having to fork over some of that revenue with Merck could become a new reason for investors to worry about Gilead's future growth trajectory. 
Shares of Gilead were down 1.5% from Tuesday's prices. 
For Biogen, the risk of losing to Bass is the revocation of a U.S. patent protecting Tecfidera through 2028. Without that patent, a generic version of Tecfidera could enter the U.S. market four years earlier than expected. Biogen is also facing legal challenges to Tecfidera patents in Europe. Together, these patent challenges could have a negative 16% to 17% impact to Biogen's discounted cash flow, said Jefferies analyst Brian Abrahams.
Biogen has been trying to stabilize Tecfidera sales while it waits for important clinical trial readouts on risky but potentially blockbuster drugs in its pipeline, most notably the Alzheimer's disease drug aducanumab.
Shares of Biogen were down 1.1% since Tuesday.
Biogen is a holding in Jim Cramer's Action Alerts PLUS portfolio.
Adam Feuerstein writes regularly for TheStreet. In keeping with company editorial policy, he doesn't own or short individual stocks, although he owns stock in TheStreet. He also doesn't invest in hedge funds or other private investment partnerships. Feuerstein appreciates your feedback; click here to send him an email.