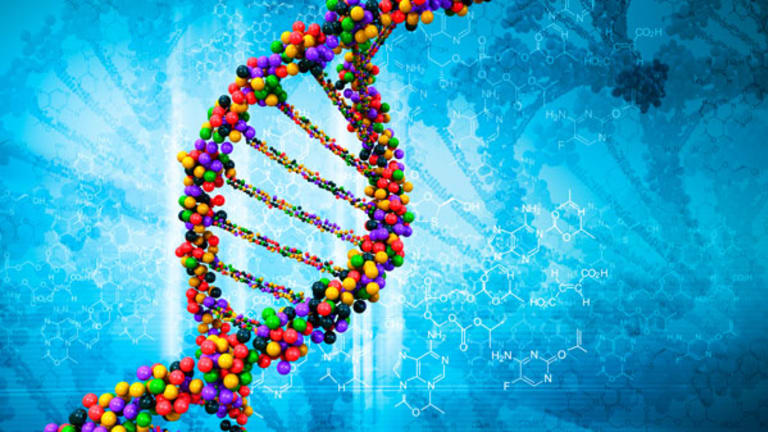 Gilead Beats Targets on Strong Drug Sales
Shares rise after the biotech company releases its quarterly numbers.
Gilead
(GILD) - Get Report
exceeded analysts' third-quarter top- and bottom-line expectations as sales of its HIV-fighting drugs surpassed estimates, and the company announced an accelerated $750 million share-buyback plan.
The stock closed up $3.11, or 8.1%, at $41.39 on Thursday in anticipation of the third-quarter earnings. After the numbers were disclosed, Gilead added another 3.3%.
The company said it earned $504 million, or 52 cents a share, in the quarter, compared with $398.3 million, or 42 cents a share, in the year-ago period. Factoring out certain items, the company reported a profit of 55 cents a share, up from 45 cents a share a year earlier. Revenue rose 30% to $1.37 billion.
Results topped the consensus estimate of 49 cents a share on revenue of roughly $1.32 billion, according to Thomson Reuters.
Total U.S. antiviral sales totaled $712.6 million for the recent quarter, up from $546 million a year prior. The recent quarter includes U.S. sales of $262 million from Truvada and $346 million from Atripla, both of which beat consensus targets of $244 million and $335 million, respectively.
Worldwide, Gilead garnered $427.6 million from Atripla and $549.1 from Truvada, along with roughly $155.9 million for Viread.
Analyts had expected that negative data on
GlaxoSmithKline's
(GSK) - Get Report
Abacavir could be aiding the European launch of Atripla.
The company reported worldwide revenue of $91.2 million from Hepsera, $72.9 million from Ambisome and $31.7 million for Letairis. Those results were in line to slightly above analysts' targets.
Spending on research and development increased 34% year over year to $188.1 million, while selling, general and administrative expenses rose 9.3% to $189.2 million. Analysts had expected Gilead to spend about $174 million on R&D and $179 million on SG&A.
Last quarter, Gilead raised its forecast for operating expenses by about $50 million for the remainder of the year, primarily in research and development and in selling, general and administrative expenses. At the time, the company noted that spending on R&D as a percentage of revenue is likely to increase in the future. That caused some analysts to adjust their models and added to recent pressure on the stock.
Gilead did not change its 2008 guidance in its earnings release. The company had previously boosted its sales forecast for this year by about $200 million to a range of $4.9 billion to $5 billion.
For 2008, analysts expect a profit of $1.98 a share, on revenue of $5.25 billion.
Gilead also said Thursday that it plans to repurchase $750 million of its common stock on an accelerated basis under the $3 billion buyback program announced late last year.
Gilead's sector peer
Genentech
(DNA)
reported its third-quarter results earlier in the week, also surpassing product sales expectations. Fellow biotechs
Genzyme
(GENZ)
,
Amgen
(AMGN) - Get Report
,
Biogen Idec
(BIIB) - Get Report
and
Celgene
(CELG) - Get Report
plan to report their results next week.