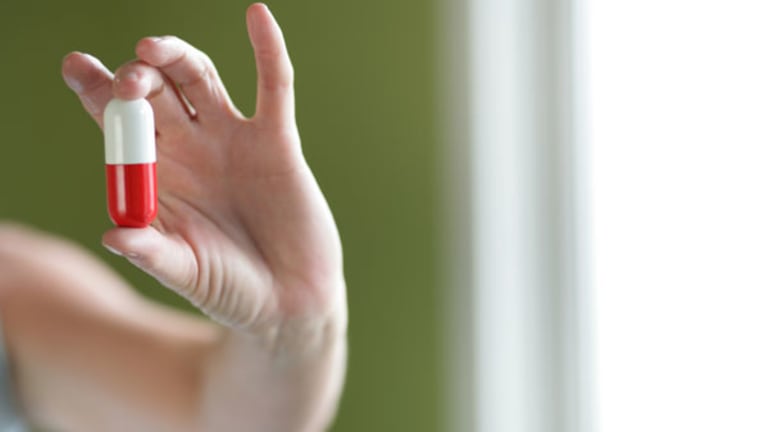 Publish date:
Gilead And The Future of HIV Therapy
Gilead's market dominance in HIV is not in peril but the company faces legitimate questions about its ability to innovate.
Gilead's market dominance in HIV is not in peril but the company faces legitimate questions about its ability to innovate.
FOSTER CITY, Calif. (
) --Amongst the hubbub over hepatitis C and the upcoming EASL conference, it can seem as though
Gilead Sciences'
(GILD) - Get Gilead Sciences, Inc. (GILD) Report
very existence hinges on whether or not the company can successfully develop a drug to treat the viral liver disease. That's not the case. In fact, the massively profitable HIV business remains the critical driver of Gilead's cash flow over the long-term.
The HIV market has lots of moving parts, so let me give you the conclusion first: Gilead faces a host of challenges over the next decade, but I don't think the company's market dominance will be significantly imperiled over that time. The threats -- new branded competitors, major patent expirations, and increased pricing pressure -- are real and shouldn't be overlooked, yet I think bearish forecasts of Gilead's impending demise in HIV are overwrought.
Having said that, I'm not buying Gilead today because the company's hepatitis C struggles suggest a more insidious concern: Can Gilead continue to innovate?
HIV treatment regimens include three drugs: two nucleoside reverse transcriptase inhibitors (NRTI) and either a non-nucleoside reverse transcriptase inhibitor (NNRTI) or a protease inhibitor (PI). For the last decade, Gilead has dominated; 90% of newly diagnosed patients' first-line drug cocktail includes Viread and Emtriva, two Gilead NRTIs. The company also markets Atripla, the first once-daily single-pill regimen -- it's a co-formulation of Viread and Emtriva with
Bristol-Myers Squibb's
(BMY) - Get Bristol-Myers Squibb Company Report
Sustiva -- which received FDA approval in 2006.
Patients who are not candidates for or cannot tolerate an NNRTI receive a protease inhibitor, or PI, usually alongside a "backbone" of Viread and Emtriva (Gilead has co-formulated the two drugs into a single pill, Truvada). The widespread use of Truvada enables Gilead to capture significant value from the HIV market -- more than 72% of all treated HIV patients take at least one of the company's drugs.
Gilead's Patent Problem
No biotechnology company is exempt from the patent expiration cycle. Although patents on Atripla and sub-component Emtriva continue until 2021, Sustiva's patent expires in 2013 and the key Viread patent expires in 2018. A few years ago, investors started to worry that generic availability of Atripla's components would have a significant negative impact on the company's long-term earnings.
Gilead's HIV "patent cliff" mitigation strategy involved developing a new single pill regimen without Sustiva (the first Atripla component to go generic). Last August, Gilead received FDA approval for Complera, which combines Truvada with
Johnson & Johnson's
(JNJ) - Get Johnson & Johnson (JNJ) Report
Edurant (which had itself received approval a few months earlier). Essentially, Complera is Gilead's Atripla replacement strategy. With a 2023 patent expiry, Complera extends Gilead's Atripla-like economics -- roughly a two-thirds share of sales -- but still does not provide direct access to the NNRTI or PI market.
The second part of management's strategy sought to capture a greater share of total HIV dollars. (Near-term, Gilead's high market share doesn't leave a lot of room for dramatic prescription growth.) To address this opportunity, management explored a new class of drugs, called integrase inhibitors. Gilead's R&D goal was simple: Develop a once-daily, single pill regimen to supplant Atripla, compete with the PIs, and allow the company to control all the drug's economics.
The Battle of the Integrase Inhibitors
Maintaining long-term market dominance is no easy task since multi-billion dollar revenue opportunities don't go uncontested for long. Competitors
Merck
(MRK) - Get Merck & Co., Inc. (MRK) Report
and
ViiV Healthcare
-- a partnership between
GlaxoSmithKline
(GSK) - Get GlaxoSmithKline plc Sponsored ADR Report
and
Pfizer
(PFE) - Get Pfizer Inc. Report
-- are also developing integrase inhibitors, as the companies seek to reinvigorate once-formidable HIV franchises gone fallow.
Merck received FDA approval for the first integrase inhibitor, Isentress, in 2007. Despite impressive efficacy, the drug's twice-daily administration has become undesirable to many patients in the era of once-daily Atripla. Although Isentress has had moderate commercial success -- 2011 sales reached nearly $1.4 billion -- it's clear the drug's long-term impact will be modest. (Merck's efforts to develop once-daily Isentress have been unsuccessful thus far.)
Meanwhile, Gilead's integrase inhibitor, known chemically as elvitegravir, has encountered some major development hurdles. Most significantly, the company quickly discovered that the drug required "boosting" -- a pharmacokinetic trick often used with PIs to increase blood levels -- with a drug called ritonavir in order to be effective when administered once-daily. To avoid ritonavir's unwanted gastrointestinal side effects (and retain all of the economics), Gilead developed cobicistat, which appears to have an adequate pharmacokinetic boosting effect without ritonavir's side effects. Bullet dodged.
Gilead calls the combination of Truvada, elvitegravir and cobicistat the Quad since it contains four drugs rather than the usual three (remember that Truvada is a combination of Viread and Emtriva.) I expect the Quad to receive FDA approval by August 2012 based on data from two pivotal studies demonstrating the Quad to be statistically non-inferior (equivalent in layman's terms) to Atripla and a PI-containing regimen.
Gilead skeptics worry because ViiV's dolutegravir -- an integrase inhibitor less than two years behind the Quad -- also appears to be viable as a once-daily pill and likely has a superior resistance profile compared to elvitegravir (meaning the drug can endure more viral mutations without losing efficacy.) A phase III study released last week showed dolutegravir to be statistically non-inferior to Merck's Isentress.
Although comparing across trials is always tricky, elvitegravir and dolutegravir look about the same from an efficacy perspective. Since both drugs also have fewer side effects than Sustiva or PIs, I expect elvitegravir and dolutegravir-based regimens to take meaningful market share over the next five years. With Truvada as the NRTI backbone of choice, Gilead will still participate in the economics of any separate pill dolutegravir regimens.
Co-formulation Matters
As recently as the mid-1990s, HIV patients had to take handfuls of pills multiple times per day. In part due to the side effects of first generation HIV drugs, patient noncompliance was a major problem and a key driver of viral resistance. (If a patient takes an antiviral inconsistently, the virus can more easily mutate and become resistant to drugs.)
Gilead's singular achievement has been to co-formulate three relatively tolerable HIV drugs into one pill. This prevents patients from "picking and choosing" which pills to take. The clinical importance of minimizing HIV pill burden cannot be overstated. Until generically equivalent co-formulated versions of Atripla become available, I strongly believe physicians will remain committed to keeping patients on the lowest possible pill burden.
That's not great news for ViiV, which will likely co-formulate dolutegravir with GlaxoSmithKline's Epzicom, a Truvada competitor that includes the NRTIs abacavir and lamivudine. Unfortunately, several clinical studies have shown Epzicom to be less effective than Truvada; as a result, Epzicom prescriptions have declined significantly over the last few years and an Epzicom-based co-formulation strategy seems unlikely to succeed.
ViiV also can't co-formulate dolutegravir with Viread, Truvada's critical component, until 2018. Even after that point, the company would have to complete at least some studies to demonstrate equivalence. Given that a shift backwards in pill burden seems unlikely, this puts ViiV at a distinct disadvantage and buys Gilead some time to maneuver.
Summer's Over, but is Winter Almost Here?
Gilead's competition in the HIV market will increase meaningfully in the next few years, but many of the most significant pressures remain relatively distant. (It must be said that pricing pressure -- as well as increased expenditures -- contributed to management's lackluster 2012 financial guidance.) Over the medium-term, I think dolutegravir competition will be offset by the improved economics associated with the Quad and market share losses from PI-containing regimens.
At the end of the day, a long-term investment in Gilead -- long or short -- has more to do with faith than fundamentals. The company trades at a very modest 12 times forward price-to-earnings multiple,m which explains my lack of interest in being short at current prices. Gilead's forward P/E multiple is slightly above that of
Amgen
(AMGN) - Get Amgen Inc. Report
-- which I think has more significant pressures -- and meaningfully below the multiples of growth stocks
Celgene
(CELG) - Get Celgene Corporation Report
and
Biogen Idec
(BIIB) - Get Biogen Inc. Report
.
Bulls believe Gilead management can offset the long-term risks and drive growth with new products, like Complera, the Quad, and the hepatitis C drug GS-7977 (acquired from Pharmasset for $11 billion.) Bears think Gilead's era of innovation is over. I'm not sure.
With a patent that expires in 2029, GS-7977 appears to be Gilead's most visible chance for dramatically enhancing investor excitement about the long-term, especially for those that believe millions of hepatitis C patients have just been waiting for the right cocktail to seek treatment. (As I have said before,
) That's why investors are so focused on the hepatitis C platform.
HIV generates the vast majority of Gilead's impressive $3.5 billion in annual free cash flow. I don't think that cash flow is at any significant risk and expect the HIV business will continue to grow modestly through 2021. Even if GS-7977 blows up completely, Gilead will still have adequate cash to pursue other big R&D or M&A initiatives, especially since the balance sheet remains relatively under-levered even after buying Pharmasset.
It's the cracks in my faith about Gilead's R&D that leaves me on the sidelines. The company's innovation in HIV is one of the most significant medical achievements in the past 25 years, but other areas have proven challenging, to say the least. In some ways, Gilead's situation can be summarized by a quote from a recent
New Yorker
article about the psychological impact of perceived decline: "If it feels like winter's on the way, it doesn't matter how large the autumn harvest is."
At some point, Gilead may face calls from investors -- as did Pfizer -- to spin off non-core assets or break up the company entirely. I don't think we are at that point yet, but investors, myself included, need to see something more from the Pharmasset deal to believe the Gilead multiple will expand over the long-term.
Disclosure: Sadeghi has no positions Gilead Sciences or any of the other stocks mentioned in this article.
Follow Nathan Sadeghi-Nejad on
.
Nathan Sadeghi-Nejad has 15 years experience as a professional health-care investor, most recently as a sector head for Highside Capital. He has worked on the sell side (with independent research boutiques Sturza's Medical Research and Avalon Research) and the buyside (at Kilkenny Capital prior to Highside). Sadeghi-Nejad is a graduate of Columbia University and lives in New York. You can follow him on Twitter @natesadeghi.