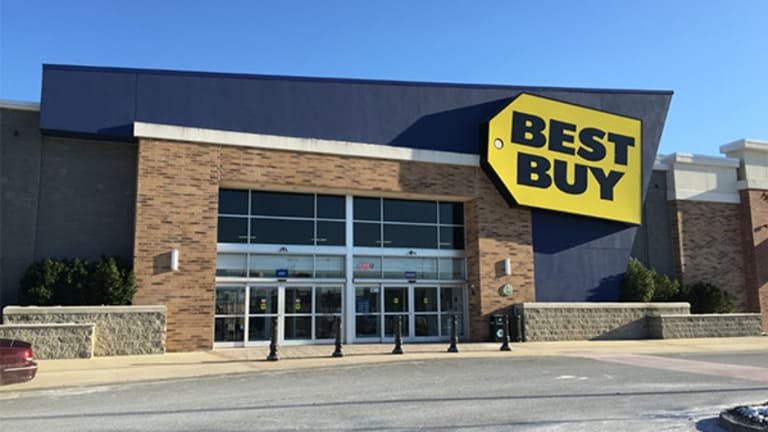 Giant TVs Could Topple Best Buy This Year
Best Buy could be hurt this holiday season by falling high-definition TV prices and great competition.
Giant high-definition TVs are becoming more affordable and widely available -- a phenomenon that could make Best Buy's (BBY) - Get Best Buy Co., Inc. Report holiday season far less joyful.
Jefferies analyst Dan Binder downgraded his rating on Best Buy to hold from buy on Monday, citing concerns that a maturing 4K, or high-definition, product cycle will translate to softer same-store sales and margins in this key category for Best Buy.
"Average selling prices for large screen 4K TVs have dropped another 30% on a trailing 12-month basis and Walmart (WMT) - Get Walmart Inc. Report and Target (TGT) - Get Target Corporation Report have dramatically increased their stock keeping unit (SKUs) counts in 4K TVs vs. last year," wrote Binder. Walmart now offers 59 4K televisions (by SKUs) both in store and online vs. 44 for Target, according to Binder. Best Buy offers 160.
Binder added, "The commoditization of this technology could put second-half same-store sales at risk for Best Buy -- Best Buy has very strong market share in 4K TVs and thus far has not faced stiff holiday competition from large general merchandise retailers, due to limited assortment, [but] this holiday will be different."
About 32% of Best Buy's domestic sales last year were derived from sales of consumer electronics such as large-screen TVs and health and fitness technology. According to Binder's math, roughly two-thirds of that total was devoted to TVs. The electronics chain had about 50% market share in 4K TVs last year, said Binder. 
Demand for large-screen TVs has powered Best Buy's consumer electronics business for over a year, so a trend change in sales and profit during the all-important holiday season might spook investors. Same-store sales for Best Buy's consumer electronics segment rose 4.7% last year, and clocked in with a solid 5.6% gain in the first quarter. At least Best Buy execs have tried to warn Wall Street on the potential impact of high-definition TVs becoming mass market. 
"At some point, the growth in TVs will slow down and at some point, we would expect [we] could not be able to hold the kind of great [market] share we've had," Best Buy Chairman and CEO Hubert Joly told analysts on a May 24 call. 
"We are not surrendering in advance, but as investors, you guys are been around, you know that this is the kind of thing that happens -- so when it happens, don't be surprised," Joly said.
Wall Street hasn't listened, which could prove unfortunate especially as Action Alerts PLUS holding Apple (AAPL) - Get Apple Inc. Report is rumored to be making big changes to its iPhone this year.
Shares of Best Buy have rocketed about 14% higher this year compared to a 6.8% rise in the S&P 500. 
For good measure, Binder also struck a sour chord on Best Buy's second quarter due to sluggish demand for consumer electronics. The analyst commented, "Retail fiscal second-quarter government data shows a deterioration in industry trends, which remains below recent years."
Binder lowered his fiscal year 2017 earnings estimate to $2.85 from $3.07, and 2018 to $3.01 from $3.42.