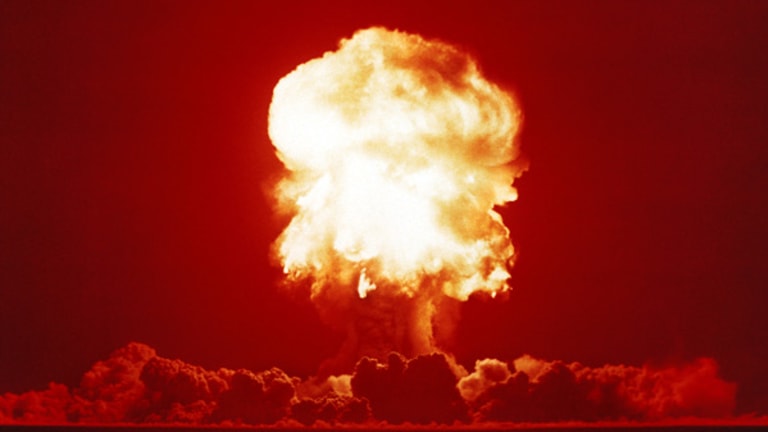 Get Ready for the Year-End Bank Stock Apocalypse
With loan demand stalled, as companies await the outcome of the election and for Congress to compromise over the "fiscal cliff," bank stocks are likely to have a lousy fourth quarter.
Updated with information on the $1 billion lawsuit brought by the Department of Justice against Bank of America.
NEW YORK (
) -- Investors better get set for an especially lousy fourth quarter for bank stocks.
FBR analyst Paul Miller says that "the loan pipelines are strong," as commercial borrowers are arranging "credit lines but they are not borrowing the money," as they wait to see what happens in the November elections, and with the "fiscal cliff."
The fiscal cliff refers to the year-end expiration of the income tax cuts -- including the 15% maximum tax rate on
-- signed into law by President George W. Bush and extended by President Obama in 2010, as part of the compromise with Congress to raise federal debt ceiling limit. The 2010 compromise also requires large federal budget cuts beginning in 2013, unless Congress acts.
"The Democrats and Republicans cannot get together until very late in the quarter on the fiscal cliff," Miller says, adding that "we think lending in general will dry up in the fourth quarter. Most companies have said that it started drying up in mid-September."
So investors are anticipating a slow-down of commercial and industrial (C&I) lending, which has been a very important growth story for large regional banks over the past year.
"It's going to get dark, dreary, cold and damp, as the Republicans and Democrats have it out," leading into the elections, Miller says.
"We believe that at some point there will be a compromise" on the fiscal cliff, Miller says, but "the deeper we go into this year and if it crosses January 1, the worse it will be for the perception of the world, and for bank stocks."
"Once there is a compromise, business will start to draw down their credit lines and you will get a bounce back for lending in the first quarter."
Looking broadly at third-quarter earnings results, FactSet says that out of 123 companies among the
S&P 500
(SPX.X)
that have reported so far, 67% have beaten consensus earnings estimates, while only 38% have reported sales above estimates. FactSet says that "this percentage is well below the average of 55% recorded over the past four quarters. In fact, it is the lowest percentage of companies to report sales above estimates at this stage of the earnings season since Q1 2009 (35%)."
The blended earnings growth rate for the group is a negative 2.4%, while the blended earnings growth rate is a negative 0.8%. That's a pretty poor showing in the midst of an economic recovery.
Less Support from Forward EPS Estimates
Over the past few years, forward earnings estimates have significantly exceeded the current year's estimates, for nearly all of the big banks. Long-term investors have seen many recovery plays, cheaply priced to book value and forward earnings estimates, with higher forward estimates supporting stock prices.
Looking at the 24 components of the
KBW Bank Index
(I:BKX)
, this situation has changed, as seven of the components have consensus EPS 2013 estimates -- among analysts polled by Thomson Reuters -- lower than the estimates for 2012. It's only fair to point out that among these seven names,
SunTrust's
(STI) - Get SunTrust Banks, Inc. Report
2013 EPS estimate of $2.53 is much lower than the 2012 estimate of $3.56, mainly because the company booked $1.40 a share in additional earnings in the third-quarter, mainly from the company's sale of its
Coca-Cola
(KO) - Get Coca-Cola Company (The) Report
shares.
For the rest of the index components expected to see an earnings decline next year, slowing commercial loan growth, pressures on net interest margins, and the eventual slowing of the mortgage refinance wave are among the challenges factored-in by analysts.
With many of the large regionals facing such earnings headwinds, Goldman Sachs analyst Richard Ramsden on Monday
that investors consider
Citigroup
(C) - Get Citigroup Inc. Report
,
JPMorgan Chase
(JPM) - Get JP Morgan Chase & Co. Report
and
Wells Fargo
, because of "relatively low P/E multiples," less reliance on net interest income, and "greater offsets from expense / capital leverage." Here's a quick summary those multiples:
Citigroup's shares closed at $36.89 Tuesday, returning 40% year-to-date, following a 44% decline during 2011. The shares trade for 0.7 times their reported Sept. 30 tangible book value of $52.70, and for 8.0 times the consensus 2013 EPS estimate of $4.63. For patient investors, Citi looks to be an eventual capital return story, as new CEO Michael Corbat continues former CEO Vikram Pandit's "good bank/bad bank" strategy to free up capital by placing run-off access within Citi Holdings, and possibly speeds up the process.
JPMorgan Chase closed at $41.33 Tuesday, returning 28% year-to-date, following a 20% decline last year. The shares trade for 1.2 times tangible book value, according to Thomson Reuters Bank Insight, and for 7.8 times the consensus 2013 EPS estimate of $5.30. Based on a quarterly payout of 30 cents, the shares have a dividend yield of 2.90%.
Shares of Wells Fargo closed at $33.87 Tuesday, returning 25% year-to-date, following a 10% decline during 2011. The shares trade for 1.7 times tangible book value, and for 9.3 times the consensus 2013 EPS estimate of $3.63. Like JPMorgan, Wells Fargo has an attractive dividend yield, which was 2.60% as of Tuesday's close, based on a quarterly payout of 22 cents a share. While the company has a higher forward P/E than Citi or JPMorgan, Wells Fargo has also boasted a return on average assets of 1.27% and a return on average tangible common equity of 15.16% for the 12-month period ended Sept. 30, according to Thomson Reuters Bank Insight, greatly exceeding the rest of the big four club.
Among the 24 components of the KBW Bank Index,
Bank of America
(BAC) - Get Bank of America Corporation Report
is expected to see the greatest earnings growth, with a consensus EPS estimate of 95 cents, increasing from a 2012 estimate of just 41 cents, in part because of $1.6 billion in litigation expenses during the third quarter, which included the settlement of a class action lawsuit related to the 2009 acquisition of Merrill Lynch, and "a charge of $0.8 billion related to the repricing of certain deferred tax assets due to a reduction in the U.K. corporate tax rate" which together lopped 28 cents from the company's
.
Bank of America's shares returned 69% year-to-date, through Tuesday's close at $9.36. Even after this year's run-up, the shares remain discounted at 0.7 times their reported Sept. 30 tangible book value of $13.48, but they also trade for the highest forward P/E among the "big four" U.S. banks, at 9.9 times the consensus 2013 EPS estimate. Ramsden said that Bank of America's "valuation appears reflective."
Of course, Bank of America's earnings can take another big hit at any time, and the company also faces the lingering headline risk associated with investors' mortgage putback demands, and other actions associated with the company's purchase of Countrywide Financial in 2008.
The company is a political pin-cushion, especially in the middle of election season. The Department of Justice on Wednesday filed a civil complaint against Bank of America, alleging that "Countrywide and later Bank of America, following the acquisition of Countrywide in 2008, implemented a new origination process called 'Hustle,' which was intentionally designed to process loans at high speed and without quality checkpoints, and which generated thousands of fraudulent and otherwise defective residential mortgage loans sold to
Fannie Mae
(FNMA)
and
Freddie Mac
(FMCC)
that later defaulted causing over $1 billion dollars in losses and countless foreclosures."
The tone-deafness in naming an accelerated mortgage loan approval process "Hustle," shows just how out-of-control the mortgage lending business was, during the real estate bubble.
So what does all this mean to the investor? It depends on your investment horizon. Long-term investors could see a very nice buying opportunity this quarter, and not only Citi, JPMorgan and Wells Fargo.
A Glass Half Full
Guggenheim securities analyst Marty Mosby agrees that "we do have a looming fiscal cliff in front of us, which can disrupt the path to recovery we have all seen going forward," and says that a lack of direction on resolving the fiscal cliff "will weigh on cyclical industries like financials. But once that pressure is reconciled, there is upside potential that each earnings season is generating."
Mosby also says that with "the run-up that we have had in the sector" can leave investors wondering, "why leave ourselves out there, when it looks like the net interest margin compression accelerating.? This can push investment managers to move their money somewhere else though year-end. There is also heightened anxiety going into the election."
"You have natural pressure out there, and people are trying to get in the way of that," he says.
But Mosby isn't buying the notion that it's been a lousy third quarter for banks. "Going into the quarter, we anticipated that operating earnings would be 2% stronger than the estimates. The estimates expected a 2% improvement, we expected 4%, and we have seen 5% to 6% in sequential growth," he says.
As we have gone through the quarter, none of the operating numbers have shown any surprises," Mosby says, but "on the other hand, what we have seen is more of a dose of net interest margin compression, which has triggered what we think is anxiety over the impact of this low interest rate environment."
The Federal Reserve's target federal funds rate has been in a range of between zero and 0.25% since late 2008, and most banks have already seen most of the benefits of lower rates on deposits and borrowings. Meanwhile, the central bank in September increased its monthly purchases of long-term mortgage backed securities -- a move dubbed
-- in an effort to hold long-term rates at their historically low levels, or push them down even further.
Ironically, Regions Financial -- which many analysts considered one of the best-positioned among the regional banks for an expanding net interest margin, because it was asset-sensitive and had faced the margin squeeze early in the cycle -- saw its shares fall 8% on Tuesday, even though the company bucked the industry trend, with its net interest margin expanding by four basis points year-over-year, to 3.08% in the third quarter.
The problem was that the margin narrowed from 3.16% in the second quarter, and net interest income declined to $817 million in the third quarter, from $838 million in the second quarter, and $850 million, in last year's third quarter. Regions CFO David Turner sad during the company's earnings conference call that the company "had guided to 3.13% being kind of the normal recurring margin for the
third quarter," and that "from that, we had indicated we would be relatively stable." But "obviously QE3 came in the latter part of the quarter."
Mosby says that Regions Financial's "earnings from operations increased by 10% from last quarter, which reflects over 80 cents in annualized earnings power." Investors are looking at a buying opportunity after Tuesday's share-price drop, because of "tangible book value that grew 5% and now exceeds seven dollars," and "earnings power
that can easily justify an $8 stock price."
Regions closed at $6.54 Tuesday, returning 53% year-to-date, following a 38% decline during 2011.
The shares for 0.9 times their reported Sept. 30 tangible book value of $7.02, and for eight times the consensus 2013 EPS estimate of 80 cents.
Looking at the entire banking sector, Mosby says "while revenues are more challenged, you do have a natural offset with mortgage banking income and cash management fees that are mitigating some of the margin compression. When you couple that with continued efficiency gains and further credit leverage, you get bottom-line earnings continuing the path that we have outlined."
"By the end of next year, we expect the large cap banks will have recovered between 90% 95% of their pre-crisis earnings power."
--
Written by Philip van Doorn in Jupiter, Fla.
>Contact by
.
Philip W. van Doorn is a member of TheStreet's banking and finance team, commenting on industry and regulatory trends. He previously served as the senior analyst for TheStreet.com Ratings, responsible for assigning financial strength ratings to banks and savings and loan institutions. Mr. van Doorn previously served as a loan operations officer at Riverside National Bank in Fort Pierce, Fla., and as a credit analyst at the Federal Home Loan Bank of New York, where he monitored banks in New York, New Jersey and Puerto Rico. Mr. van Doorn has additional experience in the mutual fund and computer software industries. He holds a bachelor of science in business administration from Long Island University.