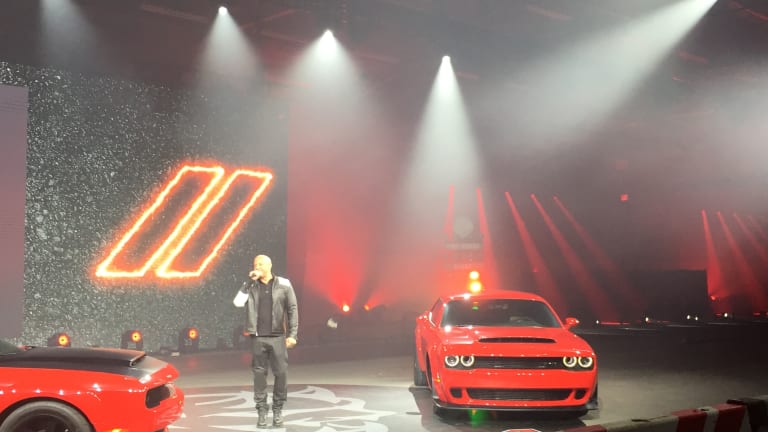 Get a First Look at the Insane Dodge Demon - It's the Fastest Muscle Car Ever at 840hp
The Demon is here, and it's a beast.
The Dodge Demon is one insane piece of American muscle.
After months of high anticipation -- made so by weekly teases of the car online -- Dodge revealed that the Demon has a mind-blowing 840 horsepower. In effect, the Fiat Chrysler (FCAU) - Get Stellantis N.V. Report owned Dodge has developed a street legal race car. It goes 0 to 60mph in 2.3 seconds. Quarter mile time 9.65 seconds. And yes, banned by the NHRA (see below)
And with that moniker, comes several standout features for the Demon. 
First, the Dodge Demon is the first-ever factory production auto with street legal drag tires. As a result of the extra wide treads, the Demon sports some aggressive-looking side fenders.
Meanwhile, the Demon weighs about 215 pounds less than a 707hp Dodge Hellcat. To cut the weight, Dodge has removed the passenger front seat and rear bench seat. It also boasts a massive new hood scoop that supports what Dodge calls a "forced induction" system. The car also has a dedicated drag race driving mode.
To round out the fun is the Demon Crate, a special equipment pack that turns the car from a regular street ride into to an all-out drag-strip demolisher. The crate will boast 18 parts that set the car up for the drag strip, including performance parts, track tools, spare wheels and something it calls the "Demon Track Pack System."
Oh and yes, the Demon will be able to run on special racing fuel. Don't try to race this thing in your Porsche, ladies and gents. The Demon will begin production later this summer. 
Read more Auto news from TheStreet:
This $81,000 Mean-Looking Lexus Sports Car Will Gladly Pin You Back in Your Seat
Top 10 Cheap Classic Cars to Invest in for Big Gains With Your Delayed Tax Refund Check
Mercedes Badly Wants to You to Own One of These AMG Super High Performance Luxury Cars
This Is Who BMW Is Targeting With a Tiny $45,000 Electric Car That Has Recycled Seats
Here's a quick rundown of the Demon.
The Demon Crate is massive. Good luck fitting this in your garage.
The Demon has some impressive performance stats.
The heart of the beast. What you can't see here: on the engine block is a special Demon logo. 
You can get your Demon without a front passenger seat. The car has no backseat -- it has been replaced by a roll cage. 
Here's the Demon in The Fate of the Furious.