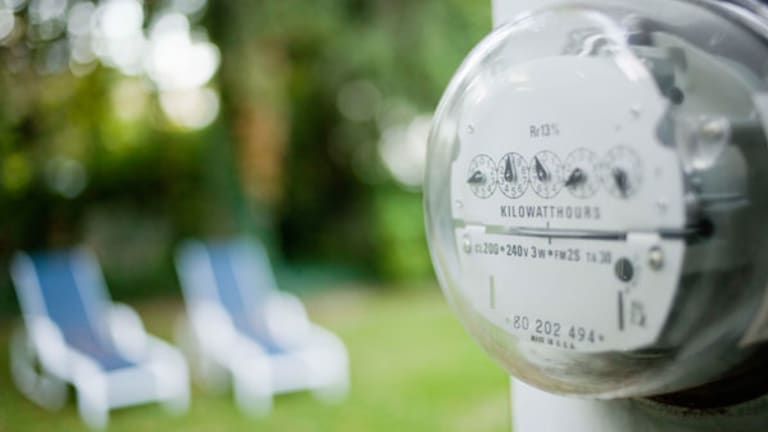 Germany Takes Aim at Solar, Again
Germany is again sending signals that it may reduce support for solar energy.
NEW YORK (
) -- German Chancellor Angela Merkel made comments certain to add to the volatility in solar stocks on Friday, saying that feed-in tariffs for solar may be too high and Germany needs to look at the issue, again.
Solar is still coming through its current round of European subsidy uncertainty with Italy having just agreed to a new, reduced solar support plan. The Italian market had come to a halt near the end of the first quarter and hasn't recovered its rapid pace of solar growth yet, and isn't expected to return to its 2010 growth level. The Italian growth slowdown has turned eyes back to Germany, the market of last resort in solar, where successive cuts in feed-in tariffs have already occurred over the past few years, dropping the return potential on projects and forcing declines in solar pricing to stimulate demand.
Bloomberg
first reported Merkel's comments from a conference in Germany on Friday morning. While solar receives half of the German government's aid for alternative energy, it accounts for only 2% of the 17% of electricity generated from renewable sources, Merkel told a conference of her Christian Democratic Union party in Berlin, according to
Bloomberg
. "We do have to think about whether we can keep this up," Merkel is quoted as saying.
Some notable solar stocks sold off on Friday morning, led by
First Solar
(FSLR) - Get First Solar, Inc. Report
, which was down close to 4% -- though First Solar had gained close to 6% on Thursday after it received positive comment from the Department of Energy about the potential for large-scale solar project loans.
Trina Solar
(FSLR) - Get First Solar, Inc. Report
,
Yingli Green Energy
(YGE)
and
LDK Solar
(LDK)
were all down between 3% and 4% on Friday morning.
The equity market sold off sharply on Friday at mid-day with the major indexes falling by 1%.
Trina, Yingli and LDK already pre-reported weaker than expected first quarters due to the Italian market halt. Germany has also been installing solar at a slow rate so far in 2011, as project developers expect module pricing to fall even more.
Merkel's comments will likely result in a new round of fears about Germany more aggressively lowering feed-in tariffs, and also potentially capping the solar market to avoid a bubble being formed ahead of additional feed-in tariff cuts. The German government has had a review of the EEG, the law covering the solar incentives, scheduled for June, but the tone of Merkel's comments ahead of that formal review period took the market by surprise.
First Solar, and most of the solar companies, have reaffirmed full-year guidance, even while providing a weak second quarter outlook and cautioning on the current European solar market uncertainty.
The leading Chinese solar companies,
Trina Solar
(TSL)
and
Yingli Green Energy
(YGE)
pre-reported that
first quarter shipments would be lower
than expected.
SunPower
( SPWRA) said on Thursday that Italian uncertainty means it may only complete 15MW of a planned 130MW in Italian projects in 2011, and that it can't even offer full-year earnings guidance at this point. The back-end loaded case for 2011 earnings was no different when
First Solar
(FSLR) - Get First Solar, Inc. Report
reported earnings, with the industry bellwether highlighting all of the risks in the solar market, saying the second quarter in particular would be difficult, but having the confidence to
stick with its full year guidance
.
German solar companies have also provided a cautious outlook on 2011, with Phoenix Solar in particular saying it expects growth to be "stagnant."
Germany already has plans for another feed-in tariff cut based on the level of installations between March to May of this year -- though at the current run rate in Germany, installations would not even reach the 3.5 gigawatt annualized install level that would trigger another FIT cut.
Attempting to analyze Merkel's comments presents a range of questions:
Will there be a larger FIT cut in 2012?
Would the threat of a larger FIT cut in 2012 lead to one more gold rush in Germany in 2011? (In effect, this could actually cause a short-term spike in demand and spike in solar stocks, which has occurred in the past.)
Would the Germany government implement some kind of cap to avoid one more rush?
Is Merkel's tough talk nothing more than fodder to satisfy certain anti-solar elements in her party? (the comments were made at a conference of her own party)
German tough talk on solar in 2010 was followed by long delays before Germany did anything, and included significant compromises. Merkel's CDU has met stiff resistance in the past when it has tried to curb the solar industry, particularly from Bavaria where solar growth is linked to a job growth story. The initial comments made publicly by the CDU's environmental minister in 2010, for example, about potential changes to solar support didn't reflect the final compromise.
One difference between the 2010 debate over solar and the upcoming EEG review is that in 2010, Germany was making a one-time change to solar support and the solar industry was included in negotiations. With a formal review of the existing energy law on deck for June, it's not clear if the solar industry would have a similar seat at the bargaining table as it had when the issue was a one-time, incremental FIT decline.
Is German demand even going to recover strongly, regardless of subsequent FIT cuts, given this year's slow start?
Has the German slow start indicated that the elimination of the feed-in tariff on agricultural land is having a bigger impact on Germany that previously thought, and even if there is a rush to install ahead of FIT cuts, it won't be on the same order as previous bubbles?
Collins Stewart analyst Dan Ries noted on Friday morning that the German government has in the past stated a preference for a pace of solar installations in the range of 4 gigawatts to 6GW per year. Despite several subsidy reductions made in 2009 and 2010, total installations in German in 2010 were 7.2GW. With the existing plan for a mid-2011 reduction, based on volume installed, demand is expected to be mild, but Collins Stewart still predicts that German will install 6.5GW of new solar systems this year.
"While we do not believe Germany would eliminate the subsidy, the government could decide to make additional reductions to the subsidy, again, with the goal of lowering the installation pace to 4-5GW annually. Given that the government has already made a change in CY11 and that volume is believed to be lackluster so far in CY11, we do not believe there will be an additional unscheduled change to the German subsidy in CY11. The earliest change would likely be CY12," Ries wrote.
The main German solar trade group, the BSW, recently said it expects a 5 gigawatt market in 2011.
The Collins Stewart analyst sees the bigger risk to 2012 demand in Germany, if Germany targets 4GW. "Our worldwide demand forecast would decline to 19.9GW from the 21.4GW.... Demand growth would still be 8% in CY12, but not quite as robust as the 16% in our current forecast."
Gordon Johnson, analyst at Axiom Capital said it's possible that the threat of another big feed-in tariff cut leads to a demand spike in 2011, but at best it would be a short-term spike and make the situation for 2012 worse. Additionally, the German government knows from recent experience that FIT cuts can have the consequence of fostering a bubble, and Germany could try to head off another solar bubble.
After a year during which Merkel already suffered a major defeat in elections over the nuclear issue and in the wake of the Japanese nuclear crisis, Axiom Capital's Johnson said that, in the least, the tone of her comments about solar was not what the market has been expecting.
Johnson added that the particular data point trotted out by Merkel in her commentary, that solar receives half of the country's renewable energy support while only generating 2% of Germany's 17% of energy from alternative sources, has never been voiced publicly by the Chancellor before.
Embattled U.S. solar company Evergreen Solar reported a terrible first quarter on Thursday and said
it's on the brink of bankruptcy
, though the company's finances have been in limbo for over a year, and the current weakness in the solar sector has only exacerbated its problems.
-- Written by Eric Rosenbaum from New York.
RELATED STORIES:
>>Total to Take Majority Stake in SunPower
>>Is Italy's Last Solar Gold Rush Doomed?
>>How Thin Film Plans to Beat Chinese Solar
>To contact the writer of this article, click here:
Eric Rosenbaum
.
>To follow the writer on Twitter, go to
.
>To submit a news tip, send an email to:
.