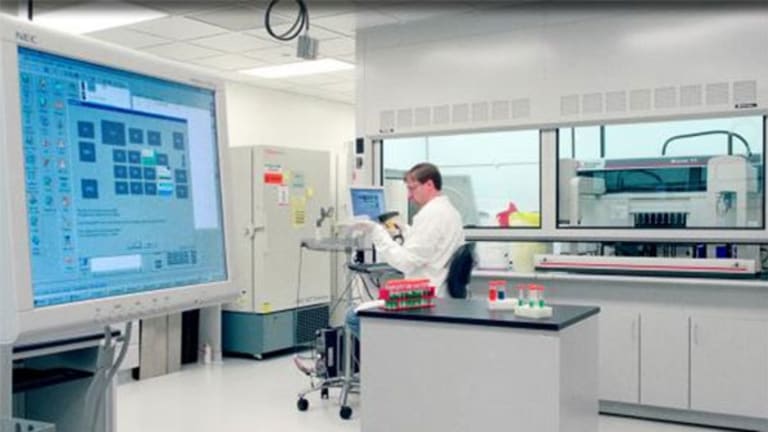 Germany's Merck Lifts Full-Year Guidance After Sigma-Aldrich Boosts Sales
Shares in the drugmaker climbed after third-quarter earnings and sales beat expectations.
Shares in the drugmaker climbed after third-quarter earnings and sales beat expectations.
Merck KGaA (MKGAY) shares traded higher in Germany Tuesday after the drugmaker posted a 24% increase in third-quarter earnings and lifted its full-year profit forecast.
The Darmstadt, Germany-based group said earnings before interest, taxes, depreciation and amortization, excluding exceptional items, totaled €1.2 billion ($1.3 billion) for the three months ending in September, up 24.3% on the same period last year. Sales over the quarter rose 19.3% to €3.7 billion.
The company also lifted its full year Ebitda forecast to between €4.45 billion and €4.6 billion, up from its earlier forecast of €4.25 billion to €4.4 billion, citing the strong performance of recently acquired life sciences business Sigma-Aldrich and growth in its health care business. 
Merck shares, which are not affiliated with the U.S.-based Merck (MRK) - Get Report , rose 1.05% in Frankfurt to €96.10 each.
"EPS of €1.70 came in ... 10% above consensus of €1.55 drive by lower R&D expenses and benefits from €40 million release of provisions in Healthcare," noted Goldman Sachs analysts. "We believe that the increase in FY guidance is driven by (i) the quarter's 15c beat, and (ii) lower R&D expenses expected for Healthcare for the rest of the year."
Merck said the increase in earnings was "mainly attributable" to benefits accrued from its $17 billion acquisition of lab materials and services provider Sigma-Aldrich in 2015. That deal, which is the company's biggest ever acquisition, was part of a drive to expand operations beyond its traditional pharmaceuticals base.
"We have made good progress with the execution of our strategy," said CEO and Chairman Stefan Oschmann in a statement. "We have advanced our pharmaceutical pipeline and are realizing the cost synergies from the acquisition of Sigma-Aldrich faster than planned. In the course of the year, we have lowered our debt from the acquisition by €1 billion."  
Sales from the St. Louis, Mon.-based Sigma-Aldrich increased revenues at the life sciences sector by 77.4%, contributing to a total 83% increase in the unit's sales to €1.4 billion. Ebitda for the unit was up 110% on the same quarter last year to €424 million
Quarterly sales at the health care operations were €1.7 billion, up 1.3% year-on-year at constant exchange, but fell to zero once exchange rate fluctuations were included. Ebitda rose 5.2% to €565 million, boosted by the cancelation of €40 million of provisions set aside to pay for the termination of clinical development projects.  
Merck's net debt at the end of September stood at €11.6 billion.