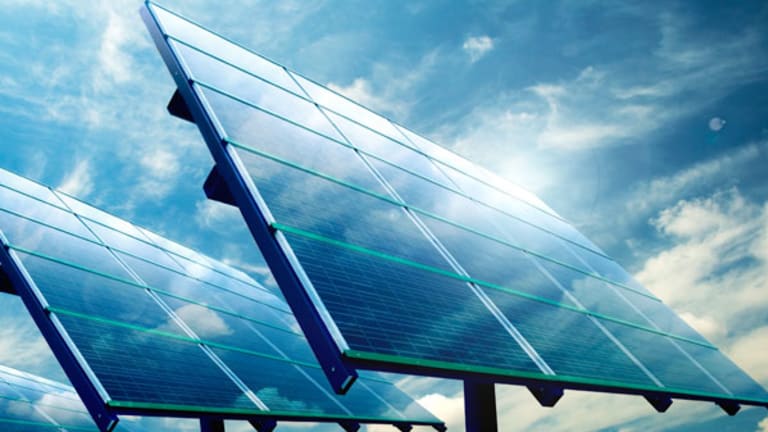 George Soros Bulks Up on Solar Stocks
George Soros was busy buying two U.S. solar stocks in the third quarter, Power-One and MEMC Electronic Materials.
NEW YORK (
) -- The quarterly buying and sell that
and
Soros Fund Management
execute in the gold market garners all the headlines, but the hedge fund manager was busy trading in two popular solar stocks in the third quarter also.
The quarterly portfolio holding review released by Soros Fund Management on Monday after the market close showed Soros making bets on solar inverter company
Power-One
(PWER)
and U.S. semiconductor and solar company
MEMC Electronic Materials
(WFR)
.
>>View George Soros' Portfolio
When it comes to the hedge fund manager portfolio headlines, the energy sector is always a staple of the quarterly buys and sells. Yet it's usually the conventional energy plays, from the integrated major oil companies to foreign state-run oil ADRs and undervalued drillers, that get the attention of the elite hedge-fund managers.
Anadarko Petroleum
(APC) - Get Anadarko Petroleum Corporation Report
, for example, was a bone of contention between hedge fund elites in the third quarter, with
John Paulson's Paulson & Company
making Anadarko its largest new portfolio addition -- it's a top five holding for Paulson's portfolio in the third quarter -- while
Carl Icahn's Icahn Capital Management
unloaded Anadarko shares.
Soros, too, is much more famous for his bet on
Petrobras
(PZE)
-- and selling out of that bet this year -- than he is for the addition of Power-One and MEMC Electronic Materials as new portfolios holding. In the case of MEMC Electronic Materials, it was a new Soros holding for the second time this year, meaning he had previously timed an entry and exit from his entire holding in the solar company's shares.
It's somewhat unwise to read too much into the quarterly buying and selling done by the hedge fund elite, as a manager like Soros enters and exits positions by the dozens, even by the hundreds, within a quarter. Short-term moves into and out of stocks may not be accurately reflected in a backward-looking quarterly review of holdings. With this caveat, the Soros buy of Power-One and MEMC shares was notable, albeit for different reason.
The addition by Soros of more than 500,000 Power-One shares was one of the largest new positions taken by the hedge fund manager in the third quarter. Power-One shares have struggled mightily of late, with fears about the solar inverter market reaching glut proportions in 2011. In the past three months, Power-One shares are down 16%.
>>Solar Losers: 5 Keys to the Power-One Selloff
However, Power-One shares also were trading below $7 in early July when the third quarter began. Power-One shares would rally to above the $13 mark in August, buoyed by second quarter earnings. Power-One shares are now back under the $9 mark after its third-quarter earnings sell-off. Power-One outperformed again in the third quarter, but the a healthy dose of it's "all downhill from here" investor sentiment seems to be built into Power-One shares now.
Soros could have timed his trade in Power-One shares very well, entering at the outset of the third quarter, watching shares peak at $13, and then exiting the stock before the coming inverter market fears, which had led to the Power-One selloff. Even if he didn't exit Power-One shares, Soros would still be ahead of the game if he bought in at Power-One's six month low at the beginning of July. Given the negativity now surrounding Power-One shares -- IMS Research, for example, estimates a huge glut of solar inverters in 2011 and Power-One's key market of Germany falling significantly -- it will be interesting to see if Soros still holds a sizable stake in Power-One when his fourth quarter holdings are revealed.
With MEMC Electronic Materials, Soros Fund Management took a stake of 600,000 shares in the third quarter, but that's after having sold a stake of 750,000 MEMC shares in the second quarter 2010.
Soros' hedge funds took a 750,000 share position in MEMC in the first quarter of 2010. Soros had done very limited buying and selling of MEMC at the end of 2009, with an 11,000-share stake in the U.S. solar company showing up in his second quarter 2009 quarterly filing but disappearing in last year's third quarter portfolio.
During the first quarter 2010, MEMC shares hit a low of $11.66 at the beginning of February, before climbing to the $17 mark in April. With a rally like that quarter over quarter, it's no surprise that Soros' MEMC stake disappeared from the time of the first quarter to the second quarter portfolio update.
After the MEMC second quarter rally, MEMC shares were back under $12 by the end of June -- perfect timing for Soros to re-enter MEMC shares and await the next rally/profit-taking point in MEMC shares.
In fact, right at the end of the third quarter, MEMC shares reached a 52-week low at $9.19. The shares had been trading between $9 and $10 for much of the latter part of the third quarter. MEMC shares are at $12.40 now, and reached as high as $13.50 in mid-October.
With a big fourth quarter expected from MEMC, even though it's been a perennial earnings underperformer, Soros' next big payday in MEMC shares could still be ahead -- that is, if he didn't already unload the solar company for the second time this year at a healthy profit.
-- Written by Eric Rosenbaum from New York.
RELATED STORIES:
>>Solar Losers: 5 Keys to the Power-One Selloff
>>Solar Winners: LDK Rallies Alone
-- Written by Eric Rosenbaum from New York.
>To contact the writer of this article, click here:
Eric Rosenbaum
.
>To follow the writer on Twitter, go to
.
>To submit a news tip, send an email to:
.
Copyright 2009 TheStreet.com Inc. All rights reserved.