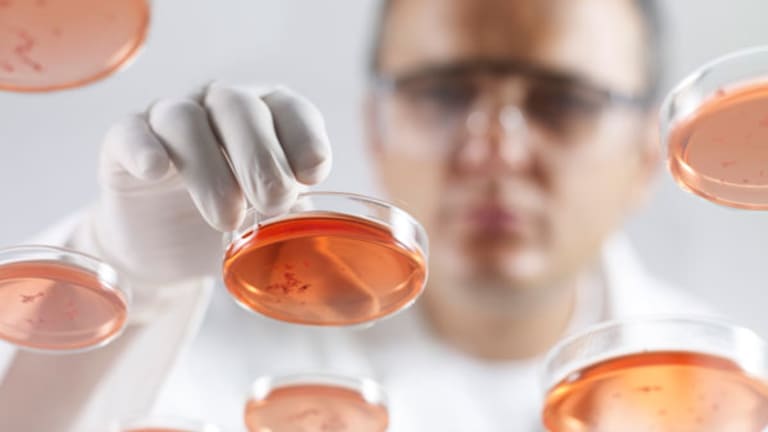 Publish date:
Genzyme Founder Says CEO Must Go: Exclusive
Genzyme founder Sheridan Snyder says Chairman and CEO Henri Termeer (above) needs to resign his posts if the troubled biotech firm is to right itself.
Genzyme founder Sheridan Snyder says Chairman and CEO Henri Termeer (above) needs to resign his posts if the troubled biotech firm is to right itself.
CAMBRIDGE, Mass. (
) --The founder of
Genzyme
(GENZ)
says Chairman and CEO Henri Termeer needs to resign his posts if the troubled biotech firm is to right itself.
Sheridan Snyder founded Genzyme in 1981 and ran the company as CEO and chairman until the mid-1980s when Termeer, a drug marketing executive Snyder recruited and hired, took over as the company's top executive.
"A CEO change at Genzyme would be a good idea. Henri has had a good run of 20-plus years but what Genzyme needs now is for someone new to come in with higher energy and a different vision. This would help the company," Snyder told me in a phone interview Wednesday.
Genzyme CEO Henri Termeer
Snyder said he felt compelled to make his feelings public after reading my column naming Termeer the
.
Under Termeer's watch, Genzyme is in the midst of the worst crisis in the company's history.
and quality control problems at the company's suburban Boston facility has led to drug approval delays, a plant shutdown and revenue and earnings shortfalls. The company's stock price is down 27% this year.
Most worrisome to Snyder, he says, is the shortage of Genzyme drugs like Cerezyme that has forced Gaucher disease patients to ration or temporarily stop taking the medicine they need.
"Henri is a very bright guy but he's also the most autocratic manager I have ever seen. He's someone who demands absolute loyalty from everyone, but this has created a tense, sterile environment," says Snyder, who has continued to start up and invest in new biotech and diagnostic companies since leaving Genzyme.
Asked to respond to Snyder's comments, Genzyme spokesman Bo Piela said, "Sheridan Snyder left Genzyme more than 25 years ago when we were just a start up. He and Henri did not agree on the vision for the company."
In an interview on
CNBC
Thursday, Termeer said he had no reason to resign as Genzyme's CEO.
That doesn't mean, however, that Termeer hasn't recognized his future as CEO depends on his ability to solve Genzyme's manufacturing woes and get the company growing once again.
In recent weeks, Genzyme has reshuffled executives, hired new managers and brought in a consulting group to help fix the long list of violations at its Allston, Mass. manufacturing plant identified by inspectors working for the U.S. Food and Drug Administration.
The company is transferring the manufacturing operations for certain drugs to other facilities, including overseas, so that it can rebuild inventory and avoid the kinds of problems that led to the recent drug shortages.
Genzyme also appointed a new independent director to its board, Robert Bertolini, the former CFO at
Schering-Plough
before the merger with
Merck
(MRK) - Get Report
. Bertolini's appointment to Genzyme's board is noteworthy because he joined Schering-Plough in 2003 when the drug giant was in the midst of its own manufacturing and quality-control crisis.
"We have learned some important lessons and are acting decisively to improve our manufacturing, quality and regulatory operations. Importantly, we are aggressively taking a proactive approach to risk management," wrote Termeer in a letter to shareholders dated Dec. 10.
Leerink Swann biotech analyst Joshua Schimmer says the big risk for Genzyme right now is that the FDA -- already angry over what seems to be a nonstop set of problems with Genzyme's drug manufacturing -- decides to take punitive action by placing the company under a manufacturing "consent decree."
A consent decree is a legal agreement that essentially puts a company's manufacturing operations under FDA control until changes are made and problems fixed. It is the most severe form of regulatory action that FDA can take against a company and usually involves a large monetary penalty.
In 2002, FDA placed Schering-Plough under a consent decree and fined the company $500 million, which was the largest FDA penalty ever levied. It took Schering-Plough five years before FDA agreed to lift the consent decree.
"Genzyme is operating today as if it were under an FDA consent decree even though the company isn't," said Schimmer, because Genzyme wants to show the FDA that it's taking the manufacturing problems seriously.
"The only way for Genzyme to avoid an FDA consent decree at this point is to do everything under one, but even so, a consent decree is still possible," said Schimmer.
Meantime, Genzyme's manufacturing woes continue. An explosion and fire Wednesday at a Genzyme plant in the U.K. forced the facility to shut down the manufacture of two kidney disease drugs. Genzyme said it has enough finished drug inventory, however, so no shortages are expected.
Termeer can also expect scrutiny of his job performance to continue. Genzyme holds its annual meeting in May at which the company's directors will be up for re-election. It remains to be seen whether an activist shareholder tries to nominate a dissident slate of directors in order to force management changes.
Snyder, Genzyme's founder, believes it will take the deliberate actions of a large and persuasive shareholder to force Termeer from his CEO perch.
"Henri is one tough S.O.B.," Snyder says. "He will fight like a monster because his ego and pride are longer than the Charles River. He won't just bow out."
-- Reported by Adam Feuerstein in Boston
.
Adam Feuerstein writes regularly for TheStreet.com. In keeping with TSC's editorial policy, he doesn't own or short individual stocks, although he owns stock in TheStreet.com. He also doesn't invest in hedge funds or other private investment partnerships. Feuerstein appreciates your feedback;
to send him an email.