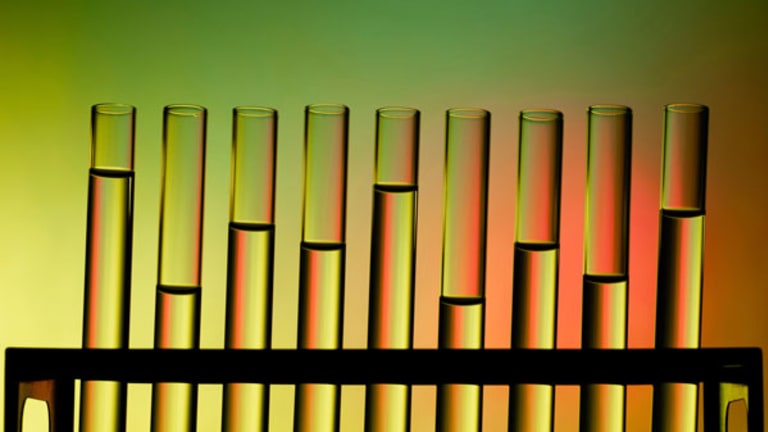 Genzyme Beats, Holds to Lowered Guidance
The biotech beats adjusted profit targets by a penny a share, but it does not raise adjusted outlook.
The biotech beats adjusted profit targets by a penny a share, but it does not raise adjusted outlook.
Genzyme
(GENZ)
delivered a second-quarter earnings beat Wednesday, surpassing revenue expectations and edging past adjusted profit targets.
But Wall Street found untouched guidance and an overhang in the larger scale production of Pompe disease treatment Myozyme to be offsetting. Shares of the Cambridge, Mass.-based biotechnology company, which specializes in drugs for rare diseases, gave up $2.75, or 3.5%, to $76.56 in recent trading.
Genzyme reported profit of $69.6 million, or 25 cents a share, vs. $83.8 million, or 31 cents a share, in the year-ago period.
Factoring out the fee it paid to
Isis Pharmaceuticals
(ISIS)
to license cholesterol drug Mipomersen, Genzyme said it earned $268.5 million, or 98 cents a share, up from $238.7 million, or 88 cents a share, a year prior.
Genzyme's top line increased 25% to $1.171 billion from $933.4 million a year prior.
Analyst surveyed by Thomson Financial had expected earnings of 97 cents a share on revenue of $1.13 billlion.
The company reported sales of $169 million from Renagel, falling shy of the $173 million consensus. However, sales of the company's lysosomal storage disorder drugs, Cerezyme, Fabrazyme and Myozyme all came in above expectations.
Sales of Gaucher disease treatment Cerezyme and Fabry disease treatment Fabrazyme came in at $319 million and $127 million, vs. the Street expectations of roughly $309 million and $122 million, respectively. Sales of Myozyme also beat, generating $77 million in revenue vs. expectations for $69 million.
Genzyme noted in its release that the Myozyme launch has been more rapid than any of its other treatments for lysosomal storage disorders, and that the rise in revenue came despite the delay in approval of the 2000L-scale production of the drug, which has constrained U.S. sales.
The Food and Drug Administration is expected to convene an advisory committee meeting in October to discuss the application for larger-scale production approval.
Genzyme also expects to file for European approval of its 4000L scale plant in Belgium within 2008. It expects to receive European approval in the first half of 2009, which will significantly expand its capacity and ability to meet global demand. "Product supply in 2009 is expected to be particularly tight until the Belgium plant is approved," according to the earnings release.
Earlier this year, because of the U.S. delay in larger scale Myozyme, Genzyme scaled back its adjusted profit guidance to $3.90 a share for 2008, compared with $4 a share previously expected, and GAAP earnings of $2.65 a share, also down 10 cents from its prior guidance.
Looking ahead, Genzyme said it continues to expect adjusted earnings of roughly $3.90 a share. On a GAAP basis, now including the company's investment and licensing fee associated with Isis, among other expenses, the company guided to $2.20 a share.
"The beat was high quality... That said, we are surprised that Genzyme did not raise EPS guidance of $3.90 (they are the only large cap biotech in 2Q to NOT raise guidance)," wrote JP Morgan analyst Geoffrey Meacham in a note to investors. Meacham also noted that the Myozyme manufacturing overhang and supply constraint could continue with an advisory committee meeting in October and the tight global supply of the drug until approval of the 4000L plant in Belgium.