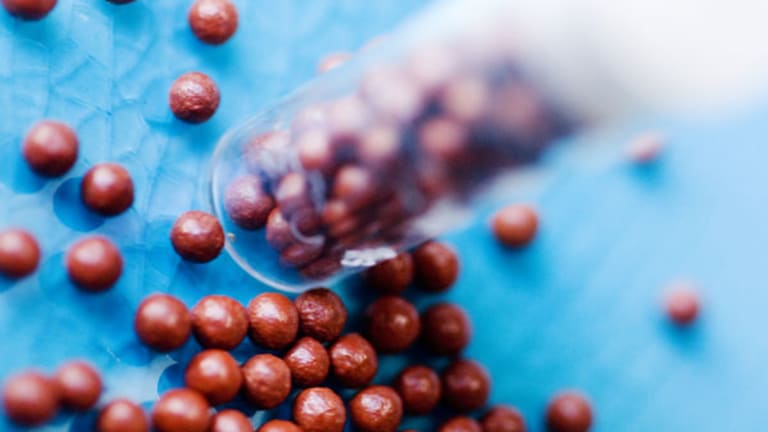 GenVec Stock Hit by Pancreas Study's Details
GenVec's shares sank Wednesday despite what the company said was a positive update on its experimental pancreatic cancer drug TNFerad.
GenVec
(GNVC)
shares sank Wednesday despite what the company said was a positive update on its experimental pancreatic cancer drug TNFerade.
Patients with pancreatic cancer treated with TNFerade plus a standard of care demonstrated a 25% lower risk of death than similar patients treated with standard of care alone, according to an interim analysis of a phase III study released by GenVec on Wednesday.
GenVec executives called these results encouraging and said the TNFerade study will continue. On the surface, the data do look positive. After all, pancreatic cancer is very difficult to treat, so if TNFerade is reducing the risk of death, there's reason for optimism.
Yet, GenVec shares sank TK after the company released the new data and held a conference call. Some potential concerns pop up once a deeper look is taken of the interim TNFerade results.
The 25% lower risk of death attributed to TNFerade corresponds to a "hazard ratio" of 0.75, according to the GenVec interim analysis.
Simply defined, the hazard ratio is an estimate of the treatment effect of TNFerade plus the standard of care compared to the treatment effect of the standard of care alone.
In other words, the hazard ratio measures the clinical benefit of TNFerade (in this case, overall survival) across all time points of the study to date -- a very rigorous method to determine whether TNFerade works or not.
The problem that GenVec may run into, however, is that the interim hazard ratio of 0.75 is likely to increase as this study matures, with more patients enrolled and more patients dying.
The interim analysis Wednesday was conducted after the 92nd patient in the study died. The next interim analysis will be conducted after the 184th death, expected in late 2009. When that second interim analysis occurs, my guess is that the 25% reduction in the risk of death observed Wednesday will shrink considerably.
This is not just an off-the-cuff prediction. Other TNFerade data announced by GenVec Wednesday provides enough evidence to be wary about the drug's chances for success.
At 12 months, 39.9% of TNFerade-treated patients were alive compared to 22.5% of patients in the study's control arm. At 18 months, overall survival for TNFerade patients was 30.5% compared to 11.3% in the control arm. Both analyses favor TNFerade.
However, at 24 months, only 10.6% of patients treated with TNFerade were still alive compared to 11.3% of patients in the control arm. In other words, the benefit of TNFerade vanished.
Moreover, median survival in the study to date was 9.9 months for both TNFerade and the control arms. No difference.
One more data point: In late 2006, GenVec looked at a similar survival analysis of 51 patients done after 12 deaths were recorded in the study. At 12 months, 70.5% of TNFerade patients were alive compared to 28% of patients in the control arm.
Compare this early survival analysis based on 51 patients to what was announced Wednesday with more than 200 patients now enrolled and you'll see that time is not kind to TNFerade. The overall survival benefit observed today in terms of the hazard ratio of 0.75 might be largely a byproduct of those first 51 patients.
The fact that the median survival for both arms of the study are the same already and that survival over time actually favors the control arm over TNFerade are not positive indicators.
On a conference call Wednesday morning, GenVec's vice president of product development Mark Thornton compared the interim hazard ratio for TNFerade of 0.75 favorably with similar hazard ratios observed in studies of other approved and successful cancer drugs, including
Genentech's
( DNA) Avastin,
OSI Pharmaceutical's
( OSIP) Tarceva and
ImClone System's
(IMCL)
Erbitux.
Thornton is right in that if TNFerade can produce a hazard ratio in the ballpark of 0.75 at the final analysis of the study, it will likely be a success. But based on all the data generated and announced so far, including Wednesday, how likely is that?
In a phone conversation after the company's conference call, Thornton said he remains optimistic about TNFerade and feels strongly that the survival benefit observed at this first interim analysis can hold up over time.
Pancreatic cancer is historically been a disease impervious to treatment, so to see any improvement in overall survival is encouraging, he added.
The biggest worry for GenVec right now is not whether TNFerade will ultimately succeed, but finding a development partner for the drug to allow the company to remain in business.
At the end of the third quarter, GenVec had $22.5 million in cash, enough to last into the third quarter 2009. Doug Swirsky, GenVec's chief financial officer, says signing a deal with partner to help offset the cost of the TNFerade study and provide the company with some financial cushion is a top priority.
In the current bear market, where access to capital is pinched, any biotech or drug company with less than a year's cash on hand is in a very precarious position.
Investors understand that, which is why Wednesday's TNFerade data, whether viewed optimistically or not, is probably taking a back seat to worries over whether GenVec will find the partner and cash it needs.
At the time of publication, Feuerstein's Biotech Select model portfolio was long Genentech.
Adam Feuerstein writes regularly for TheStreet.com. In keeping with TSC's editorial policy, he doesn't own or short individual stocks, although he owns stock in TheStreet.com. He also doesn't invest in hedge funds or other private investment partnerships. Feuerstein appreciates your feedback;
to send him an email.