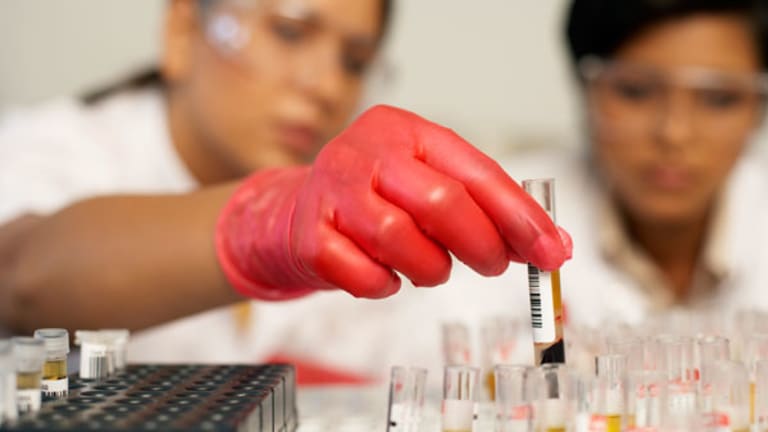 Genta: 1998-2012
The strange but true tale of a beleaguered, bankrupt biotech firm with 100 quadrillion shares outstanding.
The strange but true tale of a beleaguered, bankrupt biotech firm with 100 quadrillion shares outstanding.
GENTA: 1988-2012
BOSTON (
) -- On August 2,
Genta
( GNTAQ) filed for Chapter 7 bankruptcy liquidation, thereby ending 24 years of repeated clinical failures, multiple FDA rejections, countless toxic financings and epically piggish executive behavior.
Before the Genta corpse rots into distant memory, I thought it might be helpful to document the company's colorful and painful history. The Genta story is a warning to biotech investors showing how chronic clinical failure can lead to soul-crushing shareholder dilution.
Cell Therapeutics
(CTIC) - Get Report
shareholders -- pay special attention.
Old-timers may recall that Genta was founded with the mission to develop generic versions of hard-to-manufacture drugs. The company's first target in the late 1990s was the calcium channel blocker Procardia XL, which at the time was among the world's biggest selling branded drugs. Generic drug makers were keen to develop their own versions of Procardia. Genta was in the hunt too, and thought it had an advantage because of a proprietary drug delivery technology licensed from a European company called Jagotec. Unfortunately, Genta's efforts flopped and other generic drug makers copied Procardia first. None of Genta's generic drug projects ever made it to market and the entire program was eventually scrapped.
Enter Genasense, an "antisense" drug designed to block a key protein involved in various cancers, including certain leukemias and skin cancers. In the early 2000s, antisense was big news, the "flavor of the day" biotech technology, much the way RNA interference rose to prominence more recently. Genta promoted Genasense relentlessly despite
. All that hype paid off in 2002 when Aventis (now
Sanofi
(SNY) - Get Report
) agreed to
partner with Genta on Genasense's development
.
It's hard to believe now, but Genta traded on the Nasdaq back then and was considered a real biotech company -- albeit one
. The Aventis deal -- $480 million in up-front cash payments and development milestones -- was a high water mark for Genta and Genasense. It went downhill from there for the company and its shareholders.
This where the Genta story becomes more familiar. Genasense's
phase III study in melanoma failed
, although Genta claimed the data were positive. The company sought FDA approval but the drug was rejected. Genta tried for FDA approval again, this time with
lackluster data from a leukemia clinical trial
. Again, FDA kicked Genasense to the curb. Genta decided to give melanoma another shot but a do-over
. Finally, in 2011, Genasense was scrapped.
It costs a lot of money to run a drug development program with this level of ineptitude. Of course, all this money was essentially thrown away, leaving shareholders holding stock diluted into oblivion through an endless series of financing and reverse stock splits. This is where the Genta story boggles the mind.
Take a look at Genta's catalog of reverse stock splits:
1997: 1 for 10
2007: 1 for 6
2009: 1 for 50
2010: 1 for 100
2011: 1 for 50
2011/2012: FINRA denied multiple Genta requests for yet another reverse split, evidently saying enough is enough.
July 2012: Genta shareholders approve a "reincorporation" of the company from Delaware to California, merging Genta Delaware into Genta California, effectively trying to game the system so they could institute an up to 1-for 25,000 share split.
Multiplied together, Genta pushed through an astounding 1-for-15 million reverse stock split, beginning with their initial split in 1997 and ending in 2011.
A 1-for-15 million reverse stock split is hard to grasp but think about this way. If you had owned 15 million shares of Genta in 1997 and never sold a single share, today you would own 1 Genta share.
In 1997, Genta had slightly more than 40 million shares outstanding so that means there are just two of these Genta common shares remaining. Their value today: $0.0006.
Okay, here's where Genta gets downright freaky. Let's assume Genta never instituted any reverse stock splits. How many outstanding shares would the company have on its balance sheet today?
The answer: Approximately 100 quadrillion shares outstanding!
This is what 100 quadrillion looks like numerically:
100,000,000,000,000,000
Mind you, 100 quadrillion shares only represents Genta's common stock (15 million in splits multiplied by roughly 6-7 billion shares currently outstanding.
The fully diluted share count, sans reverse stock splits, would be 1 quintillion!
This is what 1 quintillion looks like numerically:
1,000,000,000,000,000,000
A history of Genta is not complete without mention of Dr. Ray Warrell, chairman and CEO since 1999. In 13 years, Warrell manned Genta's helm through all but one of the reverse stock splits, the failed Genasense program, $1 billion in accumulated losses and an almost 100% plunge in the company's stock price. At Genta's end, Warrell was still chairman and CEO, surely a record for futility and resilience.
And at his side, through it all, stood Genta's chief medical officer Loretta Itri, also known as Warrell's wife. Surely, the Warrell/Itri combo must be near the top of any biotech Power Couple list.
In reward for their ignominious track record -- and to "incentivize and retain" the duo -- Genta's board of directors, just six weeks prior the filing bankruptcy,
a combined 1.45 billion shares of Genta restricted stock.
Alas, as they say, all good things must come to and end. On August 2, biotech flags around the world were lowered to half-staff to recognize Genta's filing of Chapter 7 bankruptcy liquidation.
That Genta was able to survive for 24 years, burn through $1.2 billion dollars of investors money, finance themselves through deeply discounted converts for over two decades, with a single CEO for its final 13 years, even after losing 100% of shareholder value, is truly a remarkable, perhaps never-to-be-replicated story.
R.I.P. Genta.
Silverman has no position in Genta -- thankfully.
Jim Silverman is the managing member of RRC Bio Fund LP, a Boston-based hedge fund focused on small-cap biotech. RRC Bio was launched in 2007. Silverman also founded Risk/Reward Capital Management in 1997, a registered investment advisory. He lives in Cambridge, Mass., and received a BBA in finance from The George Washington University.