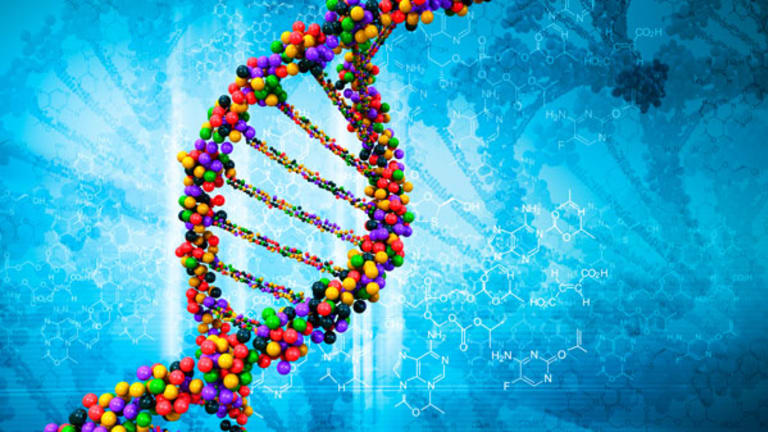 Genitope Poised for Huge Swing
Study results expected in December offer a big risk/reward scenario.
Cancer immunotherapy has provided biotech investors with a lot of ups and downs this year.
It seems fitting to end 2007 with another big event: The expected December announcement by
Genitope
(GTOP)
of results from a pivotal study of its non-Hodgkin's lymphoma vaccine, known as MyVax.
It doesn't seem possible to discuss Genitope without at least thinking about
Dendreon
(DNDN)
. For some biotech investors, the mere mention of
that
prostate cancer vaccine company is enough to induce a panic attack.
But for those who welcome the big risk that comes from placing bets on cancer vaccine clinical trials (long or short), Genitope gladly invites your attention.
And let's say it again: The MyVax study is big risk. Some recent strength has pushed Genitope shares above $4 and close to its high for the year. A 24% short interest in the stock should provide fuel for Genitope shares to go much higher if the MyVax study is a success.
A failure, however, is going to be ugly for Genitope longs. The company is betting its all on MyVax and will close the year with only about 50 cents a share in net cash. It's a long way down from $4 to 50 cents.
Like all cancer vaccines, MyVax works by priming a patient's immune system to recognize and attack cancerous cells. In this case, MyVax is a personalized vaccine designed to work against B-cell non-Hodgkin's lymphoma, which as the name suggests, is a form of blood cancer that affects B cells, part of a person's immune system.
The personalized aspect of MyVax is key. This means that the vaccine is manufactured, in part, using a unique protein, or idiotype, taken from a patient's own tumor cells. This allows MyVax to train the patient's immune system to attack only those B cells that are cancerous, leaving healthy B cells undisturbed.
The founding research done to validate this approach to fighting non-Hodgkin's lymphoma, or NHL, goes back to Stanford University in the 1980s. Early studies suggested that patients treated with a so-called idiotype-specific vaccine after receiving chemotherapy could enter into long-term remission from their disease. Remissions measured out as long as eight years, much longer than other drugs used to treat the disease.
Genentech's
( DNA) Rituxan is the market-leading drug to treat non-Hodgkin's lymphoma. It, too, is a form of immunotherapy, but it works by priming a patient's immune system to recognizing and destroying all B cells -- cancerous and healthy. Rituxan is a very effective drug, especially when used in combination with chemotherapy, but remissions typically last about three to four years, after which patients can be re-treated.
Genitope believes that MyVax, when used in conjunction with chemotherapy, can be a more effective, convenient and durable treatment than current drugs, including Rituxan. The phase III MyVax study wasn't designed to test the vaccine directly against Rituxan, but Genitope hopes that the final data, if positive, will be interpreted that way by doctors.
It's been a long road, as the trial first started enrolling patients at the end of 2000. If positive results are delivered next month, Genitope hopes that MyVax becomes the new standard of care for treating NHL patients. At a minimum, it could steal a significant slice of market share from Genentech.
Unfortunately, this MyVax study has run into some turbulence in the past couple of years that raises serious questions about the likelihood for a positive outcome. Two pre-planned interim analyses of the trial failed to produce results strong enough to stop the study for positive efficacy.
The latter interim look at the MyVax study, done in July 2006, was particularly disappointing because Genitope executives believed strongly that the study was far enough along to show a positive and statistically significant result.
It wasn't, and Genitope's stock price took a big hit, falling from about $6 all the way down to $2.
Since then, Genitope has tracked the remaining patients in the study closely and found a significant number of patients who remain in remission far longer than would have been predicted when the study began. Furthermore, the rate of relapse in patients still in the study has slowed dramatically.
Genitope is tracking these patients in a blinded fashion, which means it can't distinguish which patients still in remission received MyVax from those in the control arm who received chemotherapy alone.
But given that two-thirds of the patients in the study received MyVax, Genitope remains optimistic that the final data will confirm that MyVax can produce long-lasting and durable remissions compared to chemotherapy alone.
Such a positive result would be consistent with the thinking that cancer vaccines take a longer time to work because patients must first establish an immune response before the cancer can be attacked and killed. This differs from chemotherapy, for instance, which is instantly toxic to cancer cells.
Of course, MyVax skeptics say that Genitope's ongoing tracking of patients in the MyVax trial is just wishful thinking that will only add to the crushing sense of defeat once the final negative result is announced.
Historical treatment data in non-Hodgkin's lymphoma patients can be a double-edged sword. For every independent study that Genitope highlights to demonstrate how much better patients in the MyVax study are performing, there are similar studies showing that MyVax trial patients aren't doing any better than normal.
The fact that two interim analyses haven't succeeded in stopping the trial early suggests that MyVax's efficacy is minimal, at best, and that the control arm patients are, in fact, doing much better than Genitope had planned for when designing the trial.
The two previous analyses of the study also make it much more difficult for Genitope to succeed in December from a statistical standpoint. In order for MyVax to win in the trial, the vaccine must pass over a statistical hurdle, or p value, of 0.0091. In English, that means MyVax must be better than control with less than a 1% chance that the outcome is a result of random chance.
In a typical study in which interim analyses are not conducted, the statistical hurdle is a p value of 0.05, or a 5% chance that the data is a result of random chance.
Can Genitope's MyVax buck the odds and succeed? We'll know in December.
Adam Feuerstein writes regularly for TheStreet.com. In keeping with TSC's editorial policy, he doesn't own or short individual stocks, although he owns stock in TheStreet.com. He also doesn't invest in hedge funds or other private investment partnerships. Feuerstein appreciates your feedback;
to send him an email.