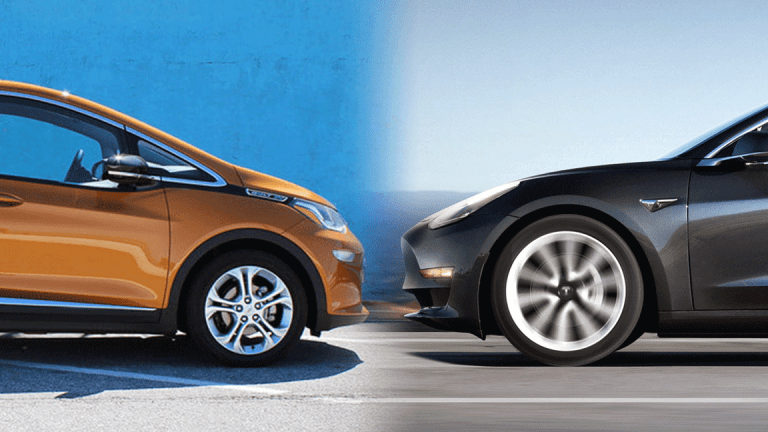 GM Driverless Car That Doesn't Have a Steering Wheel Is Coming, Soon
General Motors is dominating the early talk ahead of the Detroit Auto Show with news of a fully autonomous car hitting roads in 2019.
General Motors steals the Detroit auto show before it even starts: The robot cars are coming. Ahead of the Detroit Auto Show's big kickoff on Sunday, General Motors (GM) - Get Report said it's ready to mass produce by 2019 a car that doesn't have a steering wheel. If you are still waking up yes, that means the car will be fully autonomous. The cars, dubbed the Cruise AV, are still undergoing testing in the suburbs of San Francisco and Phoenix. While the photos of the Cruise AV floating around the internet won't win GM any design awards, they do underscore two things. First, chip-maker Nvidia (NVDA) - Get Report -- an Action Alerts Plus holding that is a key player in the autonomous driving space -- probably deserves all of its $135 billion valuation and more. The fact is whether we like it or not, automakers such as GM, Ford (F) - Get Report , Tesla (TSLA) - Get Report and Toyota (TM) - Get Report are going to jam driverless cars down our throats the next 20 years. That will trigger major winners in the tech space, and further consolidation beyond Intel's (INTC) - Get Report big acquisition for Mobileye. Another consideration is that while automakers race to unleash an army of driverless cars on the roads, U.S. infrastructure has not set them up for success. Where are the digital stop signs that communicate with cars? Why don't cars and high rise buildings communicate with one another yet to flag potential dangers? Making the infrastructure accepting of driverless cars falls largely on the government's hands. Good luck with that one. Best way to play this trend: the chip-makers rather than the automakers.
Hot on TheStreet this weekend: TheStreet's Anders Keitz looks at how billionaire Warren Buffett could spend Berkshire's (BRK.A) - Get Report (BRK.B) - Get Report $100 billion war chest. Two companies that would fit Buffett's investment philosophies: Nike (NKE) - Get Report and Blackrock (BLK) - Get Report . TheStreet's Annie Palmer hops on the phone with some of the venture capitalists that have dabbled in the surging eSports space. The read is timely following a successful launch this week of Overwatch, a new league formed by Action Alerts Plus holding Activision Blizzard (ATVI) - Get Report . And finally, noted car designer Henrik Fisker talks with TheStreet's Eric Jhonsa about battery technology at CES. Fisker thinks he has stumbled upon something that is better than gasoline. 
Your deep thought this weekend: Seeking out reasons to sell stocks right now? Can't help but to wonder with each new high on the Dow that we are one day away from a bone-crushing crash? Keep this in mind, compliments of the equities team at Bank of America Merrill Lynch: "In our view, business expansions don't die of old age, they die because of three kinds of late-cycle excesses: (1) a big spike in oil prices, (2) a double bubble of a financial bubble that supports a big over-expansion of a key sector and (3) central banks fighting inflation." If you think this reflects the current (or the one six months from today) environment then sure, go to cash. But if not, stay on this hard-charging horse.
What's Hot
A Tweet
Puts everything happening in the market into perspective, no?
More of What's Trending on TheStreet: