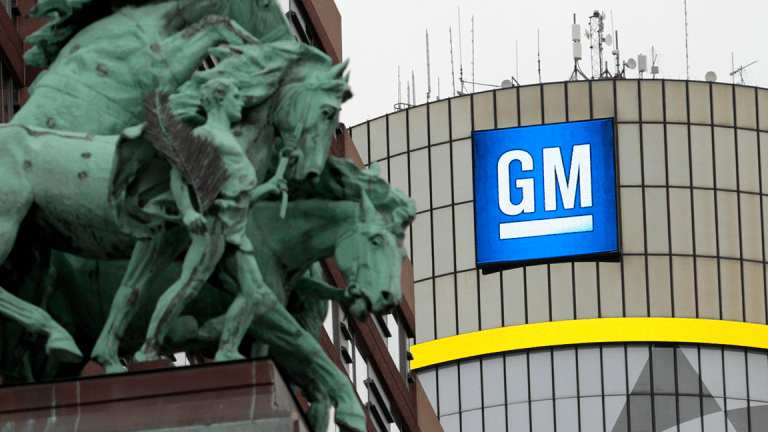 General Motors Stock Is Rallying but the Automaker's Rallies Rarely Last
General Motors provided stronger-than-expected guidance for 2019, giving a big boost to the stock Friday.
General Motors provided stronger-than-expected guidance for 2019, giving a big boost to the stock Friday.
General Motors (GM) - Get Report continues to impress its investors and prove its doubters wrong. Unfortunately for its share price, it's made little difference over the years.
On Friday the stock caught an 8% bump to $37.50 after the company provided its outlook for 2019 and raised full-year expectations for 2018. Management now expects to earn between $6.50 and $7.00 a share in 2019, a big beat vs. consensus estimates, which currently call for earnings of just $5.88 per share. Management also provided guidance for automotive free cash flow between $4.5 billion and $6 billion in 2019. 
Assuming the automaker hits its earnings range, it should represent year-over-year growth from 2018, depending on how well GM does in the fourth quarter. Worth pointing out is that management said it expects to exceed the earnings and automotive free-cash flow guidance for 2018 that it provided after reporting third-quarter results in October, which called for adjusted earnings per share of $5.80 to $6.20. 
While the stock is moving higher Friday as a result, investors have to be growing tired of GM stock's tendency to pop higher and sell off shortly after. What is it going to take for the stock to embark on a sustainable rally?
GM Stock Stuck in 2nd Gear
The problem for bulls is that GM has all the makings for a higher stock price, yet it never comes in a sustainable fashion. Take, for instance, the most basic investment principles of the dividend yield and P/E ratio.
Shares of GM pay out a 4% dividend yield and trade at roughly 5.5 times the midpoint of the 2019 earnings forecast management just provided. That's dirt cheap with a great dividend, but that's been the case for General Motors -- and to a lesser extent, Ford (F) - Get Report -- for years now.
More recently, the company smashed third-quarter earnings expectations in October, reporting 6.5% year-over-year sales growth while its GAAP earnings of $1.75 per share came in 46 cents a share (35%) ahead of expectations. The company also boosted its full-year outlook at the time. Less than six weeks later in November, GM announced it would embark on a massive restructuring. The move -- while criticized by multiple parties -- would result in a multi-billion savings, which also sent the stock higher.
Last but not least, let's not forget about Cruise, a subsidiary majority-owned by General Motors. In August 2016, the company bought Cruise for $1 billion. Two years later and following investments from SoftBank (SFTBY) and Honda (HMC) - Get Report , Cruise was most recently valued at $14.6 billion.
Still, none of this was enough to keep GM stock elevated. In December and earlier this month, General Motors stock price was below that of before it reported third-quarter earnings in October. 
To say that CEO Mary Barra hasn't done a good enough job for shareholders seems borderline ridiculous. At this point it's unlikely that GM will ever be valued with a market multiple or anything close to it. Even doubling its valuation to 11 times earnings -- sending shares to almost $70 apiece -- would still leave it with a notably lower P/E ratio than the S&P 500, with a comparable dividend yield to boot.
But short of Cruise setting the world on fire with its autonomous transportation and edging out Alphabet's (GOOGL) - Get Report (GOOG) - Get Report Waymo, that's unlikely to happen. Investors now have some assurance that rather than a year of flailing, GM is set for growth in 2019. Unfortunately, that won't guarantee them stock gains.
That said, those who continue to nibble in the low- to mid-$30s can rest a bit more comfortably after this latest update. In fact, Real Money's Stephen "Sarge" Guilfoyle has outlined more than once how to utilize option sales (cash-secured put sales and covered calls) to help manage a long stock position in GM.
This article is commentary by an independent contributor. At the time of publication, the author had no positions in the stocks mentioned.