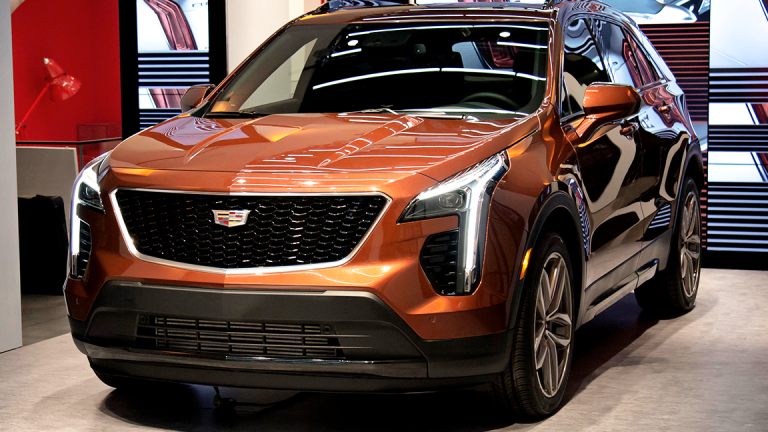 Inside General Motors' Aggressive Plan to Revamp Cadillac's Portfolio
With Cadillac's China business becoming self-sustaining, the iconic car brand is turning its focus back to the U.S. and plans to introduce a new Cadillac every six months through 2021.
Over the past few weeks, shares of General Motors Co. (GM) have been under pressure, but the stock started rebounding after one of the Detroit automaker's most iconic brands revealed an aggressive plan to revamp its vehicle portfolio.
"Beginning today, we will be introducing new entries at an average rate of one new Cadillac every six months through 2021," Johan de Nysschen, president of Cadillac, said during his presentation Wednesday at the New York International Auto Show.
Recently, the overall luxury market in the U.S. has grown, but Cadillac, as a consequence of its very narrow product portfolio, has not been able to participate in that growth, Mary Barra, the chief executive officer of General Motors, said at the Bank of America Merrill Lynch New York Auto Summit Wednesday.
"In fact, the growth is really coming from the market segments where we're not represented today, particularly the entry segments with compact luxury sedans and compact luxury crossovers," Barra continued. "The upcoming portfolio will play a very important role for Cadillac as we go forward."
Cadillac, which GM purchased in 1909, is four years into its 10-year brand transformation journey, and finally entered the luxury, compact SUV segment, introducing the all-new 2019 XT4 crossover SUV, which will be on sale this fall at prices starting at $35,790.
With the launch of the XT4 and the plans to introduce a new Cadillac biannually, Barra believes that it will take the brand's "market share coverage from 65% of the luxury market to over 90%." She also said that revamped portfolio will "include a three-row crossover position between the XT5 and the Escalade."
To be sure, Edmunds, an American online resource for automotive information, was skeptical about the future success of the XT4. 
"Cadillac enjoys rampant popularity among its SUVs, so we naturally had high hopes for the company's latest offering," said Edmunds Editor in Chief Alistair Weaver. "Unfortunately, we found that the XT4 fell flat - the exterior styling was rather familiar and the interior lacks the luxury appeal you'd expect from a premium contender."
For Cadillac to begin to build up its vehicle portfolio, it first had to achieve success in China.
"Our business over there has achieved self-sustaining critical mass and is now able to generate the financial wherewithal to meet future investment requirements on its own," said de Nysschen, adding that this, in turn, now allows Cadillac to turn its focus back to the U.S.
Cadillac built an state-of-the-art manufacturing facility in Shanghai to build and develop these all-new entries, Barra said. The investment has proved beneficial for Cadillac thus far. Cadillac is now the fastest-growing luxury brand in China, de Nysschen said. In 2018, Cadillac hopes for sales to break the 200,000-unit mark, said Barra.
"As this Cadillac refresh lineup is launched, we expect to grow both in the United States and China, and that this volume growth will lead to about 100% increase in our Cadillac profitability over the next four years," said Barra.
"As we enter year four of our transformation journey, the product offensive begins now and will continue at a torrid pace," de Nysschen said. "Things are about to get really interesting at Cadillac."
Shares of General Motors rose 2.4% to $36.31 at 2:23 p.m. New York time. The stock gained 1.7% to $35.47 on Wednesday after Barra and de Nysschen's respective presentations.