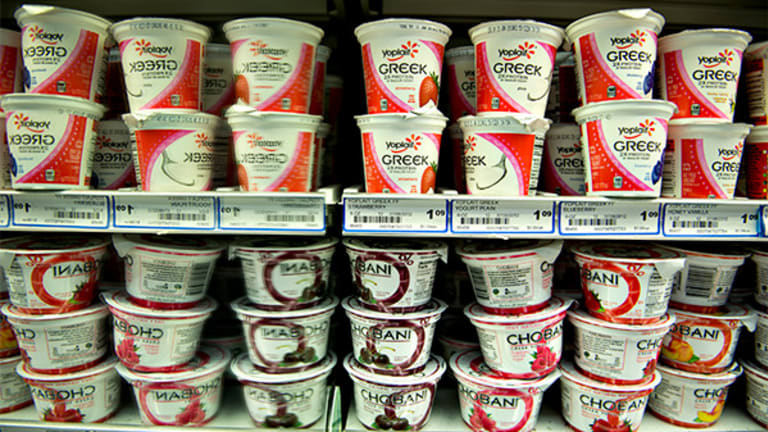 General Mills Remains a Good Investment, Despite Droopy Earnings
The company reported a sales loss for its second quarter, fueled largely by a drop in yogurt, canned soup and cookie dough sales.
General Mills (GIS) - Get Report  shares dropped 2.57% Tuesday after the company announced a dip in second-quarter net income before the markets opened. Heavily driving the quarterly loss was a sizable decline in Yoplait yogurt sales, although there were other factors, as well. 
Once a top brand, Yoplait is falling out of favor as sales of Greek yogurt brands take off.
Still, General Mills is not in danger of becoming a rotten stock. Now is a good opportunity to grab shares at a discount. The brand has been around for years, and General Mills possesses a diversified portfolio.
For the quarter, the company announced that net income fell by 9%, and total sales slumped by 1%. A drop in sales of yogurt, refrigerated cookie dough, and canned soup were to blame. For the U.S. alone, sales fell by 9%, to $2.52 billion. And international sales fell 5%, to $1.10 billion.
Simply put, rival yogurt makers Dannon and Chobani have eaten into General Mills' market share. For the 2016 fiscal year, General Mills' U.S. revenue from yogurt products fell by 10.4%, to $1.34 billion.
Consumer tastes and preferences are notoriously fickle. And recently, trends toward what consumers consider healthier choices have dictated major changes in the food and beverage industry.
For example, shifts away from soda, which is currently on the health-food no-no list, have led beverage giants Coca-Cola and PepsiCo to focus on alternative drink products such as teas and juices and even bottled water. And Americans' dislike of high fructose corn syrup has led McDonald's to eliminate that ingredient from a growing list of menu items.
PepsiCo is a holding inJim Cramer's Action Alerts PLUS Charitable Trust Portfolio. See how Cramerrates the stock here. Want to be alerted before Cramer buys or sellsPEP?Learn more now.
Greek yogurt, which is lower in lactose and higher in probiotics than regular yogurt, has been a huge success. The dairy product accounts for about half of all yogurt sales in the U.S. and 36% of sales worldwide. This is particularly astonishing given that in 2007 Greek yogurt had only 1% of the pie.
Chobani, the privately held company that helped bring Greek yogurt into fashion, saw its sales grow from around $3 million in 2007 to more than $1.1 billion in five years.
General Mills recognizes it has to improve its Greek yogurt game, focusing more on Greek lines that are more appealing to consumers. The company has already announced that it will boost the protein content of its Yoplait Greek 100 line, as well as introducing organic Annie's brand and a premium adult-focused brand, called Liberte. Other tweaks to the yogurt recipe, including a switch to whole milk in some products, should prove attractive to yogurt purchasers.
For the long term, General Mills still makes a great investment play. The company has a diversified portfolio that is always adapting, including the recent Annie's purchase, as well as a 100-plus-year history. Although shoppers are picky and their tastes change rapidly, General Mills isn't going to go away.
Tuesday's stock price drop presents a great opportunity to get into this stock for investors with patience to hold.
---
General Mills still makes a great long-term play. But what if I told you I know a way you can see a $67,548 per year - or more - in profitable trades just by following this simple step-by-step process? The trader who is sharing this secret has been right more than 8 out of 10 times, turning $5,000 into more than $5 million for himself. Click here to see how easy it is to follow his lead and collect thousands of dollars in "Free Money" every month.
The author is an independent contributor who at the time of publication owned none of the stocks mentioned.