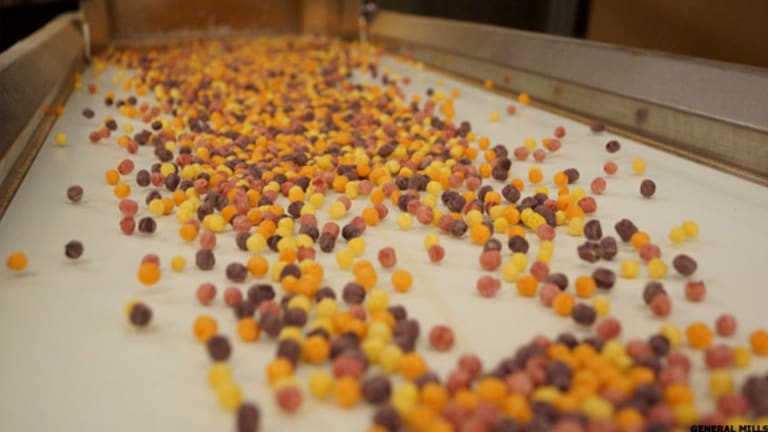 General Mills Doesn't Look Very Appetizing
Shares of General Mills are up 13% year to date, but here's why the stock doesn't look promising.
Shares of General Mills are up 13% year to date, but here's why the stock doesn't look promising.
Year to date, shares of General Mills (GIS) - Get Report are up 13%, but the stock doesn't look very appetizing.
General Mills reported first-quarter fiscal 2017 results on Wednesday. The company earned 78 cents per share, 3 cents better that the consensus estimate. But revenue fell 7.3% to $3.9 billion. Segment operating profit declined 4% to $409 million.
Adjusted operating profit margin was 19.2% of sales, while adjusted gross margin came in at 37.7%.
This was the fifth straight quarter sales fell. General Mills blamed weak demand for Yoplait yogurt and Progresso Soup and the sale of Green Giant frozen vegetables for the shortfall.
Yogurt really took a beating. Sales were down 15%. Yoplait Light sales fell 29% and Yoplait Greek 100 saw U.S. retail sales fall 33%. Management said the yogurt business would be 60% renovated by the end of the fiscal year. The company is adding organic yogurt, Yoplait smoothie beverages and 2% Greek Whips. That could be too little, too late.
The ready-to-eat meals business was down 19%. Overall, U.S. regional retail sales declined 8%. Even the company's flagship cereal business was down 4% in the U.S.
General Mills saw weakness in Europe and Canada. European sales were down 6% and Canadian sales fell 2%.
Its organic food portfolio saw sales grow 12%. Annie's grew 20% and Larabar was up 48%.
Operating profit was $748.7 million, about $25 million better than the consensus estimate. That accounted for most of the earnings upside. Gross margins were 150 basis points lower than expected, and ended the quarter at 37.4%.
This quarter demonstrates that traditional packaged food companies like General Mills are having a hard time keeping up with the changing taste of Americans. General Mills does offer organic and all-natural foods, but it is not enough to drive revenue growth.
At the July analyst meeting, the company admitted it would not be able to deliver any sales growth for fiscal 2017. The only way it could reach its goal of delivering double-digit shareholder returns would be through cost savings. The company raised its operating margin target to 20% by fiscal 2018, from 18%. Management expects to save as much as $380 million in cost of goods sold through SKU optimization, a reduction in trade allowances and advertising reductions.
The company expects fiscal 2017 constant currency sales of  negative 2% to flat, operating profit growth of 6% to 8%, and adjusted earnings growth between 6% and 8%. That would translate into earnings per share of $3.10 for fiscal 2017 and $3.45 for 2018. Revenue is expected to be flat in 2017 and again in 2018 at $16 billion.
With no revenue growth, I don't think the company is changing fast enough. People are still eating, but they are not eating the food General Mills sells. Earnings growth comes from cost cuts and share buybacks. To me, General Mills is not very appetizing.
That said, my colleague David Katz of Real Money Pro, TheStreet's premium site for active traders and professional investors, disagrees. He sees GIS as "poised to return to solid and consistent slow growth" -- and as a possible takeover target. Subscribers can check Katz's column out here (non-subscribers can sign up for a free 14-day trial).
This article is commentary by an independent contributor. At the time of publication, the author held no positions in the stocks mentioned.