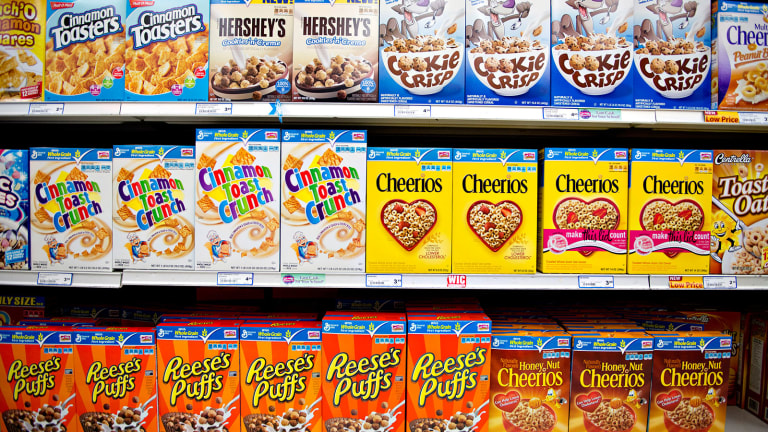 General Mills CEO: We Are Doing What We Said We Would Do
General Mills looks to reignite growth over the several quarters via a product innovation push. TheStreet talks with new General Mills CEO Jeff Harmening about the year ahead.
New General Mills (GIS) - Get General Mills Inc. Report CEO Jeff Harmening has been touring the globe since taking over as CEO in June, with one goal in mind. 
"I have been working hard to getting us back to growth," Harmening told TheStreet in an interview. So far, there are some green shoots sprouting for his efforts. 
The Minneapolis-based food company reported adjusted earnings of 82 cents a share in its fiscal second quarter on Wednesday, which was in line with Wall Street estimates but down 4% from the previous year.
Revenue totaled $4.2 billion, which topped Wall Street's forecast of $4.1 billion. Sales increased 2% over the same time last year. Organic net sales increased 1%, with growth across all four of the company's operating segments.
Sales growth was led by the U.S. cereal operating unit, up 7%, and the U.S. snacks unit, up 5%. U.S. yogurt sales declined 11%.
While operating profit was down 4% for the first half of the fiscal year from last year, General Mills said that it is "confident" it will be able to deliver profit growth during the second half of the year.
Looking ahead, the company raised full-year guidance. General Mills said it now expects full-year organic net sales to range between flat to down 1%, compared to a previous estimate of net sales down 1% to 2% for the year. The company maintained guidance for earnings and profit.
TheStreet talked with Harmening about the results and outlook for the year ahead. What follows is a condensed and edited version of the conversation.
TheStreet: What have you been up to since taking over as CEO in June?
Harmening: I have been working hard to getting us back to growth. A lot of that has been traveling. We have a global business. I have been to Shangahi, Switzerland, Europe, Brazil all over the world. I have met with key customers like Walmart (WMT) - Get Walmart Inc. Report , Kroger (KR) - Get Kroger Company (The) Report , Amazon (AMZN) - Get Amazon.com Inc. Report and Alibaba (BABA) - Get Alibaba Group Holding Limited American Depositary Shares each representing eight Report . I have also spent a lot of time with our customers because we sell our products through them and we need to grow with them. 
So, I have spent the last six months internally mostly focused on getting the strategy to growth and getting the organization aligned on our key priorities. Seven months in, I feel great about the progress we have made. The organization has responded well and we are clear on what we are trying to do.
TheStreet: What's the one thing that has surprised you about General Mills now that you have finished doing all of these things?
Harmening: What I would tell you is what I have re-learned as I have been with General Mills for 23 years. That is the dedication of our people to make this place successful. The job of a senior leader is to make sure to know where the guardrails are, find the boundaries in the sandbox and let the people work in it. When people are clear on what the priorities are and they are energized about those priorities, they pull on the other end of the rope and are the ones that will do the work. 
The improvement we have seen in our top line sales I think is because of the dediction of a lot of people who feel like they are making a difference. What I find is that people work harder when they are working on something that is important, but they don't get drained because they are energized by the results they see. 
I knew that, but it's fun to see it. It's the same in China, France, U.S. and Canada. 
TheStreet: What gives you confidence in raising the full year sales guidance? It seems to have surprised the market. 
Harmening: We weren't tremendously surprised. We raised our guidance a little bit. In terms of our sales growth, we mentioned at the end of the first quarter we would improve our sales growth. And honestly, we did what we said we would do. There may have been a lot of people externally who were curious on if we could achieve that, and we understand it. We didn't really buy into the narrative that we couldn't get back to growth. 
As we look ahead we, we see our plans on new product innovation and that's good, our marketing we think is good. And we think we can continue to improve our growth in Asia and Latin America. We have good momentum in the convenience store channel. We can see the next six months out on the top line. 
A lot of people were wondering about our profitability, but we have a good line of sight into our cost drivers for the second half. We feel good about our opportunity to improve profits in the second half of the year. 
TheStreet: Who is eating cereal?
Harmening: Kind of the same people that have always eaten cereal. Cereal over-indexes with people with young families and empty-nesters. So, we don't see the trends on who is eating cereal as changing. When you look at our year, cereal sales were down 7% in the first quarter and a lot of people have panicked because cereal was worse than they thought. Then people may turn euphoric after seeing cereal sales up 7% in the second quarter. What I would say is to look at the first half of the year combined and it's roughly flat. 
I think we can continue to grow our cereal business if we count the convenience and foodservice space, which is growing  by mid-single digits. So our North American retail business isn't going to grow 7% for the rest of the year, but it isn't going to decline 7% for the rest of the year either. It will grow a little bit across the globe, and that's what we are looking for. 
TheStreet: When will the Yoplait yogurt business start growing again? The category still looks very competitive. 
Harmening: I think you are starting to see the turn already. We were better in the second quarter than the first quarter, and we will be better in the second half of the year than in the first half. Our plan is to be better next year than this year. We will see if that leads to better growth in the absolute. 
What I could tell you is that our short-term goal is to get better, our long-term goal is to get back to growth. We have owned this business for 40 years, we have a good business in the U.S., France and U.K. We are growing in China. We think we have every right to win in yogurt. Even though we haven't distinguished ourselves the past few years, we feel good about what we have been able to do this year. 
TheStreet: What's your overall level of commitment to the yogurt business?
Harmening: We think we can compete effectively in yogurt. The innovation we released in the second quarter show we can compete effectively, whether that's in the U.S. or developing markets. We have every right to win, and are irritated we haven't won. We plan to do something about that irritation, which is to get back to growth. 
TheStreet:Big week for food acquisitions with Hershey (HSY) - Get The Hershey Company Report buying Amplify Brands undefined and Campbell's Soup (CPB) - Get Campbell Soup Company Report buying Snyder's-Lance (LNCE) . Do you feel pressure to do a deal?
Harmening: I don't think our view on M&A has changed because of two deals. Hershey bought a popcorn maker, which is great. Campbell's obviously did something that appears to be more transformational with Snyder's-Lance. What I would say is that M&A is one part of our growth strategy. The other parts are competing effectively where we re. Another is accelerating in some key platforms. We get the right to do M&A by doing the first two things well. 
We feel increasingly confident in our ability to execute M&A well because our base business is back on solid footing and we are back to executing. If you are going to be doing M&A, it feels better to be executing well on your base. Also, we have been able to grow prior acquisitions like Annie's and Epic. We have in fact accelerated our growth in Annie's. 
We have the capacity to do deals. Our cash flow is good, it improved in the first half of the year. But we are going to stay disciplined. We aren't going to buy things just because somebody else is buying something. It has to be the right fit for us. 
TheStreet: So you aren't opposed to doing a transformation deal? Some of the prices to buy these assets have been high. 
Harmening: No, we aren't opposed to doing something more transformational if it fits with our core strategies. As long as we feel we can do that, and remain competitive in our base business, we aren't opposed to doing a bigger deal. In terms of pricing, it's interesting. I remember getting feedback from people that we paid a lot of money for Annie's when we bought it, and we did. And some said we paid too much, and I said you don't know that yet. Time will be the judge. 
Acquiring Annie's was worth it. It has become a cornerstone of our business now. 
Check out TheStreet's Other Influencer Interviews