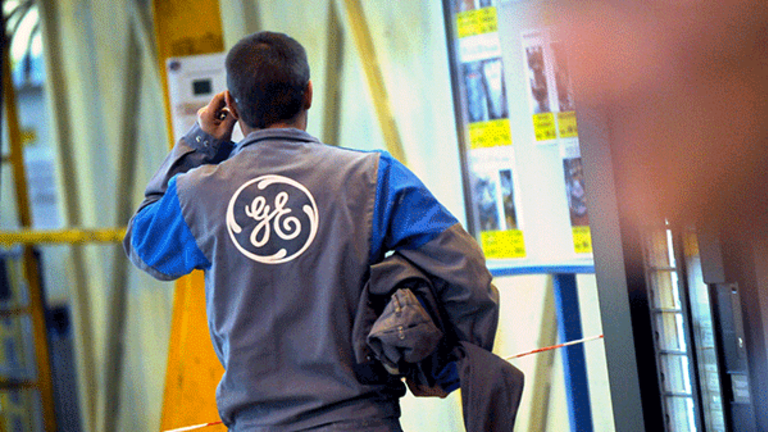 General Electric's New CEO Could Slash $2 Billion In Costs, Jim Cramer Says
New CEO, nice dividend and a modest price make the stock look good here.
This week's move by General Electric  (GE) - Get General Electric Company Report  to replace CEO Jeffrey Immelt with GE Healthcare President John Flannery makes the stock a buy, according to Jim Cramer.
"The change is welcome," Cramer said during an exclusive conference call with members of his Action Alerts PLUS club for investors. "Flannery will make the tough cuts that Immelt seemed incapable of making. We're looking for $2 billion in savings."
Cramer, whose charitable trust owns GE stock, said he had previously been frustrated with the company to the point of wanting to dump the name. "On our last call I talked about how I wanted dearly to sell the stock of General Electric, but I feared that the company would replace their CEO right after I did and the stock would pop." Sure enough, that's exactly what happened on Monday.
Cramer credited activist investor Nelson Peltz and his Trian Fund Management for helping to instigate the change -- and said the move makes the stock attractive.
"My feeling is that GE with its [3% yield] and the stock at $28 represents a buy," he said. "I know we're going to probably have to have some ratchet back of the earnings, but this man Flannery is from the Jack Welch school of the company -- and that's welcome news."
GE's shares rose 0.1% to $28.98 at Friday's close.
Want to join in on Jim's monthly conference calls? Clickherefor a free 14-day trial subscription to Action Alerts PLUS and hear all of the latest call, plus get e-mails before Jim makes any trade and enjoy lots of other exclusive material.
Visit here for the latest business headlines.
Read More Trending Articles:
Jim Cramer: Another Rotation Out of Apple and Nvidia Is in the Cards
Oil Reaches a Spot Where Nibbling at Energy Stocks Becomes Possible: Market Recon
Don't Forget Why You Love Tech Stocks Like Amazon, Jim Cramer Explains
Snap Has Shed an Astounding $13 Billion in Value and Now the Stock Is Trading Near Its IPO Price
Action Alerts PLUS, which Cramer co-manages as a charitable trust, was long GE.