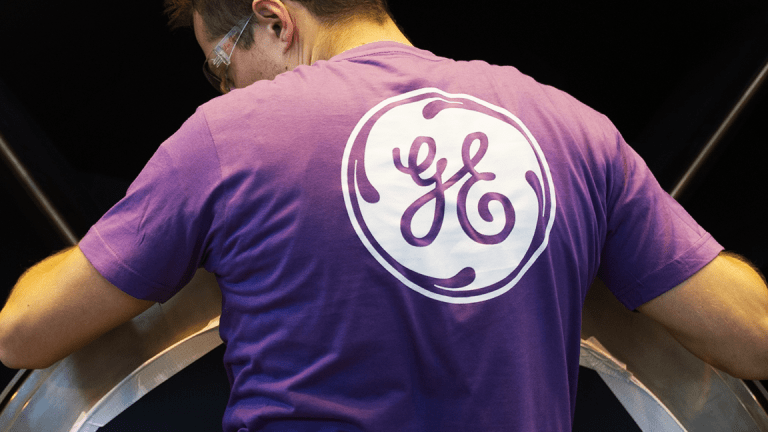 General Electric's Boot From the Dow: Is This as Bad as It Can Get?
William Blair analysts offer five reasons why GE stock could explode higher even after it got kicked to the curb.
William Blair analysts offer five reasons why GE stock could explode higher even after it got kicked to the curb.
General Electric Co. (GE) - Get Report may be down, but it's not out.
That's the thesis from analysts at William Blair, who wrote to clients this week that, "GE's here to stay ... not fade away."
GE stock slumped 1.9% on Tuesday, June 19 after the company was kicked out of the Dow Jones Industrial Average. Shares are lower about 26% year to date and down 53% over the last 12 months. But William Blair isn't giving up on the conglomerate.
"We sense GE's removal from the Dow Jones Industrial Average (DJIA), while a historic change for one of its original members, reflects the evolution in the current drivers of the U.S. economy," analysts wrote. "GE's stature as a predictive component of the DJIA has steadily declined over the past decade, and thus the change could be viewed as long overdue."
William Blair reiterated an outperform rating on GE stock, noting that shares are at "an inflection point for investor sentiment." According to FactSet data, 28% of the 18 analysts who cover GE rated it as buy or overweight, while 61% rated the stock as hold and 11% as underweight or sell.
After a visit to GE corporate headquarters in Boston last week spurred analysts to walk away with a "sense of optimism with continued progress" on the company's plan to optimize asset sale proceeds and deleverage its balance sheet, William Blair offered five reasons why GE shares were "likely to offer material upside potential over the near and intermediate time horizon."
"Oil prices remain near four-year highs, enabling material improvement in orders and 2018 fundamental prospects for GE's 62.5% stake in Baker Hughes as it continues to integrate its operations with GE's oil and gas business and positions the business to be a source of potential upside in 2018."
"While GE faces several regulatory and various shareholder and bondholder lawsuits, GE appears to be moving closer to solving these; GE Capital's portfolio liquidation will enable resolution to be fully self-funding."
"The performance of aviation, healthcare, and potentially its oil and gas businesses, which now comprise more over 70% of GE's estimated 2018 earnings and free cash flow, is notably better than plan in 2018, offsetting weakness at power."
"GE's key cash generation and previous cash uses are all expected to materially improve in 2018 while asset sales are likely to exceed $20 billion, ensuring GE's financial liquidity is fully adequate to fund GE's dividend, higher cash restructuring, deleveraging plans, as well as GE's growth initiatives to improve future sales and earnings growth."
"GE looks very well positioned to materially reduce its largest unfunded liability in 2018, the $18 billion contractual portion of its $29 billion underfunded pension plan; following a $6 billion contribution expected in the third quarter of 2018, rising interest rates so far this year are likely to further reduce its pension deficit by about $6 billion based on the year-to-date 60-basis-point increase in the 10-year U.S. Treasury yield."
GE stock fell 1.54% to $12.75 in premarket trading on Wednesday. Watch more analysis of the decision below.