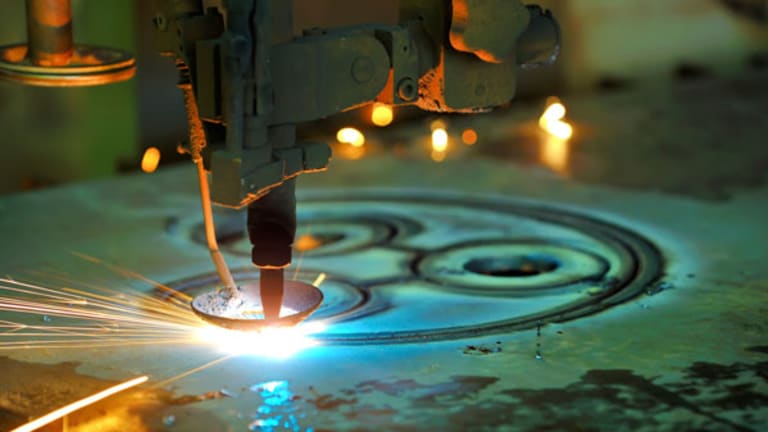 General Electric Net Drops 44%
The industrial conglomerate reports a decline of 44% in fourth-quarter earnings and said it remains committed to its dividend.
Updated from 12:43 p.m. EST
General Electric
(GE) - Get Report
shares fell almost 12% Friday, after the conglomerate posted a 44% year-over-year decline in net income.
GE reported fourth-quarter net income of $3.7 billion, or 35 cents a share, which included $1.5 billion of after-tax restructuring and other charges, vs. $6.7 billion, or 66 cents a share, a year earlier.
Earnings from continuing operations in the quarter were $3.9 billion, or 37 cents a share before preferred dividends, down 43% from $6.8 billion last year. Including preferred dividends, GE earned 36 cents a share from continuing operations in the quarter, down from 68 cents a share a year earlier, the company said Friday.
Analysts surveyed by Thomson Reuters expected the industrial conglomerate and component of the
Dow Jones Industrial Average
to report earnings of 37 cents a share.
Shares fell as much as 11.9%, but closed down 10.8% to $12.03.
The company said segment profit fell 25% in the fourth quarter on a 67% decline at capital finance.
Revenue in the fourth quarter fell 5% to $46.2 billion, reflecting a stronger U.S. dollar, and lower core growth, partially offset by the net effects of acquisitions. GE Capital revenue fell 18%, while industrial sales rose 7% to $31.1 billion.
GE said it's committed to its plan for a dividend of $1.24 a share for the year. Concern has surrounded the
payment.
"We believe the GE dividend provides our investors with a solid return in this uncertain time," said Chairman and CEO Jeff Immelt.
GE said it expects 2009 to be "extremely difficult," without providing specifics.
GE's stock is down more than 20% this year after a steep slide in 2008.
Many analysts believe the company could lose its "AAA" credit rating because of problems at its lending arm GE Capital and the ongoing recession.
"We run the company to have a Triple-A credit rating, and we have significantly strengthened our liquidity position," Immelt said.
Copyright 2009 TheStreet.com Inc. All rights reserved. This material may not be published, broadcast, rewritten, or redistributed. AP contributed to this report.