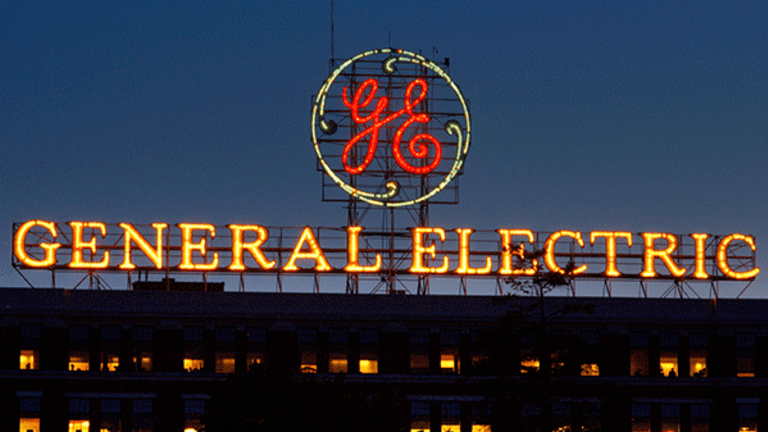 General Electric's New CEO Reveals Two Areas of Concern Among Investors
'GE's going to be an incredible company for another 125 years,' John Flannery says.
General Electric Co.  (GE) - Get General Electric Company (GE) Report  posted the biggest gains on the Dow Jones Industrial Average Monday as CEO Jeffrey Immelt's successor promised to deliver results for shareholders while undertaking a comprehensive evaluation of the manufacturing giant's businesses, from locomotives to wind turbines.
The review is "something you'd expect us to do with speed and with urgency and with no constraints," John Flannery, the GE Healthcare chief whose promotion to the top job was announced Monday, June 12, told investors on a conference call.  "I'll look at each business, I'd say, with a focus on its performance, its growth outlook, the cash, the cost structures, the returns, the competitive environment. 
The 55-year-old deflected questions about specific measures he might take as the company grapples with heightened pressure from activist shareholder Trian Partners, whose $1.9 billion stake places it among GE's 20 biggest investors. A Trian representative declined to comment.
While GE's unlikely to break itself up as another Trian holding, Pentair Plc, recently agreed to do, analysts have said it could simplify itself further, perhaps through the spinoff of its oil and gas business after a combination with Baker Hughes is completed and the sale of its medical-equipment unit.
"There are clear areas, I'd say, that are of concern and interest to investors around our cash flow, around our cost structures," Flannery said, and "you're going to see good progress on all those things in the near term."
Shares of the Boston-based conglomerate, founded as a light bulb-maker by Thomas Edison in the late 1800s, climbed 3.6% to $28.94 on Monday afternoon, the biggest increase since April 2010, after Flannery's promotion and Immelt's retirement were announced.
In his 16 years as CEO, the 61-year-old Immelt took much of the blame for a lackluster stock performance despite refocusing the conglomerate on its core manufacturing businesses through the sale of television broadcaster NBC, the signature home appliances division and most of its sprawling lending operation.
Like Flannery, Immelt held a top role at GE Healthcare before becoming CEO -- a job he stepped into just days prior to the Sept. 11 attacks. That led to losses of $575 million through the company's insurance business, which was one of the coverage providers for the destroyed commercial airliners and buildings.
Seven years later, Immelt was forced to cut GE's dividend when frozen credit markets during the 2008 financial crisis threatened the lending unit because of its reliance on short-term commercial paper. The crisis also cost GE its top credit ratings with Standard & Poor's and Moody's.
In the years afterward, the lending business -- while a large revenue generator -- weighed on the company's stock price, and the shares surged when Immelt announced a plan in early 2015 to sell most of the loan portfolio. The appliances unit, which helped make GE a household name for generations of Americans, was sold early the next year.
"Jeff has dramatically transformed General Electric over the past decade -- adapting during turbulent times and positioning the company extremely well for many years to come," said JPMorgan Chase & Co. CEO Jamie Dimon, whose company has worked with GE on deals including the wind-down of GE Capital. "And he has done so with unflinching integrity and a commitment to executing on a bold vision for future success."
The manufacturer today "is a different company than when Jeff took over," Jack Brennan, GE's lead independent director, said at a town hall-style meeting with the company's 300,000 employees that was streamed on Facebook Live.
The company said it began working in 2011 on its CEO transition, which comes as GE seeks to deliver industrial operating profit of $17.2 billion this year while cutting operating costs by $1 billion each this year and next. The goals are part of a deal Immelt struck with Trian after intensified talks in March as GE shares lagged gains on both the S&P 500 and the Dow Jones indexes.
Trian has previously declined to say whether it would push for changes beyond the bonus cuts linked to failure to meet the targets or whether it stands by its statement earlier this year that there's a path for GE earn as much as $2.33 a share in 2018.
That would be higher than the company's own forecast of as much as $2, which Immelt has since said would be "at the high end," given persistently low prices in resource markets such as oil that curbs GE's energy equipment sales. For now, the company's profit targets for the year remain unchanged.
While GE has a "set of strong competitive franchises," everything ultimately "has to wash out, in terms of cash, performance, cost optimization and ultimately return to investors," said Flannery, who has been at GE for 30 years and spent the first two decades of his career in investing. "I think I've got the background to look at it that way. 
Based on initial reaction in financial markets, investors agree.
"The owners are really pleased,"  Jack Brennan, the lead independent director, told employees Monday morning. "I've gotten a lot of input about this decision already."
Flannery will become CEO effective Aug. 1 and take over the role of chairman on Jan. 1, 2018.  In addition to his role at GE Healthcare, Flannery previously ran the company's operations in India and led the acquisition of Alstom SA's power business, the largest industrial purchase in GE's history.
"I've had a chance to see John do five jobs in the last 16 years," Immelt told employees. "That really gave me a sense of the kind of person who could run the company. This is the perfect person to run this company and, really, at the right time."
GE said in a statement that the board decided two years ago to implement its succession plan this summer. The company's current chief financial officer, Jeff Bornstein, will continue in that role and has been named a vice chairman, GE said.
"This transition is happening slightly earlier than we had anticipated," Joe Ritchie, a Goldman Sachs analyst who had expected an announcement in the second half of this year, said in a note to clients.  If Immelt had retired at age 65, like predecessor Jack Welch, he wouldn't have stepped down until 2021.
"Sixteen years is a long time to run this company," Immelt said at the employee meeting, "even though I love you all dearly. It's enough."
With assistance from Joseph Woelfel in New York. This article, originally published at 6:48 a.m. on Monday, June 12, 2017, has been updated with comments from executives and analysts.
GE is a holding in Jim Cramer's Action Alerts PLUS Charitable Trust Portfolio. Want to be alerted before Cramer buys or sells GE? Learn more now.
Visit here for the latest business headlines.
Read More Trending Articles:
Goldman Sachs Thinks September Is When the Federal Reserve Triggers This Major Change
The Stock Market Is Going Up in Smoke and It's All Because of Apple, Tesla and Amazon
Why You Must Be Ready for the Inevitable Summer Stock Market Dive