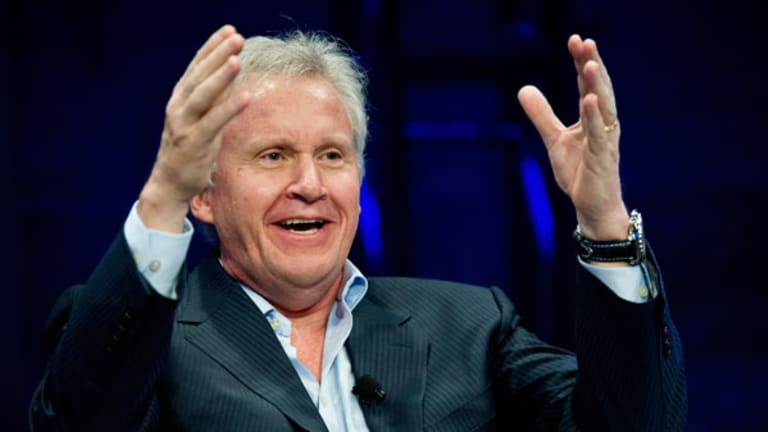 General Electric story updated in final paragraph to note that a key tax loophole the company has exploited since 1997 still awaits congressional approval for 2012.
NEW YORK (
) --
General Electric
(GE) - Get General Electric Company (GE) Report
will likely benefit from a "very low tax rate," when it reports fourth quarter earnings Jan. 18, according to a report from Bernstein Research analyst Steven Winoker.
The year "is finishing in-line with recent expectations, albeit with lower industrial organic growth and a very low tax rate for GE Capital," Winoker stated in a report published Wednesday. He added that the tax rate for GE Capital will likely be "evenlower than
the third quarter as
commercial real estate is able to deploy higher tax loss carry forwards now that they are generating higher levels of sales/gains (which are always treated as regular GE Capital operating earnings)."
GE paid a 13.8% tax rate in the third quarter, including a 4.4% rate for GE Capital, according to a previous report by Winoker.
General Electric has long been especially adept at minimizing its taxes, an issue that sparked controversy last year when
The New York Times
called attention to it
.
Corporate tax reform is an important part of the discussion as Congress debates over the budget in an effort to avoid the drastic series of automatic cuts known as the "fiscal cliff." General Electric CEO Jeff Immelt fielded questions about tax policy gingerly during the conglomerate's annual investor outlook meeting Monday.
"My communications guys back there are cringing right now saying be careful," Immelt told the audience after Winoker asked him what GE shareholders "should be hoping for," from Washington.
As a couple other analysts pressed the issue, Immelt eventually said that "GE along with every member really of the business round table wants corporate tax reform, that is lower the rates, takeaway deductions and give us the same basic policy that
Siemens
(SI) - Get SILVERGATE CAPITAL CORP. Report
has -- every Japanese company,
Rolls Royce
(RR)
, Toshiba, and Siemens, all have territorial. I think if you could give us that, I think that is the broad sweep."
A "territorial" tax system would reverse the U.S. policy of taxing overseas profits when the funds are brought back to the U.S. Opponents of that proposal argue a temporary suspension of taxes on overseas profits in 2004
did not spur the investment in the U.S. that had been promised.
.
Despite his stated policy preferences, Immelt said GE would not try to handicap the debate over taxes.
"We plan to do restructuring and right now, we are planning to do some restructuring that is not covered by gains but the base case is that the tax laws are extended while tax reformers debate, we are no smarter about that, we will see where that goes," he said.
In a follow-up email exchange, GE spokesman Seth Martin explained that GE is "not expecting one-time gains that would offset restructuring costs." He declined to give details on the planned restructuring.
Winoker's presumption that GE will pay a low tax rate rests on the assumption that Congress will eventually extend a key loophole known as the "active financing exception," which shelters the foreign earnings of GE Capital from U.S. tax. While Congress has regularly granted that exception since 1997
--caught up in the broader fight over the "fiscal cliff."
--
Written by Dan Freed in New York
.
Disclosure: TheStreet's editorial policy prohibits staff editors, reporters and analysts from holding positions in any individual stocks.