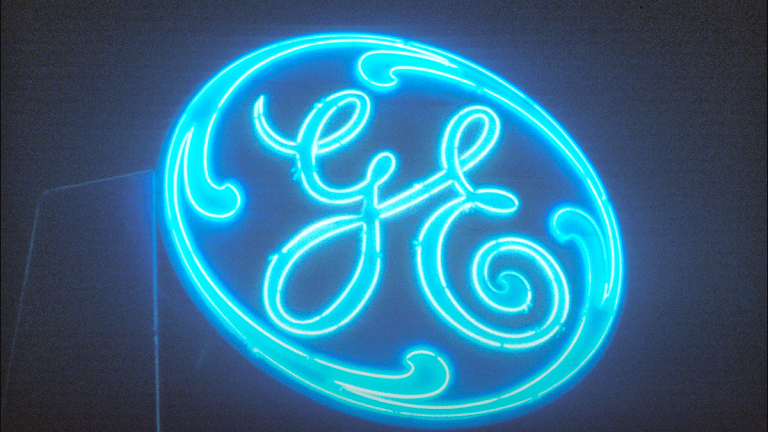 General Electric Extends Declines After Culp Pressed on Industrial Cash Flows
General Electric shares extended declines Wednesday, taking shares to a fresh one-month low, after CEO Larry Culp warned that free cash flow from the conglomerate's industrial division is likely to remain negative this year.
General Electric (GE) - Get General Electric Company Report shares extended declines Wednesday, taking shares to a fresh one-month low, after CEO Larry Culp warned that free cash flow from the conglomerate's industrial division is likely to remain negative this year.
Culp told the JP Morgan Aviation, Transportation & Industrials conference in New York Tuesday that industrial free cash flow will swing from $4.5 billion in 2018 to a negative tally this year as  "market pressures impacting volume" as well as "project and execution challenges" impact its struggling power division, according to materials used in the presentation. Culp also said margins in GE healthcare would be similar to those recorded in 2018, with organic revenue in the low to mid-single digit range.
"We are no longer willing to engage in a debate where the Bull case is that Power is "not that bad", the stock can be valued on $1+ (industrial free cash flow), and (GE Capital Services) is merely a zero," said JPMorgan analyst Stephen Tusa, who pressed Culp into revealing the gloomy cash flow forecast Tuesday. "We are willing to consider that zero industrial FCF is not a sustainable level but the stock is not reflecting that as a run rate with an $85 billion market cap."
"The answer to us is somewhere in between where the stock is today and zero and that is where generally our price target sits," Tusa said in a client note published Wednesday.
GE shares were marked 7.9% lower by the close of trading Wednesday at $9.11 each, the lowest since January 30 and a move that trims the stock's year-to-date advance to around 13%.
Culp has vowed that 2019 would be a "year of change" for the struggling group, and pledged to focus on both developing GE's critical power business while reducing debt through asset sales and spin-offs.
He also said the company's dividend, which was slashed to just one penny last year amid a series of profit warnings, asset write-downs and broader investor skepticism, allowed GE to retain around $4 billion in cash but would be returned to an industry-competitive level once the balance sheet was stabilized.
"Simply put, we have too much debt and we need to reduce it thoughtfully and soon," Culp said earlier this year. "Once we put our balance sheet in a healthier place, we'll be in a better position to play offense across all our businesses."
Culp, in only a few months at helm of the struggling group, has raised more than $21 billion through the sale of GE's biopharma unit to his former company, Danaher Corp. (DHR) - Get Danaher Corporation Report , and pledged to shed the group's healthcare division and reduced its stake in Houston-based oil services group Baker Hughes (BHGE) - Get Baker Hughes, a GE Company Class A (BKR) Stock Price, News, Buy or Sell Rating Report .
However, JP Morgan's Stephen Tusa, one of the most influential analysts on Wall Street and long-time critic of GE's flagging business model, has argued that while the $20.5 billion in cash GE will get from Danaher was more than many had expected, it still leaves GE Heathcare as an asset that is "short on growth, with an implied total EV that is below" based Tusa's recent analysis, with around $17 billion in annual revenues and operating margins "in the mid-teens".
As a result, Tusa held his price target on GE unchanged at $6 per share last week, cautioning that the biopharma sale unmasks "the underappreciated enterprise cash burn we see at sustainably in the $2 billion range" even with the extra $3.5 billion the sale generates compared to earlier plans to float around 20% of the healthcare division through and initial public offering.
"As we have said before, this is NOT about liquidity, this is about the company raising cash by selling earnings to reduce leverage and liabilities," Tusa said in a note published last Wednesday, which also lowered the 202 earning estimate by 7 cents to 30 cents per share. "While a core business burns cash, even including Healthcare, which we address below, after which we provide our analysis around Healthcare."