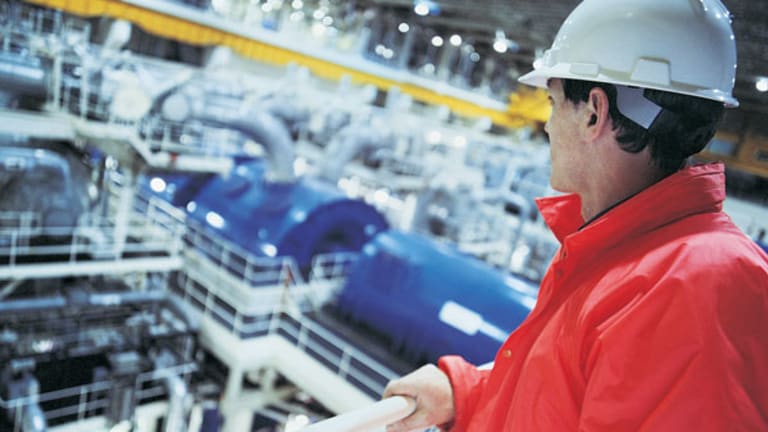 General Electric Battles Perception
General Electric CFO Keith Sherin called concerns about GE Capital "overdone" on Thursday, but investor concerns remain.
General Electric CFO Keith Sherin called concerns about GE Capital "overdone" on Thursday, but investor concerns remain.
General Electric
(GE) - Get Report
CFO Keith Sherin called concerns about GE Capital "overdone" on Thursday, but concerns about the finance unit continue to weigh on analysts following the stock.
GE shares were relatively flat in trading Thursday, but are off more than 57% since the start of this year, much of it due to concerns about GE Capital. Critics fret the unit is not adequately capitalized to withstand potential hits to exposure to Eastern European and commercial real estate and other holdings, which the company has not marked down as aggressively as other finance companies.
"They have to come to where the rest of the world is on mark-to-market," says Sterne Agee analyst Nicholas Heymann.
Sherin, in a
CNBC
interview Thursday morning, acknowledged the company may lose its triple-A credit rating.
"We're getting a lot of speculation about the risk in GE Capital, obviously, and I think it's overdone," Sherin said on
CNBC
. "We can basically fund ourselves all the way through 2010 without any issues."
Analysts like Heymann are skeptical. GE is projecting losses on its private label credit card business on a model that assumes 9% unemployment. Heyman projects 11% unemployment by the end of the year and says that every 50 basis point increase in unemployment translates to $600 million less in net earnings.
Next, is the real estate issue. GE Capital has exposure in Eastern European countries like Hungary and Poland where the payback is now considered to be of very little value. Add to that the real estate decline in the U.K. and Ireland, where GE Capital was a big participant. In the commercial real estate portfolio, rent increases are slowing and actual rents are coming down and the company has yet to accurately reflect the true value of its holdings.
"Commercial real estate exposure is going to really hit them hard in the second half of 2009," says Chris Whalen of
Institutional Risk Analytics
. "That's why the credit default swaps traded at 1,000 this week."
Finally, there is the aircraft leasing portfolio, which is experiencing a reduction in deliveries. Similar companies like
CIT Group
(CIT) - Get Report
are stressed in this area as well. Even
Boeing
(BA) - Get Report
and
Airbus
are lending to customers that can't get financing.
Heyman expects the company to find a private partner to take a stake if it does suffer a ratings downgrade. But, "with $80 billion in impaired assets, it's not clear this is achievable," he says.
Warren Buffett's
Berkshire Hathaway
already bought $3 billion in perpetual preferred stock in October. How about the government? The FDIC already has a stake in GE Capital. Back in November of 2008 GE Capital made arrangements with FDIC to guarantee$139 billion of its senior unsecured debt. Plus according to a recent
Securities and Exchange Commission
filing, GE Capital has issued $24.5 billion worth of CDs at its banks, which the FDIC will have to back up.
Sherin said on
CNBC
that GE is "unlikely" to take money from the Troubled Asset Relief Program. But did access the
Federal Reserve's
Commercial Paper Funding Facility back in October 2008.
Heyman thinks if the government were forced to take over it could fund them to maturity and earn roughly 3% on the burn down, admitting it's a "run down solution."
Standard & Poor's lowered its outlook on GE Capital from stable to negative back in December.
GE did not return a call for comment.