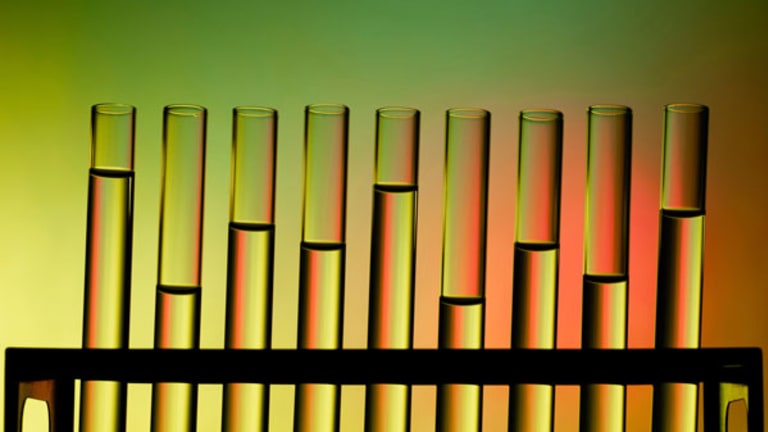 Genentech's Avastin Passes Key Safety Test
The company shared the news late Thursday and said data will now be available a year earlier than expected.
Genentech( DNA) said late Thursday that its late-stage trial on Avastin in early-stage colon cancer patients passed a recent safety check and it now expects final data a year earlier than previously thought.
The South San Francisco-based company said that final efficacy and safety results for the C-08 study will now be available in 2009, rather than 2010, because of speedy data collection, patient enrollment and a higher than planned number of Stage III patients. The phase III, 2,700 patient study - which is being conducted by the National Surgical Adjuvant Breast and Bowel Project (NSABP) -- is looking at Avastin plus chemotherapy compared to the chemotherapy alone following surgery in the early-stage colon cancer patient population.
Genentech said the new timeline doesn't affect its probability of success. In conjunction with the release of abstracts for the American Society of Clinical Oncology annual meeting, the company also announced that the C-08 study received a green light from an independent data monitoring committee that conducted an interim safety and efficacy analysis in the second quarter of this year.
The board found no new or unexpected safety events in the Avastin arm in the interim check. "Due to the high cure rate for early-stage colon cancer, there is a lower acceptance of risk related to potential new therapies in the adjuvant treatment setting," said Genentech senior vice president (Clinical Hematology and Oncology) David Schenkein in a press release Thursday.
The preliminary analysis showed a similar rate of non-cancer-related deaths between the treatment arms, which was consistent with previous trials, according to the company. "Grade 3" or higher events that occurred more in the Avastin plus chemotherapy arm included hypertension, wound healing complications and pain. The company will present the safety report on Saturday, May 31 at the ASCO meeting.
"If the addition of Avastin to mFOLFOX6 in the adjuvant colon cancer setting demonstrates a significant disease-free survival benefit, it would represent an upside to our current Avastin Estimates," wrote UBS analyst Maged Shenouda, who has a buy rating and a $92 price target on the stock, in a note to investors.
Efficacy data for this trial aren't yet available.
See senior columnist Adam Feuerstein's
for a guide to more data from biotechnology companies, such as
ImClone
(IMCL)
,
Amgen
(AMGN) - Get Amgen Inc. Report
and
Celgene
(CELG) - Get Celgene Corporation Report
that were also released late Thursday.