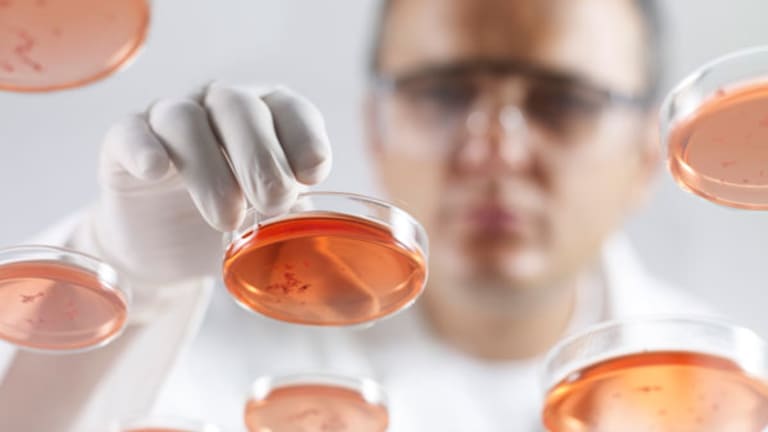 Genentech Studies How Alzheimer's Attacks Brain
Researchers know of a protein that seems to play a key role in causing Alzheimer's disease. But why does this protein reside in the brain in the first place?
Researchers who study the brain have long known about the existence of a protein called APP that seems to play a key role in causing Alzheimer's disease. But a question that scientists never have been able to answer is why APP resides in the brain in the first place? Does this Alzheimer's-causing protein exist simply because of some evolutionary dirty trick, or does APP serve some other, more useful purpose?
Genentech
(DNA)
researchers on Wednesday published a paper in a leading science journal that begins to answer some of these questions about APP, which could, one day, lead to the development of entirely new drugs to treat Alzheimer's disease.
"We've known for a long time that APP is a bad actor when it comes to Alzheimer's disease, but understanding why APP is in the brain in the first place opens up a whole new way to attack Alzheimer's," says Marc Tessier-Lavigne, an executive vice president of research drug discovery at Genentech and a co-author on the paper, published in the journal
Nature
.
Genentech is the largest and arguably most successful biotech company in the world mainly because of the discovery and development of breakthrough drugs to treat cancer and immune-related diseases. But a little-known fact: Before there were blockbuster cancer drugs like Avastin and Herceptin, Genentech also was conducting research into neuroscience.
Ultimately that research into the brain took a back seat to cancer and other diseases, so in 2001, Genentech spun out its neuroscience assets into a private company called
Rinat Neuroscience
.
Pfizer
(PFE) - Get Pfizer Inc. Report
acquired Rinat in 2006.
Three years ago, however, Genentech made a strategic decision to re-enter the neuroscience research field. At an investor and analyst meeting in March 2008, CEO Art Levinson said that finding new drugs for
diseases like Alzheimer's
was a new, long-term priority for the company.
Tessier-Lavigne is a neuroscientist recruited to join Genentech to help kick start this new research effort. The new understanding about APP came about as an accident, he says, during the course of research into the normal process of nerve cell degeneration that occurs as embryos develop in the womb.
When the brain and spinal cord are first being formed, excess numbers of nerve cells are generated. Ultimately many of these nerve cells are killed off, or "pruned," says Tessier-Lavigne, so that only the right number exist to form into the brain, spinal column and other parts of the nervous system.
Working on various cell culture experiments in the lab, Genentech researchers discovered something called death receptor 6 that is responsible for this normal embryonic self-destruction mechanism of nerve cells. But when Tessier-Lavigne and his team went looking for the substance that activated death receptor 6 to prune back embryonic nerve cells, they were shocked to learn that it was APP.
"We almost fell out of our chairs," he says.
The reason for their surprise is that APP has long been linked to Alzheimer's. The protein resides in nerve cells and is normally broken down by various enzymes into harmless fragments that are then disposed of by the body. But in some people these APP fragments aren't cleared from the body but instead form sticky clumps known as beta amyloid. Eventually beta amyloid forms into plaques that attach to and kill nerve cells in the brain, which is widely believed to be the cause of Alzheimer's.
The discovery of a link between death receptor 6 and APP is important because it suggests that Alzheimer's may be caused when the normal self-destruction mechanism of excess nerve cells in embryos is somehow hijacked or turned back on in adults, says Tessier-Lavigne.
"If the theory is correct, we may be able to attack Alzheimer's in a new way with drugs that can block this biochemical pathway," he adds.
The new discovery published Wednesday by Genentech researchers is just a start. The company has a long way to go before this new theory on the cause of Alzheimer's can be proven, and even longer before new drugs are developed that may be effective against the disease.
Still, the Genentech research adds to the body of knowledge about the possible causes of Alzheimer's. Much of the ongoing work in the field is being directed at developing drugs that can break down toxic beta amyloid in the brain.
So far, however, that work hasn't produced much in the way of positive results. Drugs from
Myriad Genetics
(MYGN) - Get Myriad Genetics, Inc. Report
and
Neurochem
have failed, while another drug from
Elan
(ELN)
and
Wyeth
(WYE)
has produced only lackluster results so far in mid-stage studies. Pfizer,
Transition Therapeutics
(TTHI)
and
Eli Lilly
(LLY) - Get Eli Lilly and Company Report
also have so-called "beta-amyloid drugs" under development.
"We still don't understand the relative contribution our new discovery plays in Alzheimer's compared to other mechanisms such as beta amyloid," says Tessier-Lavigne, adding that more research needs to be done to see if there are ways in which they might be complementary.
Meantime, Genentech also is moving ahead on multiple fronts in Alzheimer's drug research. The company bought rights to a beta amyloid drug from privately held Swiss company
AC Immune
. That drug is currently in a phase I study, but Genentech hasn't disclosed when the study is expected to be completed.
Genentech shares closed up $1.70, or 2%, to $84.70 on Wednesday.
At the time of publication, Feuerstein's Biotech Select model portfolio was long Genentech.
Adam Feuerstein writes regularly for TheStreet.com. In keeping with TSC's editorial policy, he doesn't own or short individual stocks, although he owns stock in TheStreet.com. He also doesn't invest in hedge funds or other private investment partnerships. Feuerstein appreciates your feedback;
to send him an email.