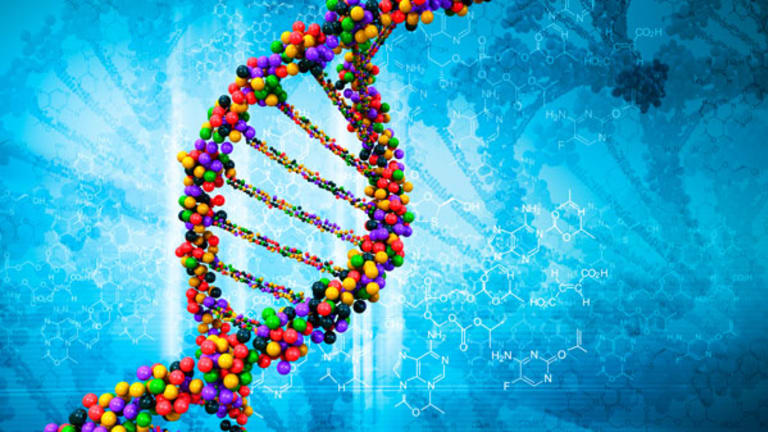 Genentech: Roche Needs Us More
Genentech explains to investors and analysts why Roche's hostile tender offer is too low.
Genentech explains to investors and analysts why Roche's hostile tender offer is too low.
Without
Genentech
(DNA)
,
Roche
is nothing.
That's an exaggerated statement but only to an extent. Genentech used an investor meeting Monday to drive home the company's view that Roche's
hostile tender offer of $86.50
a share is too low. Two slides from the company's four-hour presentation illustrated the point perfectly.
Genentech's CFO David Ebersman posted a slide of Roche's current drug pipeline, showing 78 different drugs or disease indications from phase II and phase III studies through to drugs in ongoing regulatory review.
Of those items, a whopping 73% are derived from drugs developed by Genentech. When Ebersman altered the slide to erase the Genentech drugs, Roche's remaining pipeline looked rather bare.
In his summation, Genentech CEO Art Levinson put up a slide showing the percentage of Roche revenue derived from Genentech products. A full 66% of Roche sales in 2008 was Genentech-derived, an increase from 21% in 2000.
"We do not believe that the Roche tender offer adequately reflects the value and future potential of Genentech's business," Levinson said.
Genentech executives, including Levinson, made no mention Monday of the $112-a-share counteroffer the company made to Roche. Instead, the company used its investor meeting Monday to systematically and fundamentally
rebut each and every assertion
made by Roche recently that Genentech was over-reaching on price.
Levinson and his management team were polite yet assertive. While not using these exact words, the take home message for Roche was pretty clear and went something like this:
Roche, screw you. If you want to buy us, pay up!
Monday's blizzard stranded me at home in Boston so I was unable to fly to New York for the meeting, but one Genentech investor who was on site emailed his observations about what may happen with Roche, based on the scuttlebutt from investors and analysts in the room.
"The talk is that Roche is going to use the $14 billion in EU bonds it sold two weeks ago to sweeten the offer -- by my quick math that is roughly $101 per share."
This Genentech investor's point is that Roche is raising billions of dollars from the bond market at relatively cheap rates, like 7%, so that Roche can afford an offer well above $100 a share given Genentech's estimated 18% compounded annual growth rate for earnings in the period 2010-2015.
Genentech said it expects earnings to grow from $3.85 a share this year to $9.42 a share in 2015. Over that same period, Genentech forecast total revenue to grow from $14.1 billion to more than $21.4 billion.
Earnings growth will come via a mix of sales growth from existing drugs and indications, new uses for existing drugs and of course, new drugs still in clinical studies but not yet approved.
Overall, Genentech predicted that product sales will grow from $10.7 billion in 2009 to $22 billion in 2018, probability adjusted take into account expectations that some drugs and studies will fail.
Sales of the cancer drug Avastin, which totaled $2.69 billion in 2008, could grow to $10 billion by 2015, the company said. About half of that long-range forecast for Avastin comes from using the drug much earlier in a patient's cancer treatment, or the so-called adjuvant setting. Data from the first of many Avastin adjuvant phase III studies, in patients with colon cancer, is expected next month.
Genentech's head of product development Sue Desmond-Hellman laid out a clear case for why the company is optimistic for positive results from the adjuvant Avastin study in colon cancer.
Desmond-Hellman was also very bullish on T-DM1, the next-generation version of the breast cancer drug Herceptin being developed in conjunction with
ImmunoGen
(IMGN) - Get Report
. The first pivotal study in third-line breast cancer patients is wrapping up enrollment with data expected in the first quarter 2010.
Referring to T-DM1, Desmond-Hellman said the drug is "clearly exceeding our expectations."
Genentech also presented some interesting data on the use of Rituxan in early-stage rheumatoid arthritis patients, detailed some new, early stage drugs in the company's pipeline, and discussed at length the new research push into neuroscience, more specifically
.
Genentech suggested that it may have a better anti-amyloid beta drug for Alzheimer's than
Elan's
(ELN)
and Wyeth's
(WYE)
bapineuzumab. A Phase I study of the Genentech Alzheimer's drug is underway with data expected this summer.
Genentech shares closed down 4.6% to $81.59.
At the time of publication, Feuerstein's Biotech Select model portfolio was long Genentech and ImmunoGen.
Adam Feuerstein writes regularly for TheStreet.com. In keeping with TSC's editorial policy, he doesn't own or short individual stocks, although he owns stock in TheStreet.com. He also doesn't invest in hedge funds or other private investment partnerships. Feuerstein appreciates your feedback;
to send him an email.