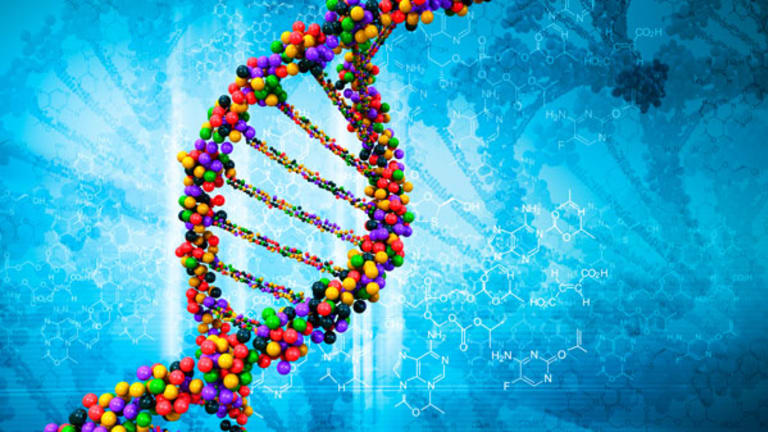 Genentech: Avastin Breast Cancer Study Meets Goal
The data comes just ahead of a key FDA ruling on the drug.
Genentech (DNA) and partner Roche said Tuesday that a second late-stage trial for blockbuster drug Avastin in combination with chemotherapy was successful in prolonging progression-free survival in certain breast cancer patients.
In the trial, dubbed AVADO, doses of Avastin at both15 mg per kg of docetaxel chemotherapy and 7.5 mg per kg of chemotherapy prolonged progression-free survival, or the amount of time patients have before their tumors start growing again, in breast cancer patients who hadn't been previously treated with chemotherapy. That met the primary goal of the trial.
Genentech didn't provide more specific data, but said it would be submitted for presentation at an upcoming medical meeting.
The news comes ahead of a key Food and Drug Administration decision on whether to approve Avastin for breast cancer. The drug currently is approved for colorectal and advanced non-small cell lung cancers.
In December, an FDA advisory panel voted 5 to 4 to recommend against approving Avastin in combination with paclitaxel chemotherapy for metastatic breast cancer. The panel's concern was based on the data available from a study in which the drug increased progression-free survival, but not overall survival, and added significant side effects. The agency is set to make a decision on the drug on February 23.
"We have shared the AVADO data with the FDA to assist the agency in assessing the risk and benefit of Avastin in this patient population," Genentech said in a press release Tuesday. "Genentech believes that the results of the AVADO study provide confirmation of Avastin's efficacy and safety in this patient population."
Bear Stearns analyst Mark Schoenebaum wrote in an email to investors that the AVADO trial wasn't designed to be accepted for FDA approval, but an ongoing RIBBON-1 trial was. He expects positive data from that study in the third quarter, noting that if Genentech receives an approvable letter pending more progression-free survival data he expects it will submit data from both the AVADO and RIBBON-1 studies by year end.
"We continue to believe that the risk/reward for DNA shares is highly favorable ahead of the Feb 23rd approval deadline, as most investors expect a significant delay," he said in the note. "However, in the off-chance that the FDA approves Avastin for breast cancer (~25% probability), upside could be substantial, in our opinion."
If the FDA indicates that overall survival data is indeed necessary, approval could be delayed substantially, Schoenebaum wrote, though he thinks this is scenario unlikely.
Shares of Genentech were gaining $1.58, or 2.3%, to $71.50 in after-hours trading Tuesday.