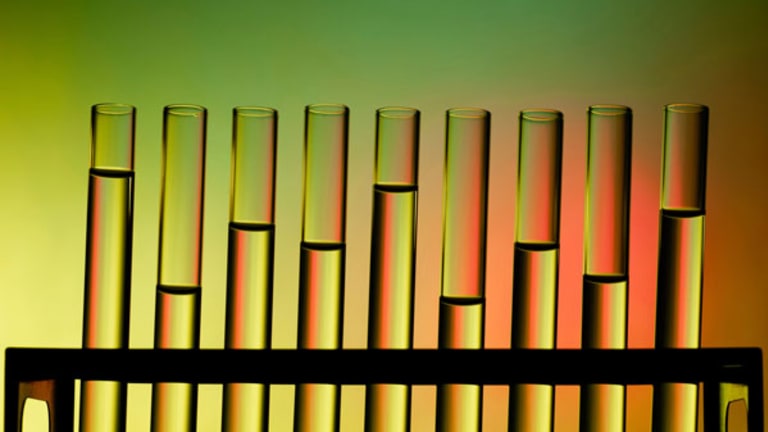 Gene Therapy Stocks on Watch Following Failure of Celladon's Heart Failure Trial
Will the failure of Celladon's Mydicar gene therapy bring other high-flying gene therapy stocks down to Earth?
SAN DIEGO (TheStreet) -- Celladon (CLDN) said Sunday that its experimental gene therapy for heart failure, Mydicar, was a total bust. To its credit, management was fully transparent about the mid-stage clinical trial results, even owning up to "negative results" in the headline of the press release. On the primary and secondary endpoints of the heart failure study, Celladon's Mydicar failed to demonstrate any benefit over placebo, the company said.
Shares of Celladon will surely collapse Monday, but more interesting will be seeing what effect the company's blowup has on other high-flying gene therapy stocks -- Bluebird Bio (BLUE) - Get Report, UniQure (QURE) - Get Report, Spark Therapeutics (ONCE) - Get Report -- if any.
Investor demand for gene therapy stocks has been almost insatiable recently, erasing years of scientific doubts about the technology's ability to treat or cure disease. No gene therapy stock exemplifies the investor mania more than Bluebird. Since December, when Bluebird presented preliminary data suggesting its gene therapy might lead to a cure for the rare blood disorders beta thalassemia and sickle cell anemia, the company stock price has shot up 245%.
Bluebird went public in June 2013 at a market value of just under $400 million. At Friday's close of $136.26, the company was worth more than $4.4 billion.
Gene therapy is an umbrella term describing a technology which uses engineered viruses to replace defective, disease-causing genes. There are important differences in how individual gene therapies are formulated and delivered. Some diseases may be more amenable than others to treatment or cure with gene therapy. Logically, Celladon's Mydicar failure in heart failure doesn't necessarily doom the entire field. But it's also reasonable to ask if valuations of gene therapy stocks have grown too big too fast given the risks that still clearly exist.
Celladon's Mydicar is a virus engineered to insert a working gene capable of producing a protein called SERCA2a into heart-failure patients. SERCA2a is responsible for helping heart muscles contract and pump blood more efficiently. Heart-failure patients have low levels of SERCA2a, and those patients' hearts do a poor job pumping blood around the body. Celladon was hoping to demonstrate that infusing Mydicar via a one-time infusion into a vein near the heart would lead to higher SERCA2a levels and improved heart function.
Those hopes were dashed. In the largest study of a gene therapy for heart failure ever conducted, Mydicar reduced the risk of heart-failure related hospitalization by only 6% compared to a placebo. The difference was not statistically significant. Mydicar also failed to demonstrate a benefit over placebo across additional secondary endpoints, Celladon said.
Celladon shares closed Friday at $13.68 ahead of Sunday's Mydicar results. The stock traded as high as $27.26 per share on March 19, but fell on concerns about mixed results from a previous Mydicar study and analysis of preclinical data suggesting the gene therapy wasn't potent enough to produce enough functional SERCA2a protein.
The company has little else to fall back on now that Mydicar appears to have little effect on heart failure. The remainder of Celladon's pipeline is still in preclinical stages of development. The company had $85 million in cash at the end of 2014, equal to $3.57 per share.
The next clinical catalyst for gene therapy of interest to investors may come in June when Bluebird is expected to present data on its gene therapy for sickle cell disease. The company has not confirmed a sickle cell disease update but abstracts for the European Hematology Association meeting, where the data would be presented, will be made public on May 21.
Avalanche Biotechnologies (AAVL) and UniQure are also expected to announce results from gene therapy studies later this year.
Adam Feuerstein writes regularly for TheStreet. In keeping with company editorial policy, he doesn't own or short individual stocks, although he owns stock in TheStreet. He also doesn't invest in hedge funds or other private investment partnerships. Feuerstein appreciates your feedback; click here to send him an email.