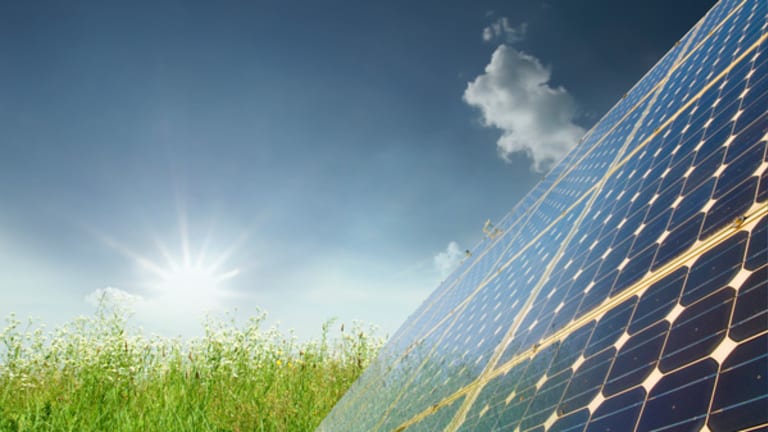 Geithner Chimes In on China's Green Energy Support
Treasury Secretary Timothy Geithner adds his voice to the debate over whether China's support of its renewable energy companies amounts to unfair trade practices.
NEW YORK (
) -- Treasury Secretary Timothy Geithner has added his voice to the debate over whether China is providing unfair support to its green energy companies.
Last week, the United Steelworkers Union filed a petition with the Obama administration claiming that China's support of its green energy companies violates fair trade law.
>>Steelworkers Union Attacks Chinese Green Energy
If any steelworkers or U.S. green energy backers were looking for a sign that the Obama administration was all over the issue, the Treasury secretary didn't offer anything beyond a boilerplate response, telling senators that the Obama administration was carefully reviewing the complaint filed by the United Steelworkers Union.
Geithner's comment simply reflected the legal requirement of the Obama administration. Once the petition was made to the office of the U.S. Trade Representative, the Obama administration had 45 days to review it before deciding whether to back the steel union's case.
Geithner was appearing before a Senate committee on Thursday to speak about a much larger issue between the U.S. and China, its tight control of the yuan's valuation, about which the Treasury secretary said, "the pace of appreciation has been too slow and the extent of appreciation too limited."
Senators used Geithner's appearance before them to unleash some rhetorical flourishes about China being the reason for the lagging U.S. economy. "There is no question that the economic and trade policies of China represent clear roadblocks to our recovery," said Senator Christopher J. Dodd (D-Conn.). "China does basically whatever it wants, while we grow weaker and they grow stronger," Dodd said.
While the United Steelworkers are enraged at China's trade practices, green energy companies have been quiet on the issue. Whether it is a U.S. solar company like
First Solar
(FSLR) - Get First Solar, Inc. Report
or a U.S. company tied to the wind energy sector like
American Semiconductor
(AMSC) - Get American Superconductor Corporation Report
, it is not clear that playing hardball with China is the way forward.
First Solar is currently in negotiations with the Chinese government for a massive solar project in the Mongolian desert. The project has already been delayed several times, and there was even a report in the
Washington Post
that the Chinese might back out of the deal with First Solar.
American Semiconductor's business is primarily dependent on its relationship with China's wind energy leader, Sinovel.
As European solar feed-in tariffs are reduced, China is also one of the great hopes for the solar sector supply chain to make up for any decline in demand for solar modules, cells and wafers from Europe. China is yet to implement a much-discussed, long delayed national feed-in tariff.
Solar inverter company
Power-One
(PWER)
which had the largest loss in the market on Wednesday after a German competitor warned of slowing solar demand in 2011 due to European tariff reductions, has a plant in China that it hopes to have in production by the fourth quarter of 2010, to take advantage of opportunities in the Chinese market.
The Chinese government is giving massive support to its solar module and solar cell makers through the China Development Bank, the most recent action being a $4 billion loan commitment for
JA Solar
(JASO)
last week, bringing the 2010 total loan commitment to the biggest Chinese solar companies to more than $22 billion.
--Written by Eric Rosenbaum in New York.
>To contact the writer of this article, click here:
NAME
.
>To follow the writer on Twitter, go to
.
>To submit a news tip, send an email to:
.
RELATED STORIES:
>>Steelworkers Union Attacks Chinese Green Energy
>>Solar Stock Losers: Power-One
>>Wal-Mart's Waltons Renew First Solar Selling
Copyright 2009 TheStreet.com Inc. All rights reserved. This material may not be published, broadcast, rewritten, or redistributed.