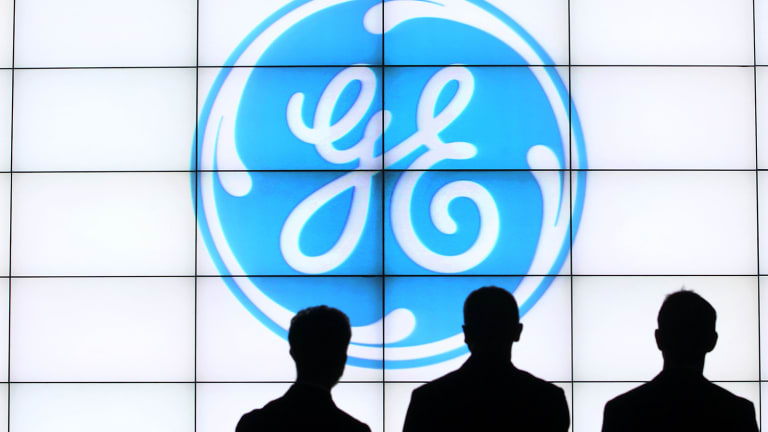 GE Spinoff Synchrony Financial Is Still Trying to Stand on Its Own
Since its split from General Electric (GE) last summer, Synchrony Financial (SYF) has been looking to reinvent itself as an independent brand.
NEW YORK ( TheStreet) -- Since its split from General Electric (GE) - Get General Electric Company (GE) Report last summer, Synchrony Financial (SYF) - Get Synchrony Financial Report has been looking to prove it can stand on its own. And with a stock that has surged 33% since its IPO, many investors believe it can.
For more than 80 years, Synchrony was tethered to GE, its roots beginning during the Great Depression as a credit lender for customers of GE appliances. Over the years, the company has become the largest provider of private label credit cards. Its latest partnership with music chain Guitar Center was announced Tuesday.
The task
CEO Margaret Keane
 now faces is reinventing the old-line Synchrony name as an independent brand capable of holding its own in today's world of digital competitors. And Synchrony will need to do it without the backing, and reliable credit line, of GE. 
In a statement Friday, Keane said the company plans to cut some of its remaining ties with GE and build new partnerships in mobile technology, as part of a "commitment to being in leading edge mobile wallet applications."
So far this year, Synchrony has partnered with the forthcoming mobile payment service Samsung Pay, which is set to launch this summer. Samsung Pay will compete with mobile service Apple Pay, which began allowing Synchrony to use its cards on its Apple Wallet last year.
"We continued to extend major partnerships, signed several new programs across our platforms, and launched compelling promotions to help our partners drive sales growth," Keane said in a Friday statement. "We are also capitalizing on new mobile and digital technologies, evidenced by the announcement that our Payment Solutions and CareCredit cards will be available in Samsung Pay when launched."
Notwithstanding healthy growth and new partnerships, Synchrony still has its share of regulatory red tape to cut. The Federal Reserve Board is in the process of examining whether Synchrony is fit to operate independently as a savings and loan.
"The Federal Reserve Board's approval could include conditions or restrictions that are more onerous than those generally applicable to savings and loan holding companies," according to Synchrony's annual filing with the SEC. "Any such conditions or restrictions (including restrictions on our ability to pay dividends or repurchase our stock after the Separation) or additional required actions could be significant, involve significant additional expense for us and have a material adverse effect on our business, results of operations and financial condition."
The "application for separation" from GE is expected to be submitted to the Fed within the first half of this year, after which the Fed will conduct an infrastructure review of the company's operations and accounting practices, according to a BTIG research report.
"One would think Synchrony, having been a part of GE, will have a strong infrastructure," said Mark Palmer, an equity analyst with BTIG. "But some investors may be overly complacent with Synchrony's ability to smoothly separate from GE."
One hurdle may be finding new sources of financing, as a window of credit will not be as reliable without the backing of GE.
"SYF faces higher borrowing costs as a stand-alone company after it separates from GE," according to BTIG report. "Management has stated that it intends to lower the company's funding costs by increasing its deposit base through its direct banking platform at Synchrony Bank, which isn't burdened by the overhead expenses associated with a traditional banking network."
Friday's earnings were flat, year-over-year, but show that Synchrony was able to boost deposits by 28% in the first quarter to $35 billion. Deposits now represent a 59% share of the company's financing, up from 55% last year.