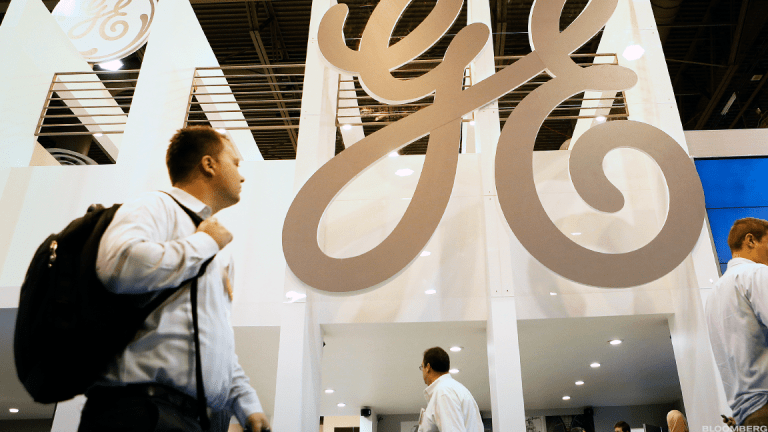 GE Should Consider Capping Employee Pension Benefits Amid Stock Woes: Stifel
This could be one of the best ways for General Electric to signal to investors that it has changed its management and accountability structure, say analysts at Stifel.
Bad news for tenured, senior employees and executive management at General Electric Co. (GE) - Get General Electric Company Report . Stifel analysts think the best bet for the ailing conglomerate is to consider capping pension benefits in light of what has become habitual underperformance of GE stock.
Stifel analysts in a note on Tuesday, April 3, called the idea a "modest proposal" and a means of providing the "appropriate 'virtue' signaling in GE's current cash priority environment."
GE free cash flow for 2017 shrank 68.5% from the previous year to $3.646 billion. Cash flow also shrank in 2016 from the previous year, according to FactSet data. GE currently has an all-in pension and retirement funding deficit of $34 billion, $25 billion of which is strictly pension, Stifel found.
"GE has taken great pains recently to 'virtue signal' a change in the management and accountability culture at the company," Stifel wrote. Among those moves has been a change to management compensation, targeted additions to the board and increased financial transparency. It is Stifel's view that capping pension benefits could be a stronger "virtue signal" for investors.
"GE currently expects to pay approximately $264 million for benefit payments under its GE Supplementary Pension Plan and administrative expenses of principal pension plans and expects to contribute approximately $570 million to other pension plans in 2018," Stifel found. "In 2017, comparative amounts were $261 million and $870 million, respectively."
But the biggest issue is that former GE CEO Jeff Immelt, who stepped down in October, received as of the end of 2017 a 50% joint and survivor annuity of nearly $5 million. The same annuity for former Chief Financial Officer Jeff Bornstein was nearly $1.8 million. According to Stifel, capping payments like that for future departing senior level and executive employees would be a smart move for cash-strapped GE.
"We would hope current GE management would review such cash intensive supplementary pension benefits going forward and consider instituting appropriate limits or caps on such cash payments, particularly in light of the serial underperformance of the stock for the last 20 years, a return not commensurate with these 'benefits,'" Stifel wrote.
General Electric stock has tumbled 60% in the last year. Early Tuesday, shares fell 1.8% to $12.89.
Stifel cut its earnings forecasts for GE based on continuing challenges at the company's Power business paired with dismal growth expectations across the company's long-term business cycle. Stifel also cited price and cost inflation challenges as a headwind to earnings potential. Analysts are now looking for earnings of 11 cents per share in the first quarter, down from 12 cents, and 95 cents for the full year, down from 98 cents.
Stifel lowered its price target for GE shares by $2 to $13, implying about a 1% downside for shares. Risks include a "worse than expected" macroeconomic environment and the possibility of a global recession, plus continued issues on top of what was a weak 2017.