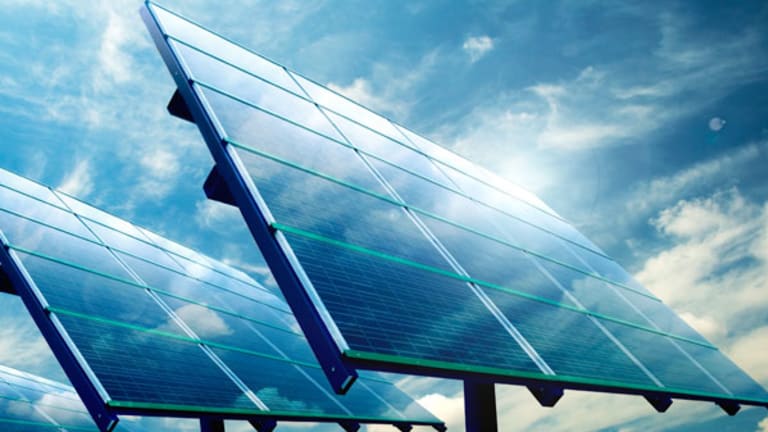 GE Set for a Pickens Windfall
The company stands to make out well if the oilman's alternative-energy plan moves forward.
OKLAHOMA CITY --
General Electric
(GE) - Get General Electric Company Report
sells more wind turbines, by far, than any other supplier in the nation.
But it never sold 667 of them at once until legendary oilman T. Boone Pickens decided to build his own wind farm.
His
calls for the U.S. to slash its dependence on foreign oil by exploiting its own natural resources instead. By using more wind to fuel its power plants and more natural gas to power its cars, Pickens predicts, the U.S. could cut its dependence on foreign oil by one-third in the next 10 years.
"We have got to get off of foreign oil," Pickens emphasized in a recent interview with
TheStreet.com
. "If we go another 10 years like we have the last 40, we are going to be importing 75% of our oil and paying $300 a barrel for it. It will break the country!"
Already, Pickens warns, the U.S. imports almost 70% of its oil at a cost that is fast approaching $700 billion a year. With the money spent on just one year's worth of foreign oil, he has calculated, the country could cover the investments necessary to transform wind into a mainstream fuel capable of generating 20% of the nation's power supply.
Since wind generates just 1% of the country's electricity right now, despite its increasing popularity among utilities, GE could land a flood of bulk orders if Pickens gets his way.
In fact, the company has enjoyed huge payoffs already. Earlier this decade, when oil was cheaper, GE took a chance by placing a fresh bet on alternative energy. It located a real bargain in the ashes of Enron.
While forever remembered as a doomed energy trader, Enron once operated a booming wind business as well. The company sold $750 million worth of wind turbines -- and actually made a profit on them -- during its final year of operation.
With wind farms generating one-third of the new power capacity added last year -- and demand for turbines soaring -- GE knows it got a steal.
"We purchased this for less than $300 million," GE Power Generation Vice President Steve Bolze marveled at an analyst conference this fall. "It is a $6.5 billion business this year -- all organic growth, (with) good profitability and return on capital for the company."
Today, GE ranks as the only major supplier of wind turbines in the U.S. The company competes primarily against companies, such as Vestas and
Siemens
(SI) - Get Silvergate Capital Corporation Class A Report
, that are located in European countries where wind power has long been embraced.
Since Pickens chose to buy American, GE wound up with a huge chunk of new business. This spring, during an early shopping spree for his new wind farm, he ordered more wind turbines than GE normally sells in an entire quarter. At the time, he was quick to tout the $2 billion order as the "world's largest single-site wind turbine purchase" ever made.
Still, under his plan, that record might not stand for long. While Pickens could light up a city with his new turbines, he wants the U.S. to power 22% of the country with wind power down the road.
"Actually, if you wanted to go beyond 22%, you could go to 40, 60, 80 -- whatever you want," Pickens insists. "That resource is unlimited."
Thanks to his private fortune, Pickens can finance his own wind farm and even build the expensive transmission lines that must go along with it. Chances are, however, others will need some help.
To start, Pickens suggests, the U.S. should adopt a long-term "production tax credit" that encourages the construction of wind farms. Right now, lawmakers must renew that generous incentive on a regular basis.
Spurred by that enticement, Pickens believes, private companies will feel compelled to act. Together, he estimates, they would spend roughly $500 billion adding 400,000 megawatts of new power capacity along America's rural wind corridor alone. In addition, he predicts, they would invest another $100 million in necessary transmission lines unless the government prefers to handle that itself.
Ultimately, Pickens calculates, the total project would cost about $700 billion -- as much as a year's worth of foreign oil or, alternatively, a single bailout for Wall Street.
Compared to the bailout, the Pickens Plan looks wildly popular. In fact, some experts already want to expand the plan by adding three "offshore" wind corridors to serve the country's crowded coasts. Meanwhile, demand for wind-generated electricity continues to climb in the nation's heartland.
Under a new deal with
Oklahoma Gas & Electric
(OGE) - Get OGE Energy Corp Report
, for example, the University of Oklahoma will start buying wind power to satisfy part -- and eventually all -- of its electricity needs. By doing so, OU claims that it has made "one of the largest renewable-energy commitments ever" by a public university.
FPL Group
(FPL) - Get First Trust New Opportunities MLP & Energy Fund of Beneficial Interest Report
, the parent of
Florida Power & Light
, embraced wind power years ago and now ranks as the nation's leading supplier of "clean" energy. The company uses wind to generate one-third of its total power supply, relying on 58 wind farms scattered across 16 different states to meet its needs. While some of those farms serve the crowded West Coast, where demand for clean energy runs high, most of them lie right in the nation's heartland.
Under the Pickens Plan, the U.S. would fully harness that power in the sky.
"That is a fabulous resource for this country," Pickens says. "And you've got it all along the coasts, too ... That's available, if the people want it."