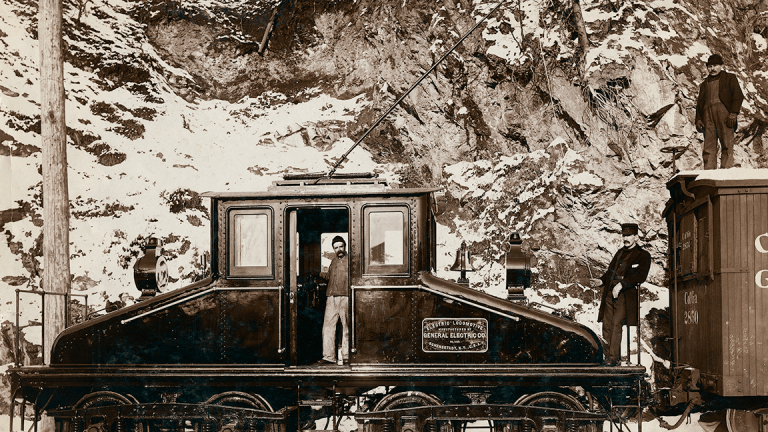 GE's Flannery Plans to Shed Locomotives Business, May Exit Baker Hughes
General Electric is considering whether to sell its controlling stake in Baker Hughes, the oil equipment provider that combined with the conglomerate's oil and gas business.
General Electric Co. (GE) - Get Report  plans to exit the locomotives and industrial lighting markets and will consider shedding its controlling stake in Baker Hughes, the company that now houses its oil and gas unit, as CEO John Flannery pares $20 billion of the conglomerate's operations.
Flannery, who has been under pressure from investors including activist Trian Partners to simplify GE while boosting cash flow and profitability, outlined the two steps on Monday, Nov. 13, amid a detailed update on the strategy he has been mapping since taking the top job on Aug. 1. The $20 billion target, set in October, also includes the previously announced sale of industrial solutions to ABB Ltd. for $2.6 billion.
"Complexity has hurt us," Flannery told investors. "We have not performed well for our owners. The management team is completely devoted to doing whatever it takes to correct that. Going forward, we really just have to focus on how we can create the most value from the portfolio of assets we have for our owners. We are going to do that with a very dispassionate eye."
The simplified GE he envisions will focus on businesses in which the Boston-based conglomerate has strong end markets and a competitive advantage, such as the ability to disrupt the status quo with enhancements from its digital operations, he said. Flagship divisions will be power -- the company founded by Thomas Edison generates a third of the world's electricity, after all; aviation and health care.
GE "has constantly leveraged its technology strength to remake itself over time," Flannery said. "It has used its grip to move forward and reinvent the company and that's really where we are again today."
While cutting the size of its board to 12 members from 18, GE has also created a finance and capital allocation committee whose first priority will be reviewing exit options for Baker Hughes, Flannery said.
That business,  (BHGE) - Get Report  is already well-positioned for a spinoff, analyst Jeff Sprague of Vertical Research Partners has said, since it's a separate publicly-traded operation. Even if selling GE's 63% stake didn't create value mathematically, it would remove some volatility, such as the oil-price fluctuations that have hammered the business since 2015, Nick Heymann of William Blair said in a phone interview earlier this year. 
"We want to maximize the value" of the Baker Hughes stake "for shareholders of our company," Flannery said. "Part of that might be, 'Is there is a different form for the structure/ownership of that asset?'"
There are restrictions, however: The structure of the combination between GE's oil business and Baker Hughes gave the new company approval rights for some of General Electric's decisions regarding the business through mid-2019, Flannery noted.
Like the potential exit from Baker Hughes, the planned sale or spinoff of the transportation business wasn't a surprise to analysts, several of whom had speculated about its status. Sales in the unit, which builds train locomotives, declined 14% to $1.05 billion in the three months through September and are down 8% so far this year.
"We see a protracted slowdown in the North American market," Flannery said, driven in part by a long-term slowdown in coal shipments.
Still, "we have an excellent franchise," he said. "We're exploring the options we have with these assets. It may be a sale, it may be a spinoff."
GE fell 7.9% to $18.88 in New York trading on Monday afternoon. The company's shares had previously fallen 27% since Flannery's appointment, compared with a 6.3% gain on the S&P 500.
The moves the new CEO is considering further the streamlining begun by his predecessor, Jeff Immelt, who exited businesses from plastics to the NBC broadcasting operations and most of a lucrative lending operation during his 16 years in the top job.
Trian Partners, which holds a stake of less than 1% valued at $1.3 billion, declined to comment.
The firm's chief investment officer, Ed Garden, who was given a seat on GE's board in October, said previously he was optimistic about Flannery's reassessment of the company's holdings, which stop short of the breakups that the activist firm supported at chemical giant DowDuPont (DWDP) - Get Report and manufacturer Pentair (PNR) - Get Report .
General Electric and DowDuPont are holdings in Jim Cramer's Action Alerts PLUS charitable trust portfolio. Want to be alerted before Cramer and the AAP team buy or sell the stocks? Learn more now.
That jibes with the recommendation of Goldman Sachs Group Inc. analyst Joe Ritchie, who has argued that major asset sales shouldn't be a focal point for GE in the near future. Most of GE's disparate businesses make strategic sense together -- either because of steady earnings in some that offset cyclical drops in others or shared technology, he said in October.
Indeed, GE has a "strong porfolio of businesses," Flannery said, though "we can improve every single one of them in terms of the way we operate, cash flows, cost, people, teams and execution."
The company is forecasting earnings of just $1 to $1.07 a share next year, roughly half the original target of $2, though it projects free cash flow -- cash generation after capital spending -- will roughly double to $6 billion to $7 billion.
The reduced dividend payment in that period will cost just $4.2 billion, compared with $8 billion previously.
"2018 is a reset year for us," Flannery said. "This is a base upon which we can grow earnings and cash going forward."
Here's Why It's Lights Out for GE's Consumer Lighting Division:
More of What's Trending on TheStreet: