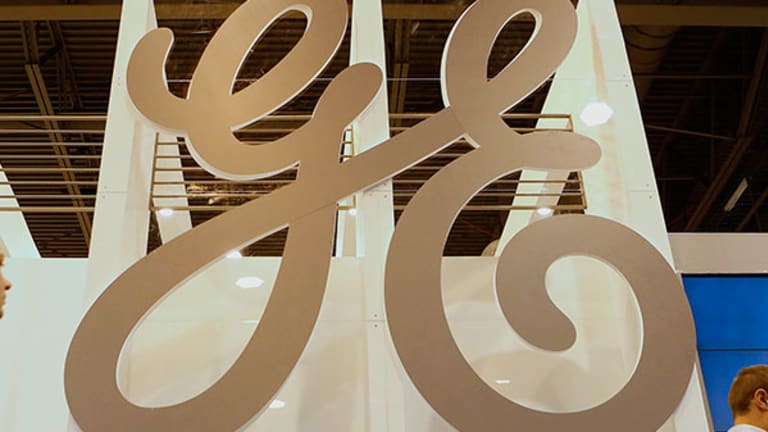 At GE, $50 Crude and OPEC Deal Signal Oil Unit's Return From 'Trough'
To move beyond reopening North American-shale drilling operations and actually increase investment by oil producers, prices would likely to need to rise to $60 or more, said CFO Jeff Bornstein.
This article, originally published at 7:06 a.m. on Friday, Jan. 20, 2017, has been updated with analysts' comments and market reaction.
Tumbling sales in General Electric's (GE) - Get General Electric Company Report  oil business were the biggest drag on the manufacturing giant's revenue last year, but CFO Jeff Bornstein has seen two good omens for the business in the past few months.
First, the Organization of Petroleum Exporting Countries agreed at the end of November to a production cut of 1.2 million barrels a day, its first in eight years. Then, that deal pushed crude prices above $50 a barrel, where they have, for the most part, remained ever since.
"Everything else being equal, if those two things remain in place, that's foundational to start thinking about the industry at least finding its footing and leveling off," Bornstein said in a telephone interview after the Boston-based conglomerate reported earnings on Friday.
To move beyond simply reopening North American-shale drilling operations and actually increase investment by oil producers, prices would likely to need to rise to $60 a barrel or higher, he said.
Fundamentally, with demand for oil rising about 1% a year while reserves are drawn down at a rate of about 3.5%, the outlook for the industry is even stronger, Bornstein said. Markets will eventually recognize the effects of allowing that trend to continue unchecked, he said, and exploration and production companies "will begin reinvesting again."
For at least the near future, though, the market for oil equipment and services "continues to be challenging and activity levels remain muted," Bornstein said on a conference call with analysts earlier. The number of U.S. oil rigs in operation at year's end, excluding offshore drills, was little changed from the start of 2016, despite some rigs being restarted in the last three months. 
Total revenue in oil and gas, one of GE's five biggest divisions, dropped 22% to $12.9 billion in 2016 as orders slid 27% and the year-end backlog dropped to $20.8 billion.
The business's performance at the end of the year helped make the fourth quarter a "grind," though it "looks to have visibility to sequential improvement," Nicholas Heymann, an analyst at William Blair, said in a telephone interview.
Indeed, a trough appears to have been reached for the unit, Julian Mitchell, a Credit Suisse analyst, said in a note to clients.
Order activity in the last three months of the year "improved and was about flat with year-earlier levels," Heymann said in a report on Monday. "GE now expects oil and gas comparisons to be negative on a year-over-year basis in the first half of 2017 but sequentially begin to reaccelerate during the second half of 2017."
GE hopes to complete the $7.4 billion merger of its oil business with Baker Hughes, which will create the world's largest oilfield-service company except for Schlumberger (SLB) - Get Schlumberger NV Report , in mid-2017 -- around the time that oil-production companies worldwide are likely to start ramping up spending, Heymann said.
North American oil exploration and drilling, a core portion of Baker Hughes' business, should be among the first segments to rebound, making it likely that GE "pulled off another optimally timed transformational acquisition," he said.
Despite the oil unit's challenges in 2016 and slower-than-planned deliveries of high-value gas turbines, GE said its target for sales growth in existing businesses this year remains within reach.
"We have no change to our 2017 framework," CEO Jeffrey Immelt said on the earnings call. "Orders grew by 2% in the quarter organically, Oil & Gas seems to have bottomed and services are very strong. Alstom is generating orders growth, so we see line of sight for the 3% to 5% organic growth."
Overall, earnings from industrial businesses and pieces of the once-sprawling lending arm that Immelt plans to keep were 46 cents a share in the fourth quarter, which was the average estimate from analysts surveyed by FactSet. Including other assets that remained on the company's books through year's end, net income climbed 29% to $3.48 billion, or 30 cents a share, GE said.
Revenue of $33.1 billion trailed the $33.9 billion average of estimates from FactSet, and GE stock fell 3.9% to $30, as of Monday morning, in the wake of the report. That pared its growth over the past 12 months to 6.3%.
"We accomplished much of what we set out to do in 2017," Immelt said on the call. "We were able to offset a challenging oil and gas market to deliver a year in line with expectations."
Immelt, who took the top job at GE in September 2001, has spent years refocusing the 124-year-old giant founded by Thomas Edison on its industrial roots, emphasizing digital manufacturing and businesses like jet engines and locomotives while selling NBC and pulling away from lending.
Earlier this month, GE completed the purchase of ServiceMax to further extend the reach of its Predix industrial software platform, which now has 22,000 developers.
In digital, a pivotal part of the CEO's long-term vision for GE, software orders climbed 36% in the three months through December as the company continued to buoy the number of developers using its Predix operating system. GE garnered about $300 million in Predix orders in 2016, and Bornstein said the company is comfortable with its ability to deliver growth of as much as 25% this year.
The Predix platform, which does for factories what Apple's (AAPL) - Get Apple Inc. Report iOS did for smartphones, allows companies to write compatible programs that can optimize equipment in industries from oil production to railroads. Among its innovations is a "digital twin," a software model of a client's equipment or processes that lets manufacturers monitor performance as well as diagnose, and ultimately predict, problems.
EXCLUSIVE LOOK INSIDE: General Electric, Apple and Schlumberger are holdings in Jim Cramer'sAction Alerts PLUS charitable trust portfolio.Want to be alerted before Cramer buys or sells the stocks?Learn more now.